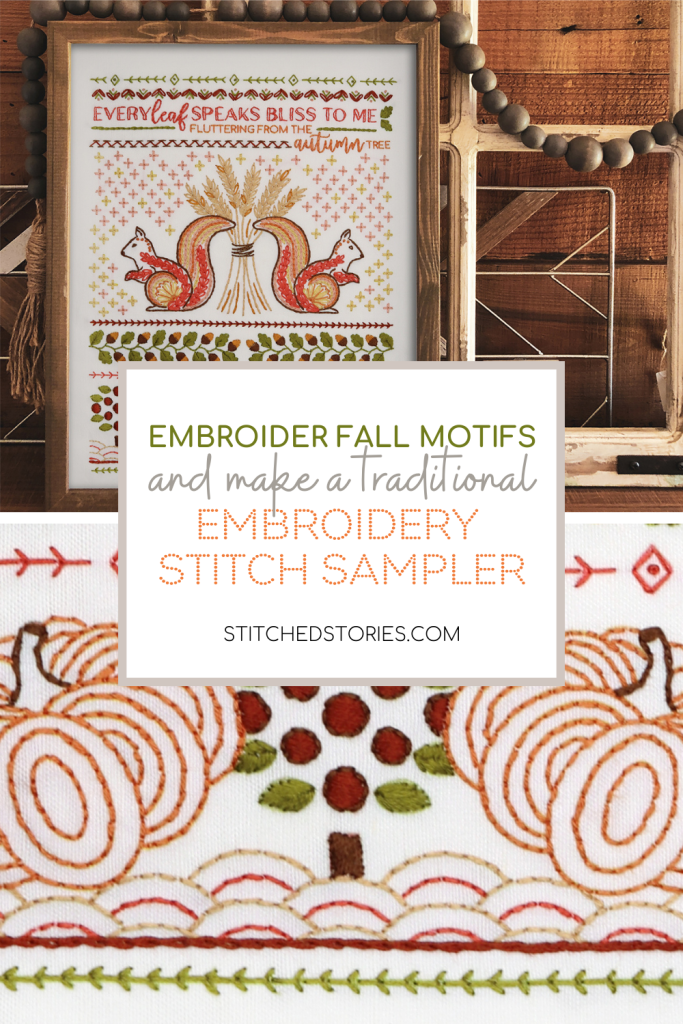 Traditional embroidery stitch samplers are fun to stitch because they offer the opportunity to embroider a variety of motifs and repeating patterns.
Theme and color can bring the whole piece together.
Here, take a look at our Fall Squirrel stitch sampler to see how theme, color, and surface stitches can come together to create a truly appealing project.
A CLOSER LOOK
Our Fall Squirrel Embroidery Stitch Sampler is rendered in several yellows and oranges accented by olive green and burgundy. The green and burgundy accents frame the piece and drive flow down through it. The yellow and oranges fills out the many details.
There are several discrete bands in this piece with fun stitch borders separating them. There are lines of chain stitching, of nested fly stitches, of zigzags and of small blossoms. (This varies from the design in our Honeybee Sampler in which organic elements cross bands–see that here.)
A CLOSER LOOK
Here's a look at the top-most band in Fall Squirrel Sampler. I love adding quotes to my samplers because they reinforce theme so wonderfully–and they work as a great echo of the alphabets added to samplers historically. The scripty words are fun to embroider with split stitch for the narrow lines and chain stitch for the thicker lines.
There are several two-tone elements here: the blossom line is in burgundy and olive,the quote is in coral and orange, the zigzag border is in burgundy and brown.
A CLOSER LOOK
The vibrant squirrels and detatiled wheat sheaf together are the fo al point of the of the piece. Squirrels are filled with multi-color chain stitching and bright coral flourishes. The wheat grains are stitched with lazy daisy stitches that have a longer-than-usual anchor stitch.
Around these elements is a two-tone backround in gold and salmon that mimic fall leaves dropping.
A CLOSER LOOK
The oak leaves offer up a nice variation on the leaf stitch with the outer edges curving in and out. Acorns are embroidered with brown and gold satin stitching. Border lines above and below both include nested fly stitches.
A CLOSER LOOK
The bottom band is a graphically-styled pumpkin patch. Symmetrical apple trees are behind back-stitched pumpkins. Two-tone rolling hills sit just below.
You'll stitch the Fall Squirrel Sampler on a thick linen cotton canvas. Once finished, the piece can be framed with a standard 11″x14″ mat. Choose frame (and optional mat) for your decor style. A rustic frame will set one tone and a modern frame will set another.
"Fall Squirrel Sampler" is available in the Stitched Stories shop as a full kit or fabric pattern.
Color-printed pattern on linen cotton canvas
Whether you purchase a full kit or just the pattern, you'll get heavy linen cotton canvas with the design printed in permanent color. Fabric measures 14″x18″ with the design filling 11″x14″.
Detailed stitching guide.
The stitching guide with each pattern and kit includes project photo, embroidery how-tos for even the newest stitcher, diagram of suggested stitches and colors, design-specific stitching tips, and 12 classic stitches illustrated.
Kits include floss, needles, storage tin and needle minder
Along with color-printed fabric and detailed stitching guide, our Stitched Stories kits include full skeins of DMC embroidery floss, two embroidery needles, a magnetic needle minder, and a clear-top, hinged storage tin for keeping everything tidy.
If you're ready for an embroidery project that gives you a variety of engaging stitch combinations and a finished project to love, check out our Stitched Stories kits. They're designed and packed in my New Hampshire studio, and I'd love to get this small-batch kit or pattern into your hands as soon as possible. Here's where to shop this design today: KIT | PATTERN.
As soon as you get the Fall Squirrel Sampler stitched, you'll be excited to get it on display or gift it to a loved one. This is a theme for fall that can look good year round in the right setting. Where would you display it? Front hall, library, kitchen?
---
Get started stitching your holiday gifts and decor...
Add embroidery to your own fabric projects--from tea towels to tote bags, home decor and clothing with one of our holiday-themed stick and stitch wash-away patterns.