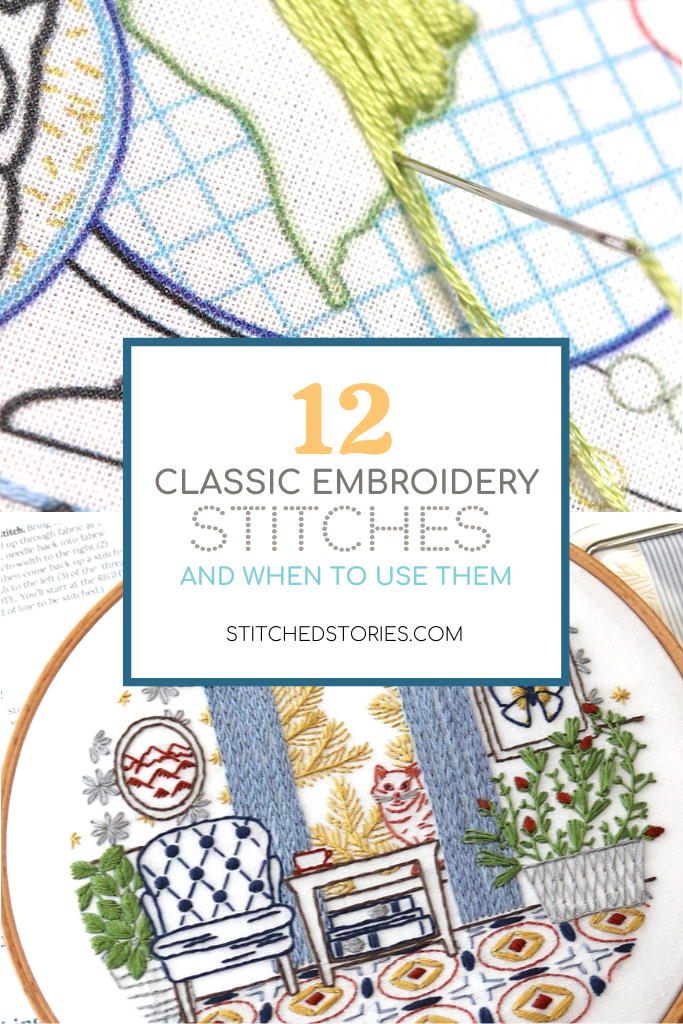 While the starting place for each of the embroidery kits in the Stitched Stories shop is a visual story . . .
. . . when I get down to the work of design, a set of 12 classic hand embroidery stitches is my starting place and my foundation.
I always ask: can this design be rendered in 8 different stitches at a minimum (and 12 if possible)?
I ask this because our patterns need to be about more than outlining and filling with straight stitches.
When I read a review like this one from Jessica Z, I find that our customers also like this many-stitches approach—
–that most of you want an experience as much as (or even more than) a finished project. Jessica said:
This is my third pattern from Stitched Stories, and I just love all of them! The unique pattern, vivid colors, and stitch variations make Butterfly Collage a favorite. I got this to make for my sister, but it's really a gift to myself because it's so enjoyable to make.
The 12 classic hand embroidery stitches…
The 12 stitches that fill our designs are: outline (aka stem), back, split, whipped back, French knot, lazy daisy, chain, fly, straight, satin, leaf and wagon wheel (aka woven wheel, rose wheel).
Watch the video below for a look at each of these stitches and where each is best used.
Here's why these 12 stitches were chosen as the foundation for our embroidery kits:
1. These 12 stitches would have been found in traditional embroidery projects from tea towels to pillow-cases.
2. These 12 stitches let you render a variety of scenes and motifs in fun ways—you're not simply outlining shapes or completely filling with satin stitch.
3. These 12 stitches offer several ways to outline with the stitches in the list–and that means you're adding textural variety and you're able to get things just right. The outline stitch is a standard go-to, but the split is better for tight curves. The back adds interesting texture, and the whipped back makes a smooth flowing line.
Take a look at the many lines in Play for example. The bold lines of the tent are rendered with a thick outline stitch while the more precise curves on the Queen of Hearts are rendered with split stitch. The words "play" and "day" are stitched with back stitches, and the scallops on the kite are done with fly.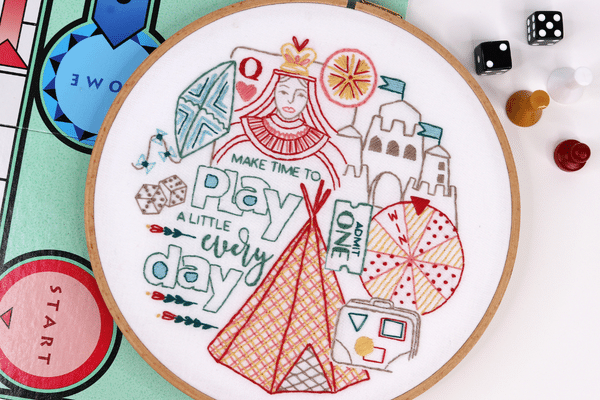 4. These 12 stitches provide a variety of fill options. While the satin stitch is a go-to for completely filling a shape, you can have even more fun when you fill with a geometric pattern or a woven pattern or an organic arrangement of loops. These classic stitches provide the building blocks.
Take a look at the chair back, the woven plant basket and the drapes on Sit a While for just a few examples.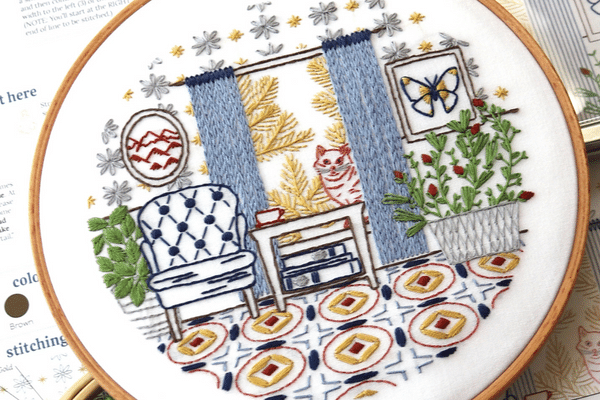 5. These 12 stitches can be combined in 100s of ways to create appealing stitch-combo motifs.
Take a look at Tea Party below and see sooo many fun combos.
On the top-most teacup are borders made of straight stitches and French knots.
On the next teacup, see the a large four-petaled lazy-daisy flower. Between each petal is a light-blue fly stitch. Inside each fly stitch is a three-petaled lazy-daisy flower. The whole cluster is a colorful and fun motif to create.
Keep looking at this design and you'll find many more combos from the geometric wallpaper to the leaf-styled bird wing and the flower-covered teapot.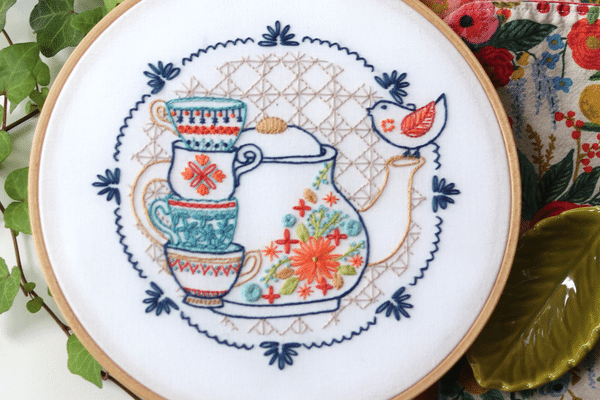 What do you think? Are you a fan of using a set of classic embroidery stitches to create 100s of appealing stitch combinations?
Here are a few more stitch-packed designs.
Start with Coffee has you working all the outlining possibilities–even using the chain stitch for the scripty text.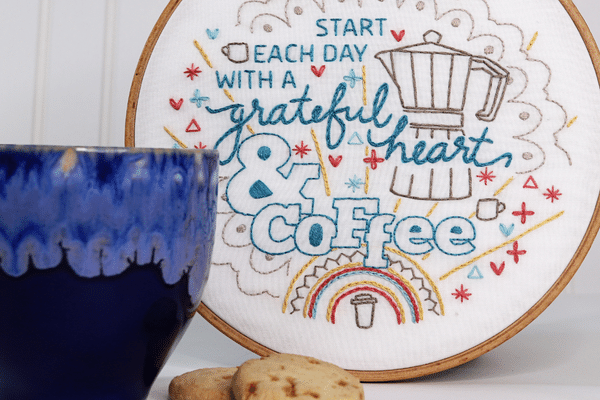 The pasture around Bessie has some of my favorite stitch combos, especially those red leafy stalks and the pale-green succulents.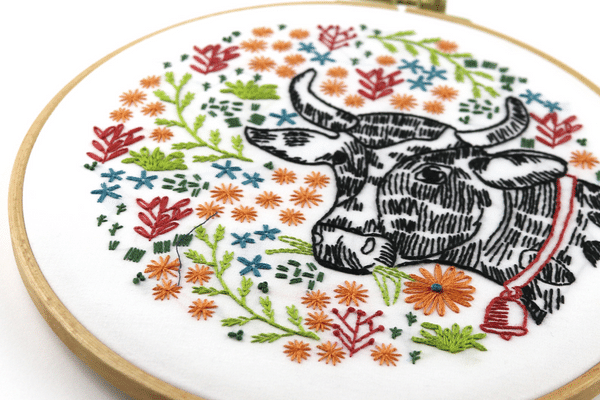 Our embroidery kits are packed with interesting stitch combos to help new stitchers build their skills, while keeping advanced stitchers engaged.
I could definitely keep going with these examples —- but why don't you click here and spot your own favorite stitch combos.
---
Get started stitching your holiday gifts and decor...
Add embroidery to your own fabric projects--from tea towels to tote bags, home decor and clothing with one of our holiday-themed stick and stitch wash-away patterns.