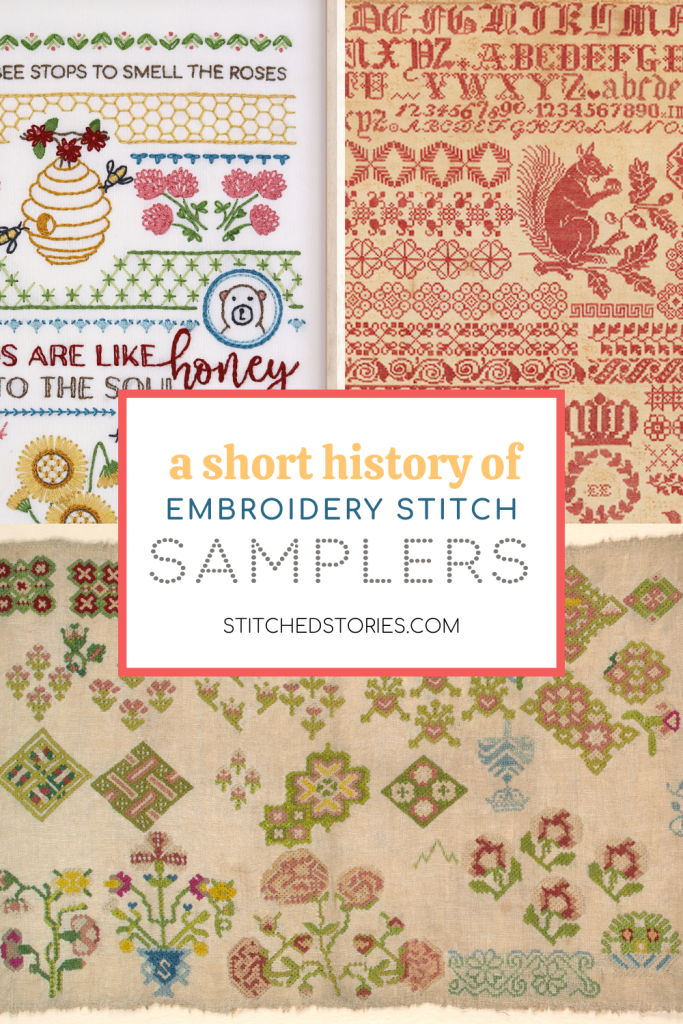 While embroidery is a craft going back thousands of years, the history of Embroidery Stitch Samplers starts in Europe during the Renaissance.

The word "sampler" derives from the Latin exemplum via the French essamplaire –meaning "example." These samplers functioned as practice pieces–a way for stitchers to learn stitches–and, once completed, as reference guide for future projects.
In the sampler below, there's a square of letters and geometrics and then several motifs. It served as a record of patterns and elements the original stitcher learned or copied–and can now restitch in new pieces.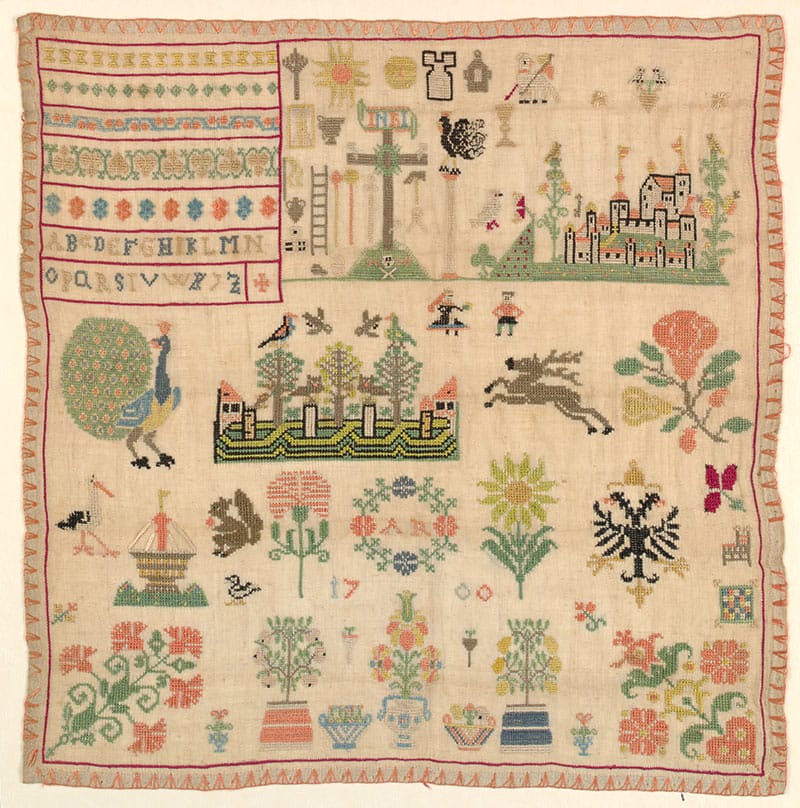 The Spot Sampler
Spot samplers are filled with randomly placed motifs as on this piece with its assorted geometric and floral motifs.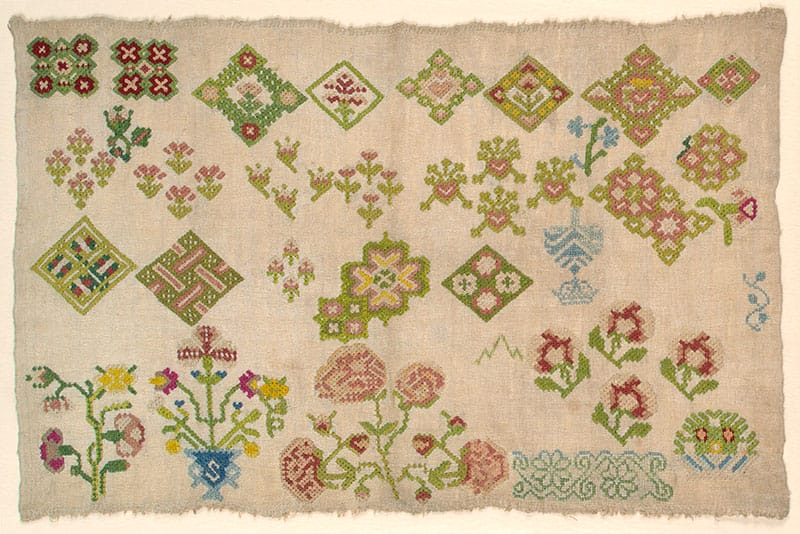 The Band Sampler
In a band sampler, the embroidery is done in rows of different stitches and motifs. Each row (or band) gives the stitcher a spot to experiment with a variety of techniques–from basic to complex.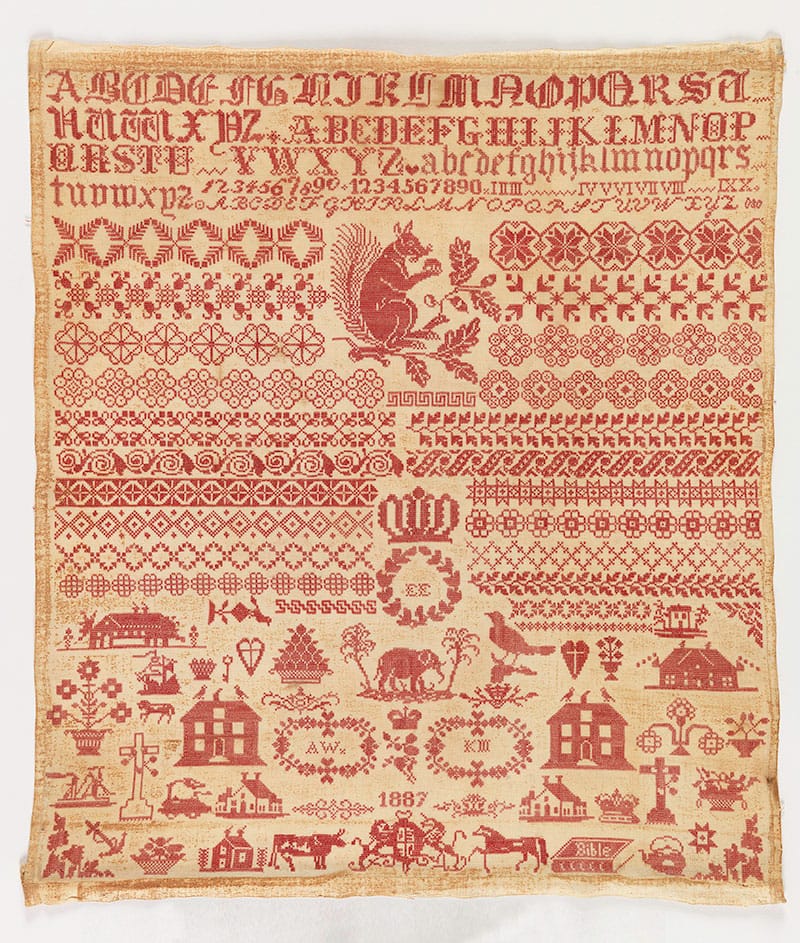 The sampler above is a 19th century band sampler on natural linen stitched in three sections or bands. The first is filled with alphabets. Alphabets were practiced by a stitcher often for the marking of linens to be returned from washing.
The next section has geometric patterns around a squirrel. The bottom section has several motifs including houses, vases, flowers, crosses, the bible and an anchor.
The Band Sampler Evolves
In the 18th century, English sampler formats evolved to be something for display rather than pieces to be rolled up and kept for reference.
Alphabets and repeating patterns were still included with verses added along with favorite themes of house and garden.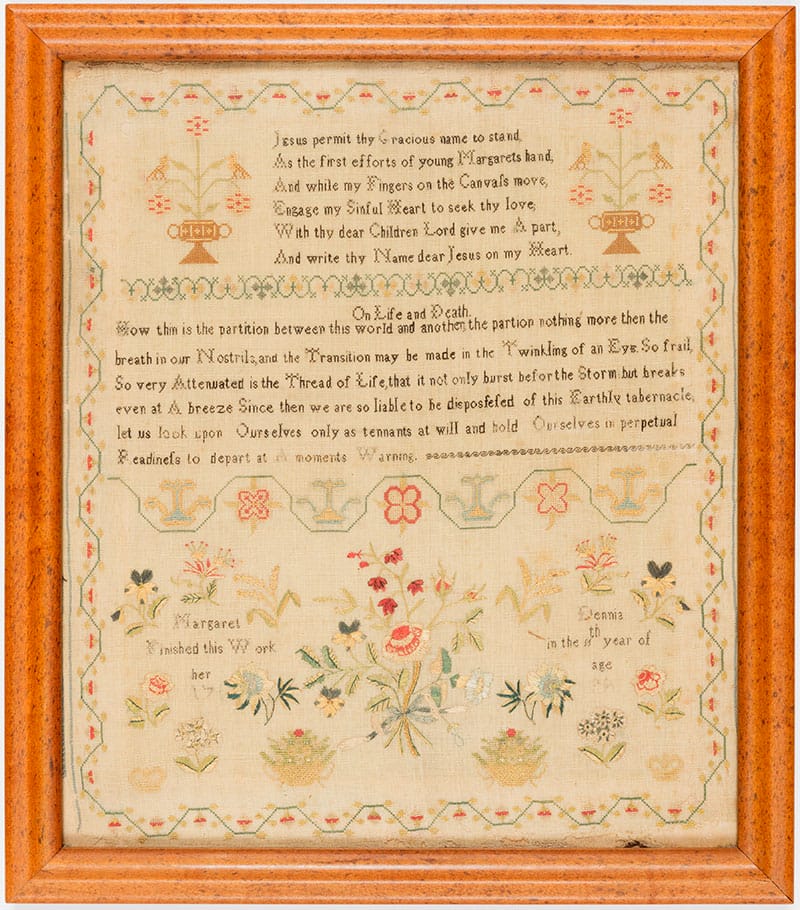 Stitched Stories Traditional Sampler Patterns and Kits
I've created several traditional embroidery stitch sampler patterns and kits for the Stitched Stories shop.
The Honeybee Traditional Embroidery Stitch Sampler in our shop (see: PATTERN | FULL KIT) substitutes sayings for alphabets, with "Kind words are like honey" combing from the bible. Bands of repeating patterns are worked around honeycomb and sunflower motifs.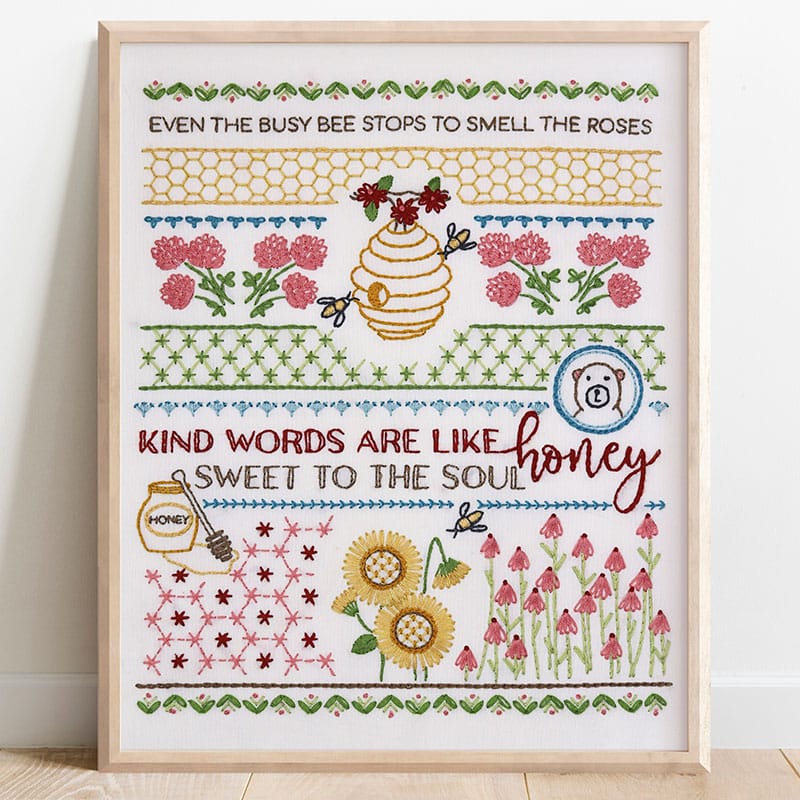 I've relied on the evolved band structure as I designed these patterns. This is both a nod to vintage embroidery samplers and a practical way to give you a whole bunch of fun-to-embroider motifs rendered in differing stitch combinations.
The Home Traditional Embroidery Stitch Sampler in our shop (see: PATTERN | FULL KIT) is themed around home and houses with each of three bands featuring a differently styled house. There's a small alphabet, classic saying, folk-art flowers, and rows of fun stitched borders.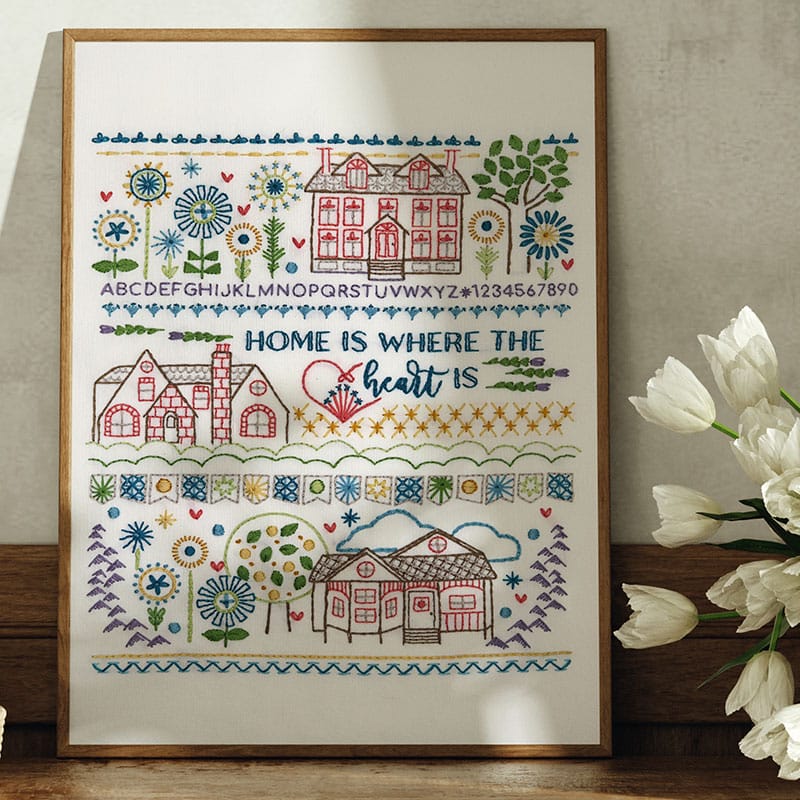 Embroidery Sampler Materials
Early embroidery stitch samplers were often worked on a canvas or linen ground, and our Stitched Stories include a heavy linen cotton canvas. We print the design in color to this canvas and also include full skeins of DMC floss with our kits.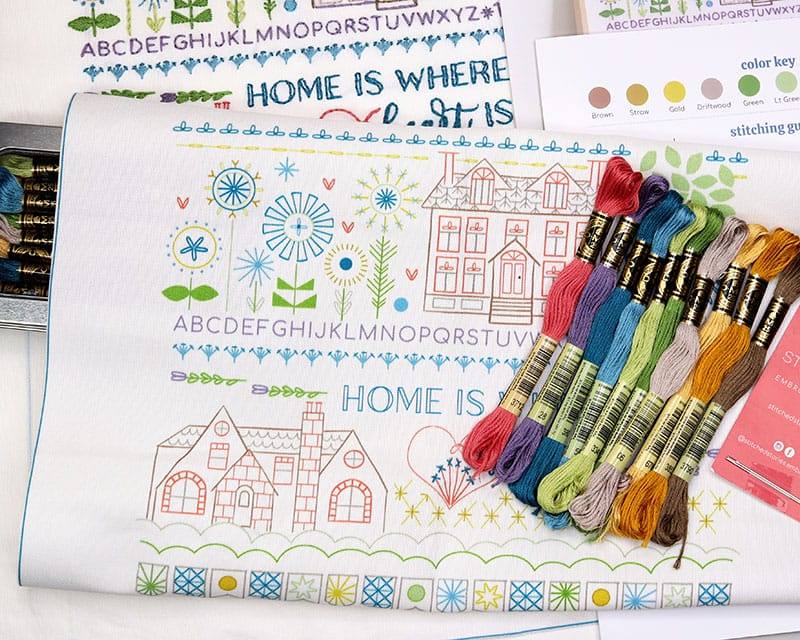 By the 19th century the sampler in England became mostly worked in cross stitch. Today, you can find hundreds of sampler-styled embroidery patterns and kits in cross stitch, but it's more difficult to find these traditional designs in a freestyle embroidery–which is what you'll work with a Stitched Stories pattern and kit.
So that you know exactly how to stitch your sampler, we include a detailed stitching guide with every sampler. Diagrams show you suggested stitches and colors for the pattern, and every stitch called for is illustrated.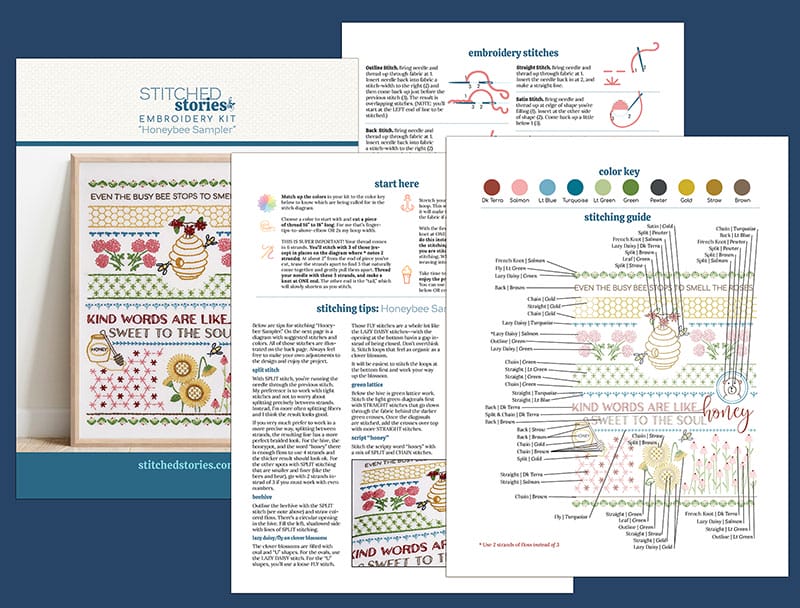 Connect to Tradition and Relax with Embroidery Samplers
It's satisfying to work an embroidery format–the traditional stitch sampler–that began in a more practical way while embracing your crafty side.
Our samplers aim to motivate you to start stitching and keep you happy throughout the process. Color and motif along with fresh stitch combinations are my key tool for achieving that as I design.
Experience this connection to the past and immersion into creativity with Fall Squirrel Sampler (see: PATTERN | KIT).

You'll embroider squirrels filled with curving lines and flourishes, a line of acorns and oak leaves, sharp pumpkins apple trees and fall poetry by Emily Bronte.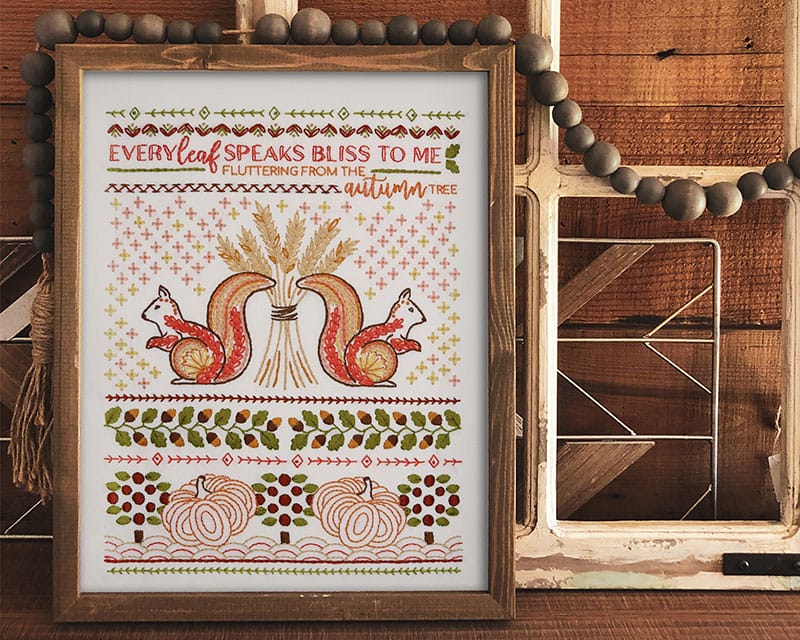 The sturdy canvas, richly colored floss, and motifs that mix playful with tradition are your invitation to stitch a fall sampler.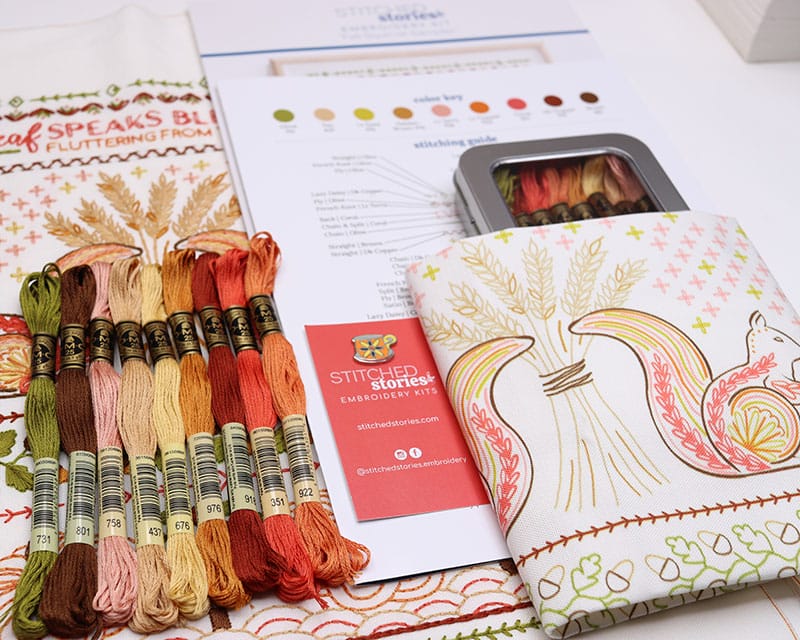 Style our Samplers to Fit Your Home
All of our traditional embroidery samplers are sized to fit into a standard 11"x14" mat or frame. Choose a framing style to fit your personal style.
Here's our Honeybee Sampler with rustic styling.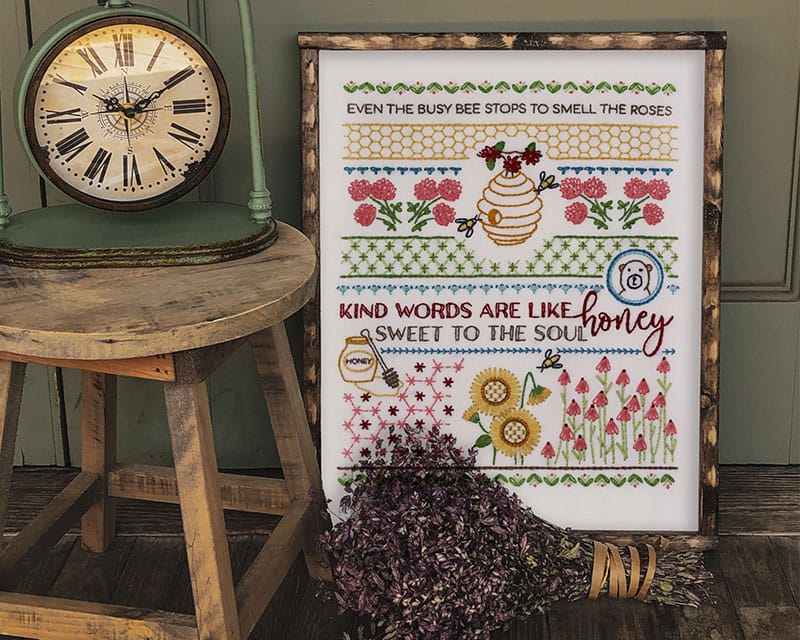 And here's that same sampler in a modern nursery.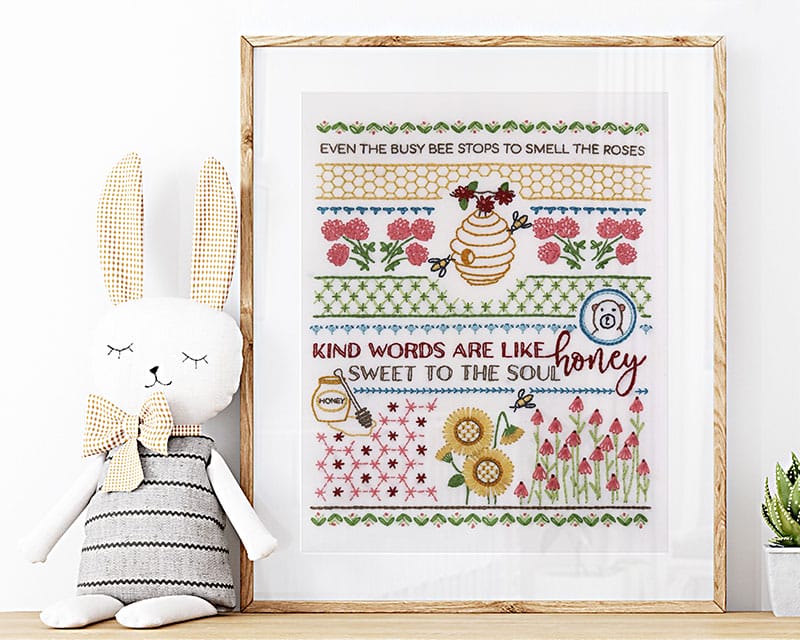 Choose a Traditional Embroidery Stitch Sampler to Stitch
Click here to choose a Stitched Stories pattern or kit that will have you exploring the craft of sampler embroidery.
---
Get started stitching your holiday gifts and decor...
Add embroidery to your own fabric projects--from tea towels to tote bags, home decor and clothing with one of our holiday-themed stick and stitch wash-away patterns.