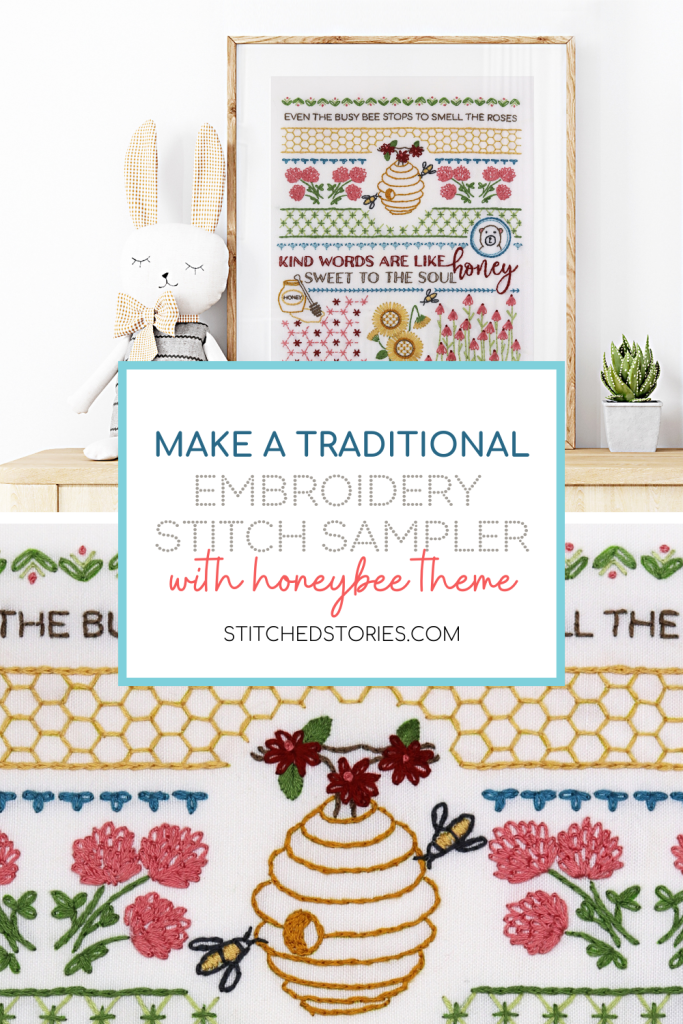 Our Honeybee Traditional Embroidery Stitch Sampler mixes repeating patterns and bright motifs around a theme that appeals for its literal connections to nature and its more abstract connections to sweetness and industry.
The beehive and flowers, honeycomb and bear are just a few of the colorful and engaging elements here that offer up an opportunity to use a mix of classic surface stitches.
While the embroidery stitches aren't difficult to render, they're placed in interesting combinations to create a project that's fresh to stitch and appealing look at once completed.
Read on to take a closer look at our Honeybee Sampler. How would it feel to see your own sampler come together, stitch by stitch, row by row, band by band?
A CLOSER LOOK
The Honeybee Sampler takes a fun approach to mixing bands of stitching with spot motifs. Curved cutouts within the bands make room for organically shaped elements of beehive and sunflower cluster.
Another diversion from the classic band design is that the smaller spot motifs of bear and honey jar cross over from one band to the next.
While you can see three clear bands in our Home Sampler (detailed here), this Honeybee Sampler design has elements flowing from one band into another. This organic structure is a nice match for a sweet nature-themed project.
A CLOSER LOOK
Here's a look at the top-most band in Honeybee Sampler. In just these 4 inches of sampler, nine different surface stitches are used: fly, lazy daisy, French knot, back, chain, straight, split, satin, and leaf. And that's a big part of why stitching this sampler is so engaging.
You can start out with simple straight stitches to render the honeycomb and then move onto back stitches for the "Busy Bee" saying. Add a row of three-petal blossoms with the lazy daisy and then outline the hive with split stitch.
Not only are you using a variety of stitches, you're also working a bright color palette of yellow and blue, green and burgundy.
A CLOSER LOOK
While classic samplers often included an alphabet, here you'll work the letters of a saying from the bible that supports the bee theme: Kind words are like honey, sweet to the soul. An outlined font combines with a fun script for the word "honey." You'll use precise back stitches for the outline font. For the script font, combine split and chain stitching in order to render parts of the letters thicker than others.
The band sampler design makes room for a whole bunch of appealing stitchwork. Two-tone green lattice work curves around the beehive and bear. Long diagonals are stitched in light green with shorter crosses added at intersections in darker green. Below this is a two-tone border in blues: simple flowers are added in straight stitches. At the bottom of the band is a dark green line of nested fly stitching.
A CLOSER LOOK
Here's the bottom band in Honeybee Sampler. The pinks that were initially used in clover blossoms at sampler top are repeated here.
At left is a hexoganal pattern of stars that echoes the six-sided honeycomb pattern above. At right is a cluster of pink blossoms. These sections curve around golden sunflowers. The gold of the suflowers repeat the gold of the behive above, and the curves here are like the curves around the beehive.
The Honeybee Sampler is worked on a heavy linen cotton canvas. This finished embroidery project can be framed with a standard 11″x14″ mat, and will work with a variety of home styles: from primitive to modern.
"Honeybee Sampler" is available in the Stitched Stories shop as a full kit or fabric pattern.
Color-printed pattern on linen cotton canvas
With both the full kit and fabric pattern option, you'll get 14″x18″ linen cotton canvas. The design is printed in permanent color.
Detailed stitching guide.
The 4-page stitching guide is printed on cardstock and includes project photo, embroidery how-tos for even the newest stitcher, diagram of suggested stitches and colors, design-specific stitching tips, and 12 classic stitches illustrated.
Kits include floss, needles, storage tin and needle minder
In addition to printed fabric and stitching guide, Stitched Stories kits come with full skeins of DMC embroidery floss, two size 3 John James needles, a magnetic needle minder, and a hinged storage tin for keeping everything together.
Debbie designs and packs your Stitched Stories embroidery kits in her New Hampshire studio. Here's where you can find this small-batch kit or pattern: KIT | PATTERN.
Once the Honeybee Sampler is stitched, you'll be excited to gift or display it. The finished piece looks good in akitchen or living room–or even nursery.
---
Get started stitching your holiday gifts and decor...
Add embroidery to your own fabric projects--from tea towels to tote bags, home decor and clothing with one of our holiday-themed stick and stitch wash-away patterns.