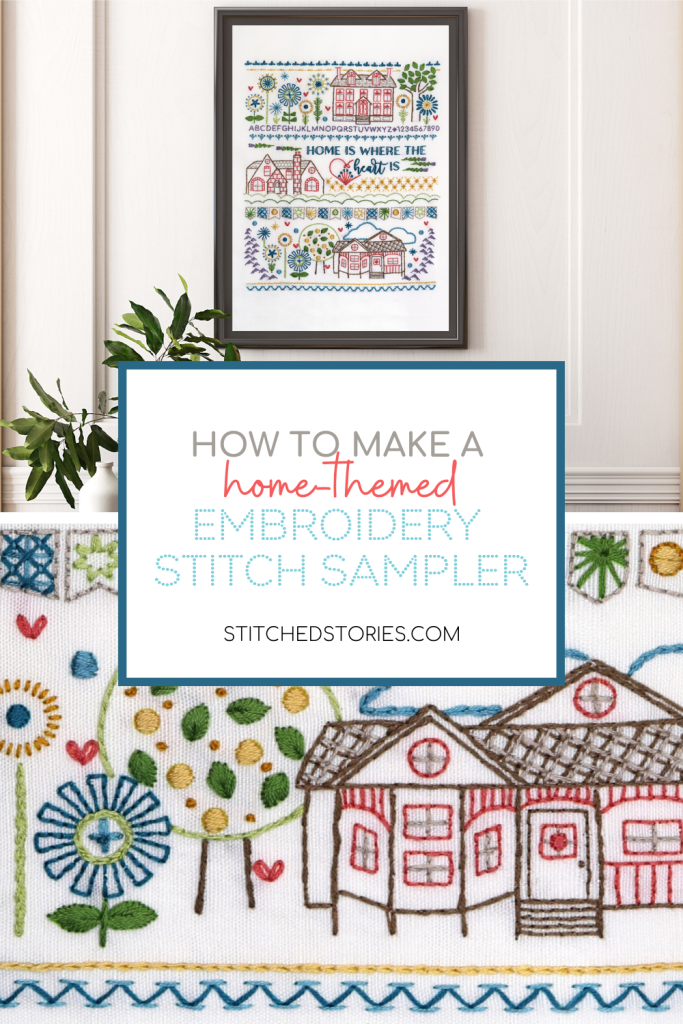 Get a closer look at our Home Sampler, and consider how good it would feel to see your own sampler come together, stitch by stitch, row by row, band by band.
A CLOSER LOOK
"Home" takes up the classic home-and-garden themes, but with updated motif styling. Houses, flowers, and sayings are arranged in bands, which is a go-to structure for traditional samplers.
In the traditional band sampler, embroidery is done in rows with a variety of stitches and motifs. With early 17th century samplers, each band gave the stitcher a spot to experiment with stitches and techniques.
There are three clear bands here, each featuring a differently styled house surrounded by repeating patterns, sayings, flowers and other motifs. Stitched rows create boundaries between the bands. See:
the alphabet and blue blossoms running below the first house
the scalloped hills and filled banners below the second house
the yellow chain stitching and blue zigzags below the third house.
Notice how color also moves the eye down through the page via repetitions. Dark blue lines are at design top and bottom. Take a closer looks at the other repetitions of dark blue to see it in the saying and in the banners. The result is blue moving the eye down through the designs.
The houses are each rendered in red and brown, and these three points form a strong visual triangle that grounds the design while also creating flow.
A CLOSER LOOK
Here's a look at the top-most band in Home Sampler. A house with colonial styling is surrounded by embroidered flowers with folk-art styling.
Flowers offer up a big variety of stitch combinations: circles of chain stitching, rays as petals, bits embellished with an X or French knot, or lazy daisy.
Fun details on the house include geometric roofing, blossoms on the windows, and fanlights.
A CLOSER LOOK
The middle band has a house with tudor styling and "Home is where the heart is" saying. The scalloped border below could be hills or clouds.
Get a nice effect on the word "heart" by stitching the thinner lines with split stitching and the thicker ones with chain stitching. Enjoy adding yellow and gold lattice work with simple straight stitches: yellow diagonals are topped by gold crosses.
A CLOSER LOOK
Here's the bottom band in Home Sampler. Small mountain ranges curve around more folk-art flowers and a third house-this one with yet another roof fill, four-paned windows and red trimwork.
A series of banners at band top are filled with fun stitch combinations: bursts, stars, filled circles and layered gridwork.
The Home Sampler is worked on high quality linen cotton canvas. The finished piece can be framed with a standard 11″x14″ mat, and looks great styled in both rustic and modern settings.
"Home Sampler" is available in the Stitched Stories shop as a full kit or fabric pattern.
Color-printed pattern on linen cotton canvas
Whether you purchase a full kit or just the pattern, you'll get heavy linen cotton canvas measuring 14″x18″ with the design printed in permanent color.
Detailed stitching guide.
Both full kit and pattern include a 4-page guide printed on cardstock. The guide includes project photo, embroidery how-tos for even the newest stitcher, diagram of suggested stitches and colors, design-specific stitching tips, and 12 classic stitches illustrated.
Kits include floss, needles, storage tin and needle minder
In addition to printed fabric and stitching guide, Stitched Stories kits come with full skeins of DMC embroidery floss, two size 3 John James needles, a magnetic needle minder, and a hinged storage tin for keeping everything together.
Stitched Stories kits ship from the state of New Hampshire, and we'd love to get this small-batch kit or pattern into your hands as soon as possible. Here's where to shop this design today: KIT | PATTERN.
Once Home Sampler is stitched, gift it or display. The theme works for front hall or living room–or even kitchen.
---
Get started stitching your holiday gifts and decor...
Add embroidery to your own fabric projects--from tea towels to tote bags, home decor and clothing with one of our holiday-themed stick and stitch wash-away patterns.