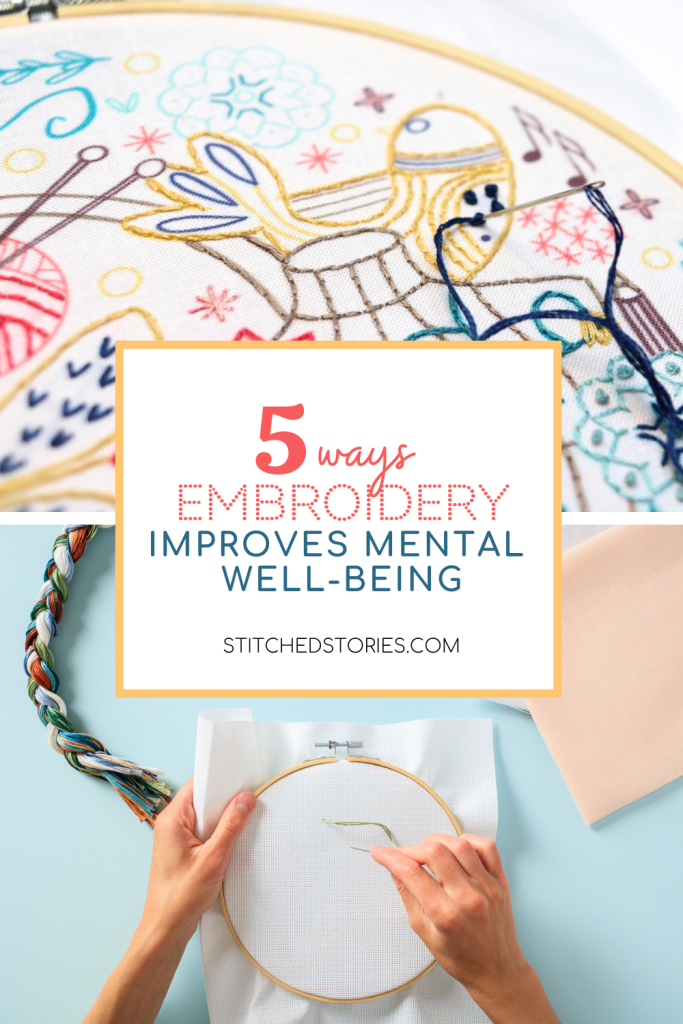 The world has gotten busy. Information flows to us through many channels. We're often doing two or three things at one time.
While you hear the advice to spend time simply BEING, it's still tough to quiet your mind.
Hand embroidery is a comfort craft that can help you block out the noise and spend time mindfully.
Mindfulness, Embroidery, and Health
Studies have shown mindfulness-based treatments reduce anxiety and depression, even lower blood pressure, and improve sleep.
You can become mindful when you're engaged in the practice of embroidery.
Guiding your needle and thread through fabric has you concentrating. As you naturally focus on the rhythm of your stitches, the colors you're using, the motifs you're rendering, you become mindful of just this task. You quiet intrusive thoughts.
Whether you're sitting on the porch in summer or next to a cozy fire in colder months, embroidering colorful moths with their connection to nature and many colorful details will engage your stitching focus and quiet a noisy mind.
The craft of hand embroidery naturally has you slowing down. You're deciding which motif to stitch next, choosing your floss color, threading a needle, and then rendering a pattern stitch by stitch
With embroidery, you are not just creating a hand-stitched piece: you are also mastering a variety of hand embroidery techniques. The French knot shown here is one of those stitches that is a joy to figure out.
As humans, most of us have an urge to create, to bring something new into existence.
It's immensely satisfying:
to make something with your own hands,
to transform a stamped image on fabric into a textured and finished piece,
to watch your project progress to completion.
Here's a look at the raw supplies for an embroidery project alongside the finished piece: an embroidered imagining of a woman's creative mind (our Create kit). The mindful stitcher will work each of the motifs and colors into their own finished hoop-art.
Art has always been a powerful form of expression, and embroidery is no exception.
Whether you're stitching a nature-inspired piece or a fun quote, your embroidery projects can serve as an outlet for emotions that are hard to put into words.
In fact, many therapists recommend crafts like embroidery as a form of expressive therapy, helping individuals explore and express their emotions in a safe, comforting manner.
Small Birds is a nature-inspired embroidery piece that has you rendering richly textured birds against a lightly-outlined background of trees and birdhouse.
Start with Coffee is a fun project celebrating mornings and coffee and love of the domestic.
The craft of embroidery dates back thousands of years. When you work a stitching project, know that you're mindfully practicing a time-tested art. Here are a few projects directly connected to traditional embroidery for you to try.
Embroider blackwork-inspired fills

Blackwork originated in the Tudor period and was usually worked in just black (or sometimes red) thread. It could be counted or freehand stitching. Often florals and geometric shapes were filled by patterns that used stitch density to evoke shading and dimension. Try it out with this design of Mushrooms. The caps and the ground are stitched with blackwork-inspired geometric patterns.
Embroider Jacobean-inspired florals

Jacobean is inspired by the colorful and stylized plant forms seen in crewel designs of the 17th-century. This embroidery pattern gives you flowing lines rendered in chain stitch along with layered gridwork and satin-stitched fills.
Embroider a project Inspired by traditional stitch samplers

The history of traditional samplers begins during the Renaissance. These samplers functioned as practice pieces–a way for stitchers to learn stitches–and, once completed, as reference guide for future projects.

Honeybee Sampler combines traditional "band" and "spot motif" formats to give you a relaxing project with sweet messages and motifs
When your project is completely stitched, you can display the finished piece and be daily reminded of what you've created. The result may be boosted mood, enhanced self-esteem, and a sense of accomplishment–all of which improve mental well-being.
Moths looks great on a plate stand next to a plant and displayed year round.
Easy to Get Started with this Comfort Craft
Getting started with embroidery has never been easier, especially with an all-in-one embroidery kit.
These kits provide you with everything you need—from the fabric and threads to the detailed instructions—allowing you to dive right into the therapeutic process of stitching. What's more, the variety of designs and stitches included in these kits ensures that your mind stays engaged and your creativity continues to flourish.
Stitched Stories kits include quality materials with the 8" design color-printed to cotton fabric, full skeins of DMC-brand floss, needles, hoop, illustrated stitching guide, and even a storage tin for supplies.
Embroidery is more than just a craft.
Embroidery is a powerful tool for enhancing your mental well-being. It can enable mindfulness and provide a sense of calm and fulfillment in today's world. Are you ready to pick up a needle and thread and embrace this comfort craft?
Click here and embrace the mindful hobby of embroidery with one of our all-in-one embroidery kit.
---
Get started stitching your holiday gifts and decor...
Add embroidery to your own fabric projects--from tea towels to tote bags, home decor and clothing with one of our holiday-themed stick and stitch wash-away patterns.