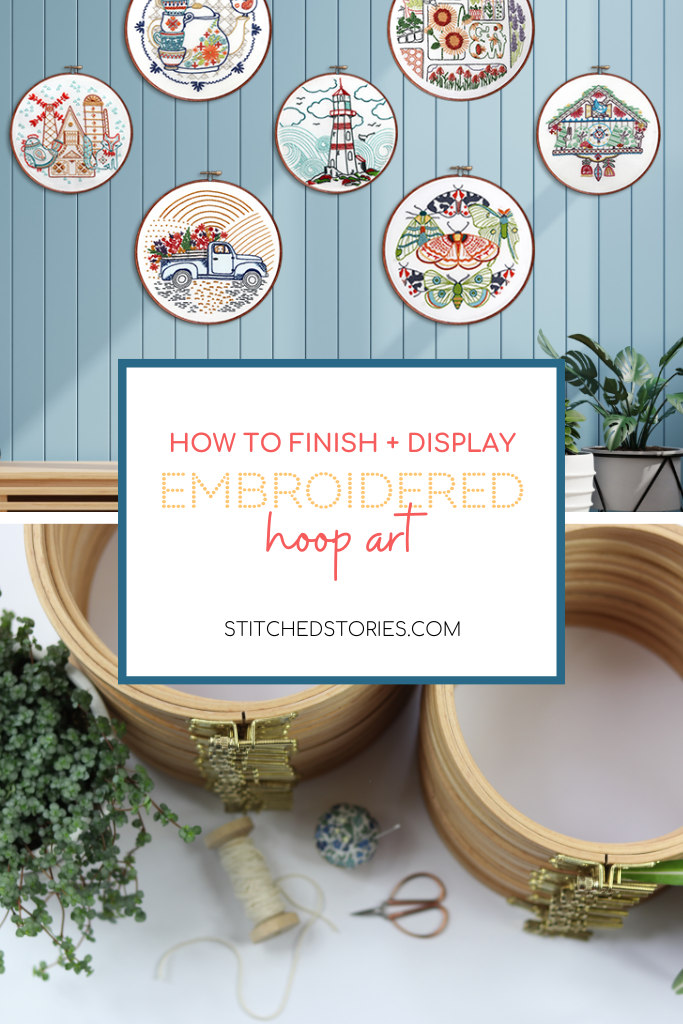 Once you've finished your embroidered hoop art project, you're ready to display or gift it. Read on for my favorite finishing technique and tips for displaying embroidery in my home.
SUPPLIES
My preferred finishing technique uses:
Your completed embroidered design
Square of white cotton fabric the same size as your project (Stitched Stories projects are on 10.5″ fabric)
7″ or 8″ beechwood hoop (we have Frank Edmunds hoops in our shop here)
Thick white felt to be cut into 3 circles that fit in your hoop back
Watch this quick video as I illustrate the steps below and finish off our School Days design.
THE STEPS
Step 1. Cut a 10.5″ piece of white cotton fabric to layer behind your project.
Step 2. Choose your hoop size. Trace inside of your hoop onto the felt to create a cutting line. Cut three circles of thick white felt to fit inside the back of the hoop.
Step 3. Layer your finished design over the plain white fabric square. Stretch the two layers together into the finishing hoop and secure tightly. Pull from each diagonal. Pull side to side. Pull top to bottom. Pull out all wrinkles and puckers.
Step 4. Place the three layers of white felt behind your work inside the hoop. Cut a 48″ piece of floss and separate 3 strands. On the back side of your work, stitch all around about 1/2″ from the hoop. As you are stitching around the hoop, gather the fabric.
Keep stitching around again, gathering the fabric and pulling the corners into the center. Tie off.
NOTE: I do not cut the fabric down to a circle. By keeping the full square, it's easier to remove and wash–and alternative framing possibilities or uses are maintained.
Step 5. OPTIONAL. You might sew one more layer of white felt to the back to cover up the gathered stitching.
CHOOSING A FINISHED HOOP SIZE
While all of our designs look good in the 8″ hoop, I like to mix in some 7″ framings to give display groupings variety.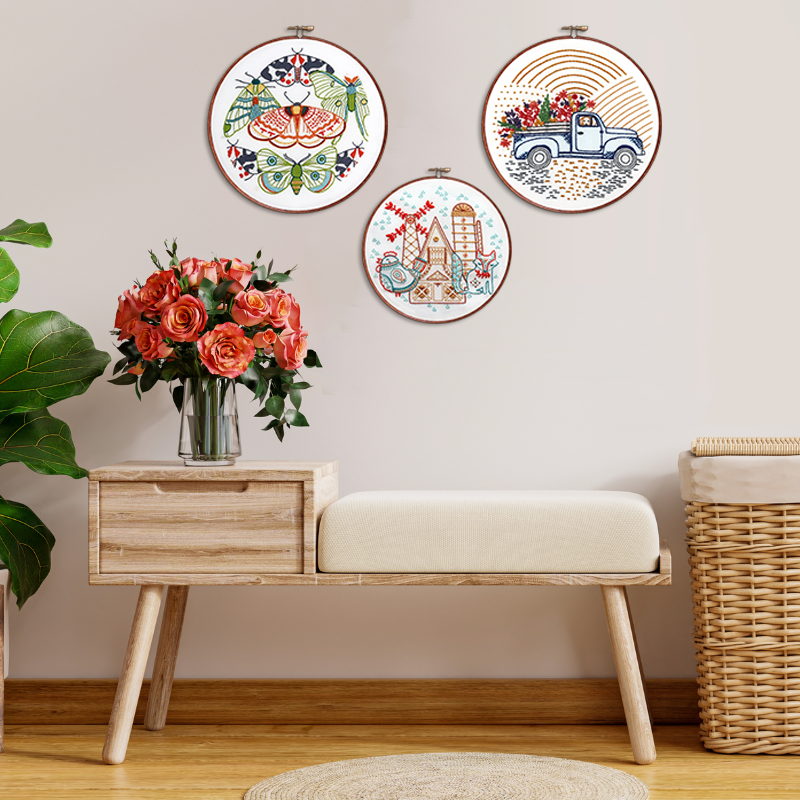 Here's a look at To The Woods in 7″ and 8″ hoops.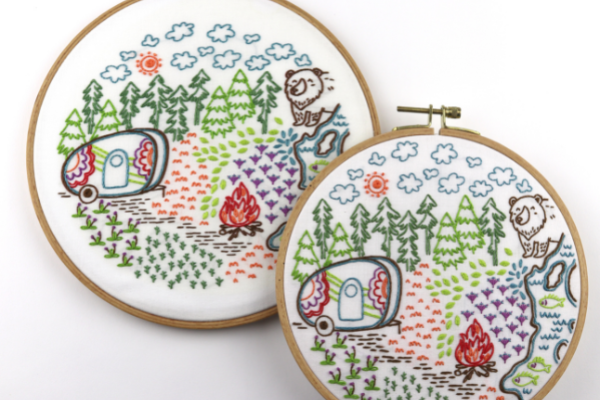 And here's No Place Like Home in both sizes.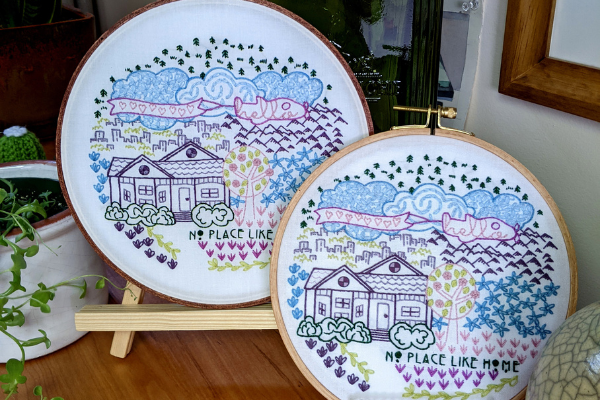 DISPLAYING YOUR HOOP ART
In addition to displaying finished hoops on the walls, I like putting them on a small plate stand or easel and mixing into styled vignettes. (Here's my favorite display stand.)
I keep finished hoops in my buffet and swap out by season.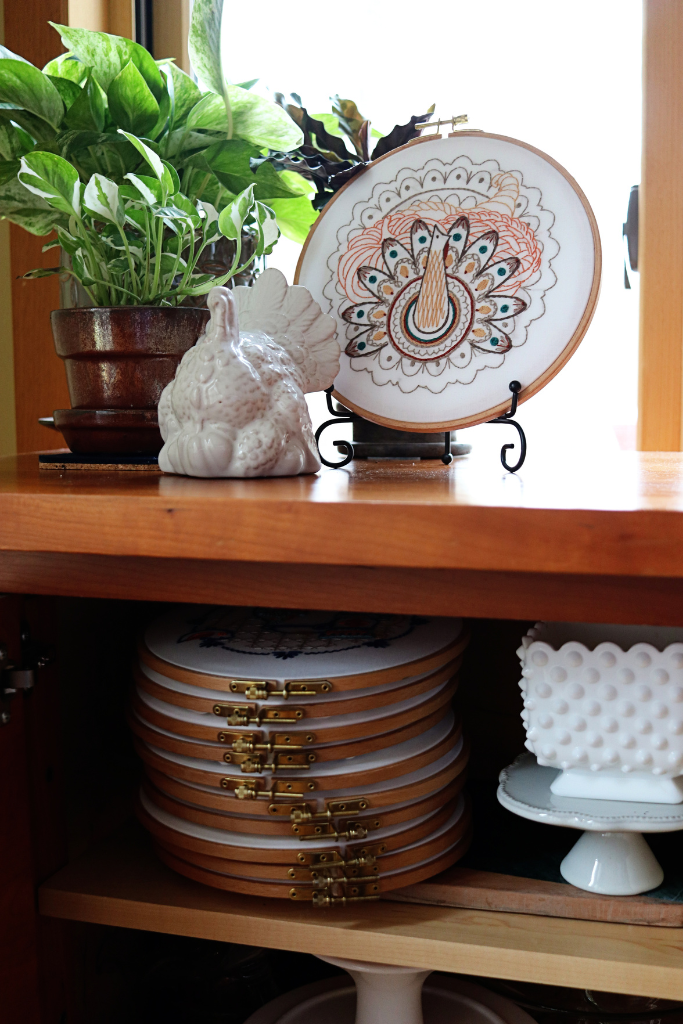 Here's Bessie's Blossoms on display in the summer.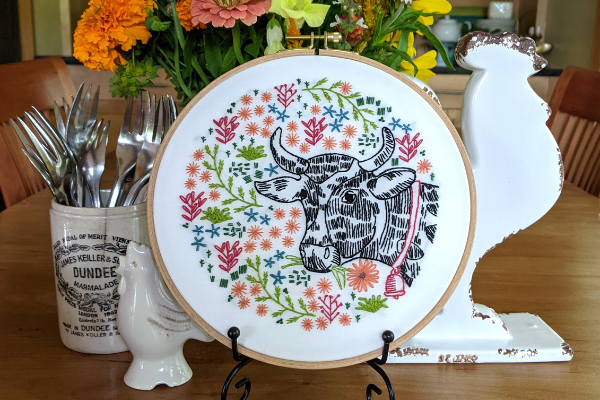 When fall arrives, Spooky House is on display.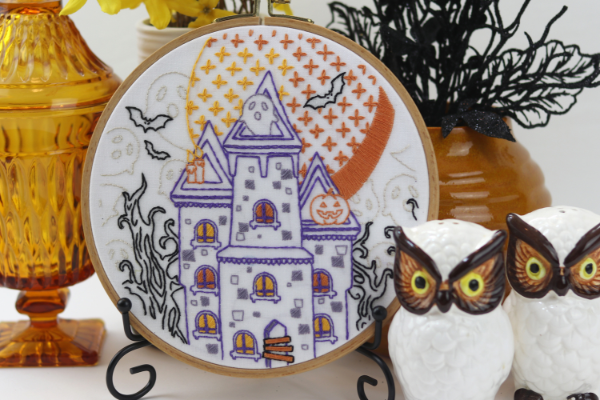 My year-round favorite for display is Start with Coffee.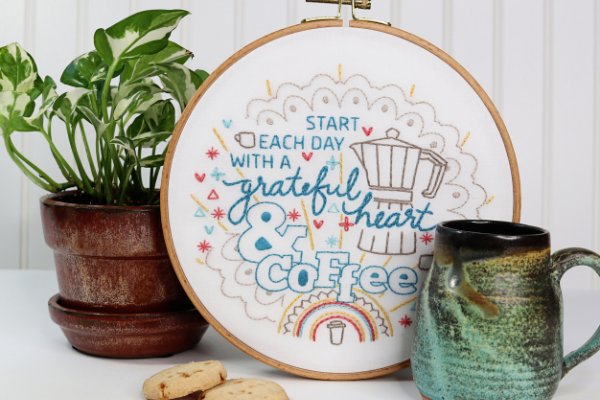 Having an embroidery practice is relaxing...
Gifting and putting your finished projects on display makes this work all the more satisfying. Click here to choose a kit and get stitching today!
---
Stitch your FALL story now...
Want to showcase your love for all things autumn? Our seasonal embroidery kits have got you covered!