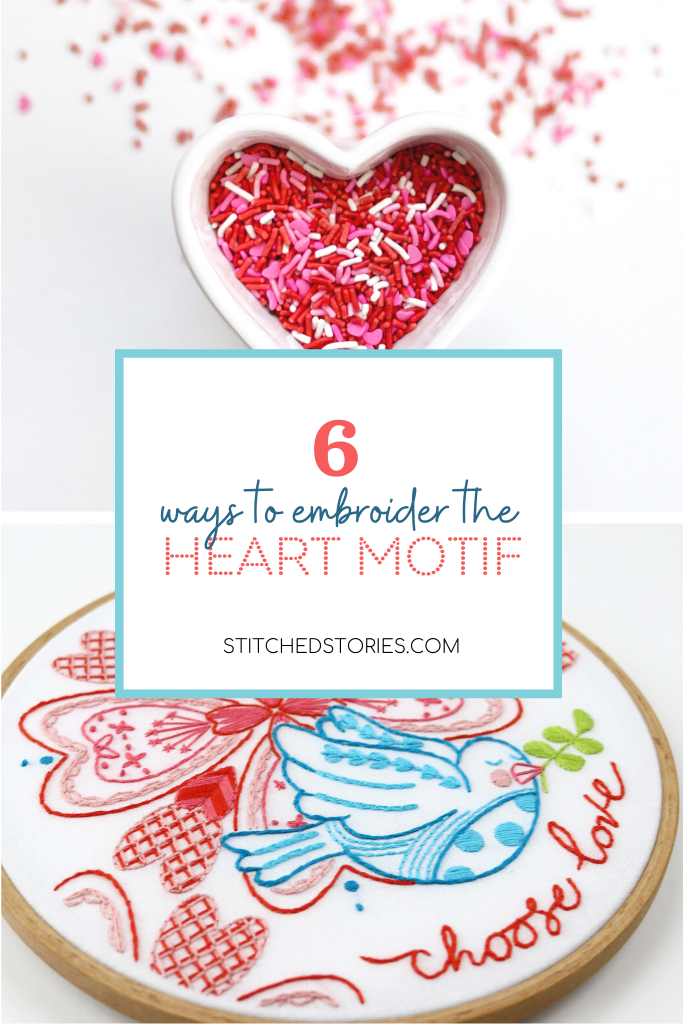 The heart is a frequently-used motif in embroidery kit designs. Not only does it convey a message of love, it's also got an appealing shape that offers plenty of opportunity for stitching fun.
You'll see it dominating in our Choose Love kit, and playing a supporting role in other designs with scatters of small hearts in Start with Coffee, and a sky banner with a heart message in No Place Like Home.
Here's a look at our Choose Love design, and 6 ways to stitch hearts
1. Stitch nested hearts. Stitch the first biggest heart, and then put another inside and another and another.
2. Stitch scalloped hearts. In Choose Love, the pale pink hearts are outlined with the chain stitch and then scallops are inside, stitched with split stitch (see how-tos for stitches here). You could also put scallops outside of the heart shape.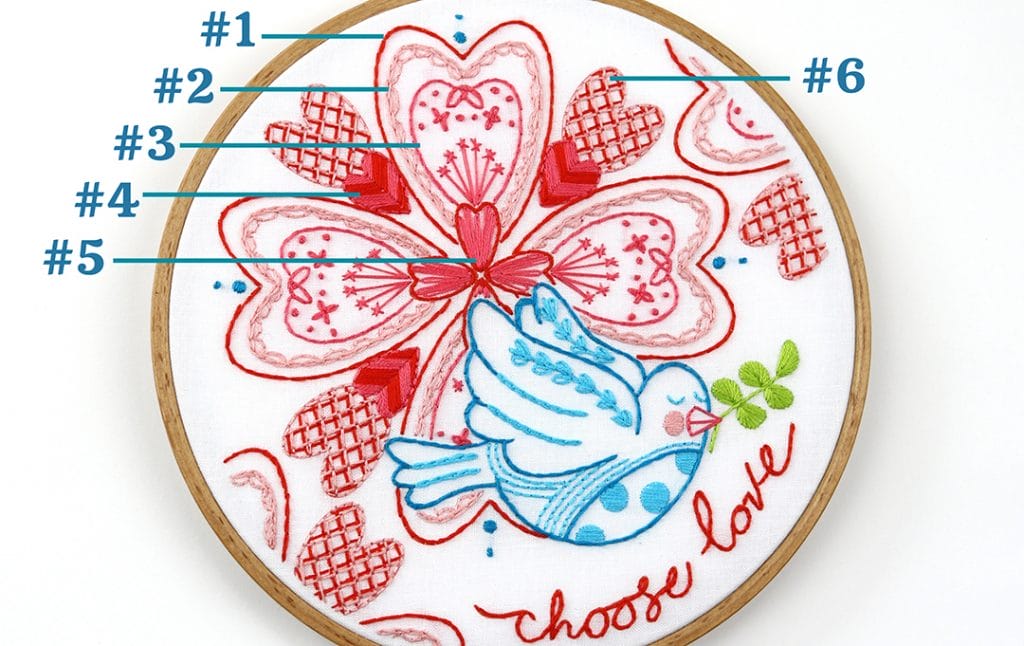 3. Use stitch combinations that evoke the look of a vintage Valentine. Take a look at an old valentine and mimic its embellishment. See the medium pink heart on Choose Love with a bow at top, scattered French knots, a couple of lazy-daisy flowers, and a radiating burst at the bottom: straight lines are topped with Xs, which is so much fun to stitch.
4. Figure out where you most comfortably stitch. Fill each side of a heart with stitches running on the diagonal and meeting at center. Alternate with two tones of red.
5. Fill a heart with long lazy-daisy stitches filling the heart vertically.
6. Fill a heart a grid worked in two colors. The darker grid is stitched first with the lighter grid stitched atop it and just a bit to the side. The result is a textured heart with the look of a shadowed fill. This is even more fun to stitch than #3.
There you have it: 6 ways to fill a heart with stitches.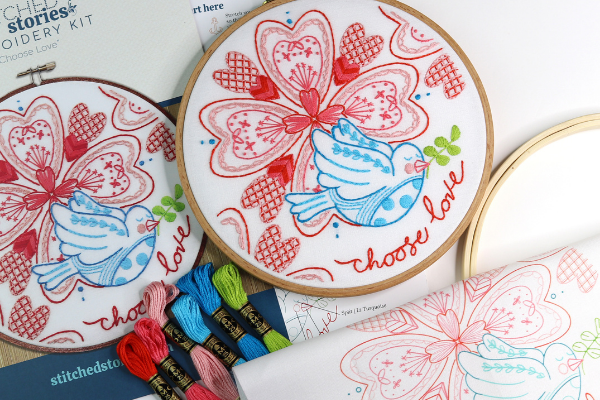 Oh, wait! There is a #7:
Gift a heart-themed hoop and watch your loved one's heart fill with emotion. Awwwwww.
"Choose Love" makes a great gift and a wonderful addition to your own seasonal hoop collection.
Replace one of the plates in your plate wall with this piece during February. Or put it on a small easel or plate stand and pop it in your china cabinet. Integrate it into a display on your shelves, or hang it in your foyer.
Want to stitch heart-shaped motifs onto your clothing and linens?
Try our Stick & Stitch Heartlines motifs.
You'll get an 8.5″ x 11″ sheet of sticky-backed, water-soluble fabric. Trim a motif. Stick it to your project. Embroider. Soak in warm water and watch the pattern dissolve.
---
Start stitching summer now…