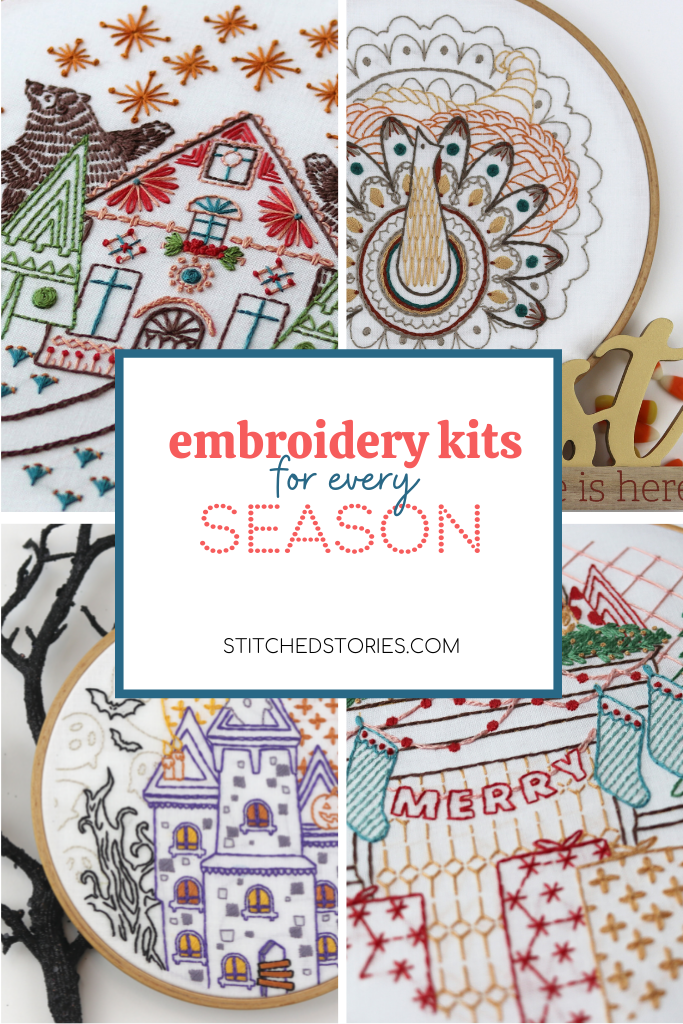 When a new season arrives, the weather and our daily habits change. The holidays change, too, as do the ways we spend time with family and friends.
You can make the stitching and display of a seasonal or holiday embroidery project part of the changing seasons.

Here at Stitched Stories we have embroidery kits to celebrate a variety of holidays, as well as the spirit of each of season.
Gorgeous! These kits are always so amazing and fun to do!!! I especially love the holiday ones that I get to display! -Natalie
Check out all of our seasonal kits below and start stitching your favorites seasonal stories today.
Celebrate Fall with…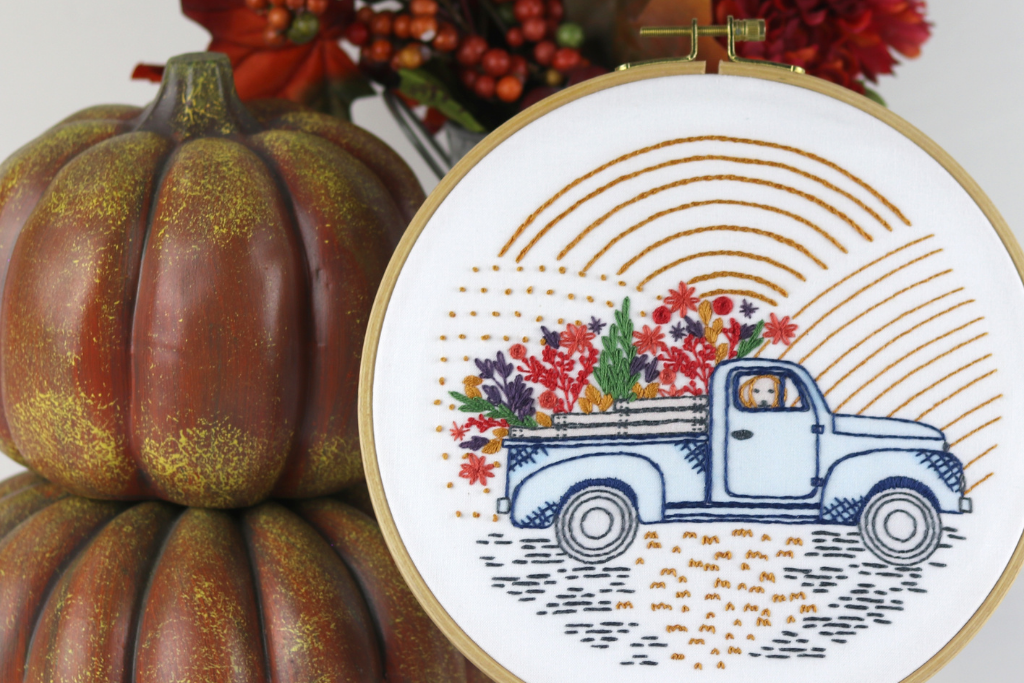 Have you got a truck story in your life? Maybe you know someone who drives a truck with these vintage lines. Or someone who always has their dog riding passenger?
Stitch this flower-packed vintage truck with pup riding passenger and the golden hills of harvest season behind it. You'll use 10 classic stitches, with the hills giving you relaxing repetitions and the flowers adding fun variety to your work.
What a lovely kit. Worth every penny. I love the little needle minder. It is so stinkin' cute I smile every time I see it, and the tin is perfect for my stuff. What a terrific product. – Cindy
---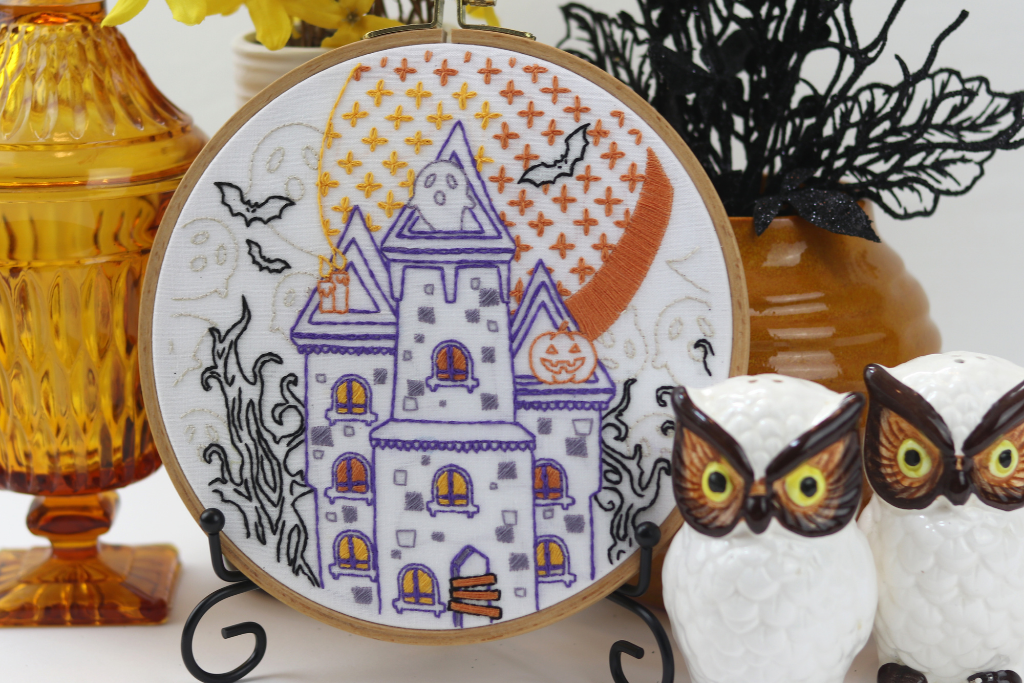 Do you love Halloween and decorating for it?
Stitch a rickety house and bats, jack-o-lantern, harvest moon, creepy trees, and a sky full of ghosts. This design is in classic orange and black with a punch of purple and the finished hoop looks fabulous hung or styled in a holiday vignette.
I love Halloween! This kit is fun and easy! I have a friend who wants to learn embroidery, and this is the perfect kit to start someone with! Why? You get everything you need in one small package, and it's neat, fun and adorable! Happy Spooky Halloween! -Lila
---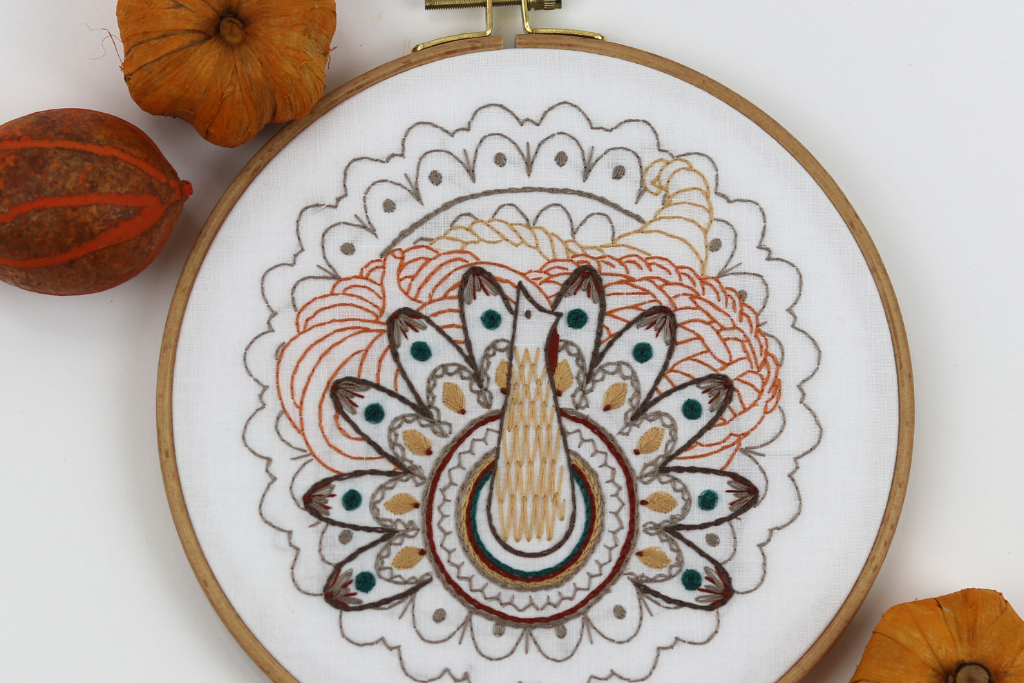 Harvest colors and motifs–cornucopia, pie, pumpkin, turkey–are welcome from September through the fourth Thursday of November.
This "turkey-in-the-round" design combines all of this imagery atop a doily-edged base, and the result is satisfying to stich and beautiful to display. Put it on a plate stand right next to your own Thanksgiving centerpiece.
This is the second kit I purchased. Love this design. Great stitches and colors and shipping is quick. The little tins contain everything you need for the samplers and are so convenient. Will purchase more as new designs are introduced. -Patricia
---
Celebrate Winter with…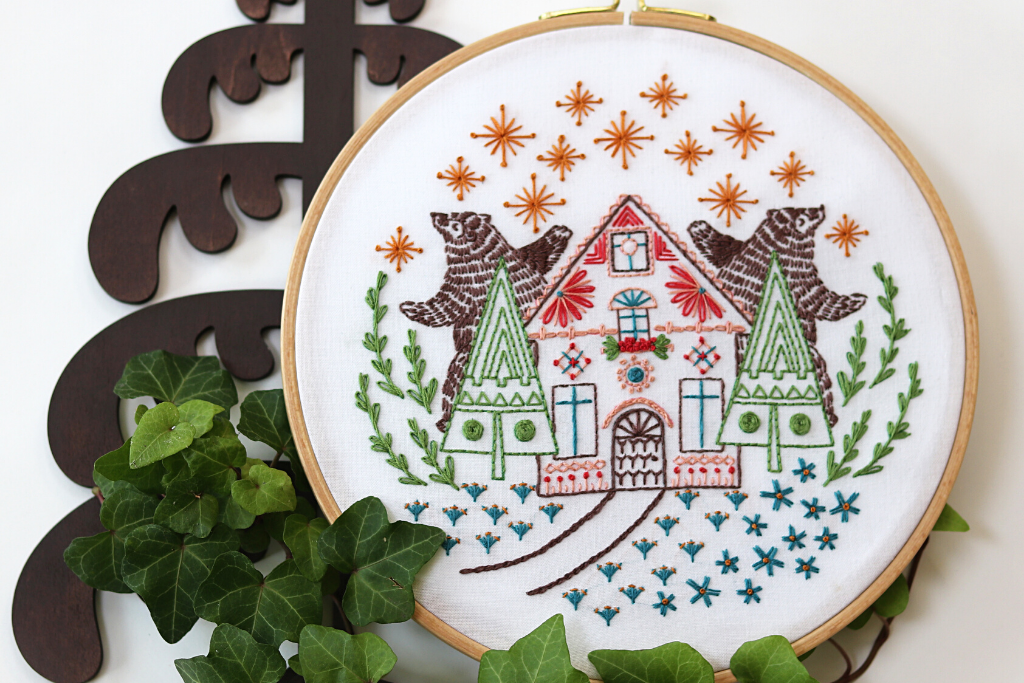 How do you see these bears as they raise their arms to the stars? Are they protecting? Celebrating? Simply dancing? What' do you like to do on a starry night? And how would it feel to have these bears in your backyard? This is a design of ALMOST perfectly mirrored symmetry, reflecting both the order and the exceptions in nature and our lives.
Master 10 classic stitches when you embroider these dancing bears in starlight behind a folklore-inspired cottage in the woods. The bears give you relaxing repetitions, and the cottage adds the fun stitches!
I saw the design and thought my daughter needs this. The printed fabric is the perfect weight. Floss is plentiful and the little needle minder ❤️ is sew sweet! -Ann
---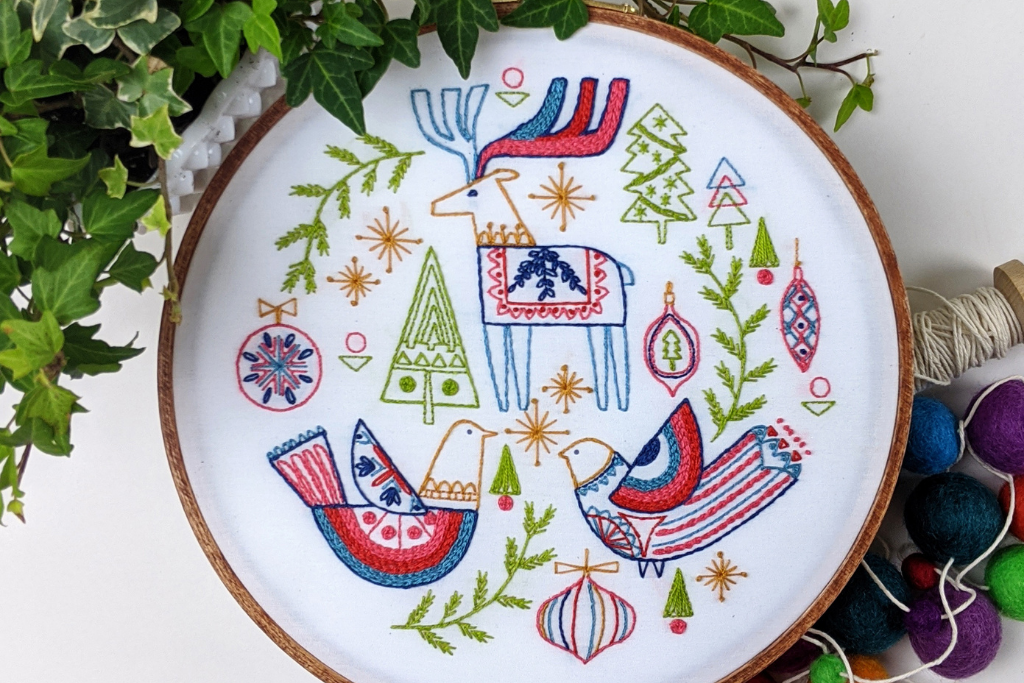 As you stich the holiday-styled folk art birds and reindeer here, take time to embrace the act of embellishment for the simple joy of it.
With "Holiday Folk" you'll stitch Christmas home decor featuring folk art birds and reindeer. Their styling celebrates embellishment for the simple joy of it. You'll stitch loops and scallops, triangles, stars and little knots. The finished piece is great for display or gifting.
One word: Awesome. I purchased two designs and delivery to the UK. It was well worth the wait. Clear instructions and high quality material with a fabulous design. Highly recommended seller. Thank you. – Charity
---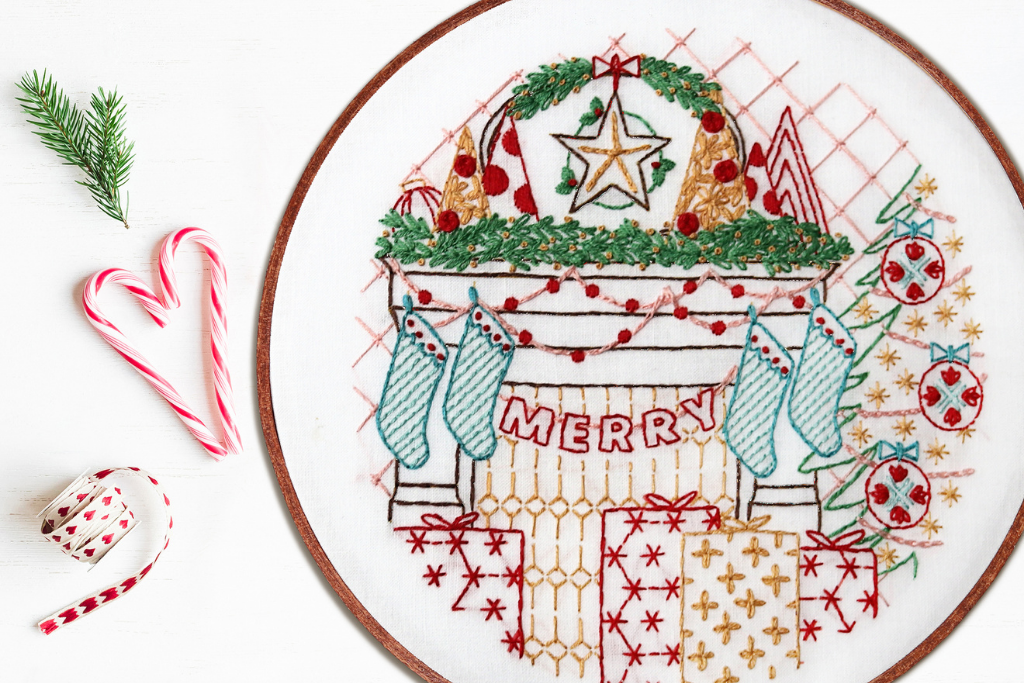 Stitch a decorated Christmas-time mantle that includes many traditional touches: greens and garland, stars and stockings, trees and pretty wrapped packages.
Enjoy this fun stitching experience as you use a dozen classic stitches and holiday colors to render a festive scene. The finished project will look fabulous on your own mantle or holiday-styled shelves.
I've been doing cross stitch and embroidery for years. What sets these projects apart is the ease with the pattern printed on the fabric and the detailed instructions. Working on Christmas Mantle is getting me into the holiday spirit! -Joy Baker
---
Celebrate Spring with…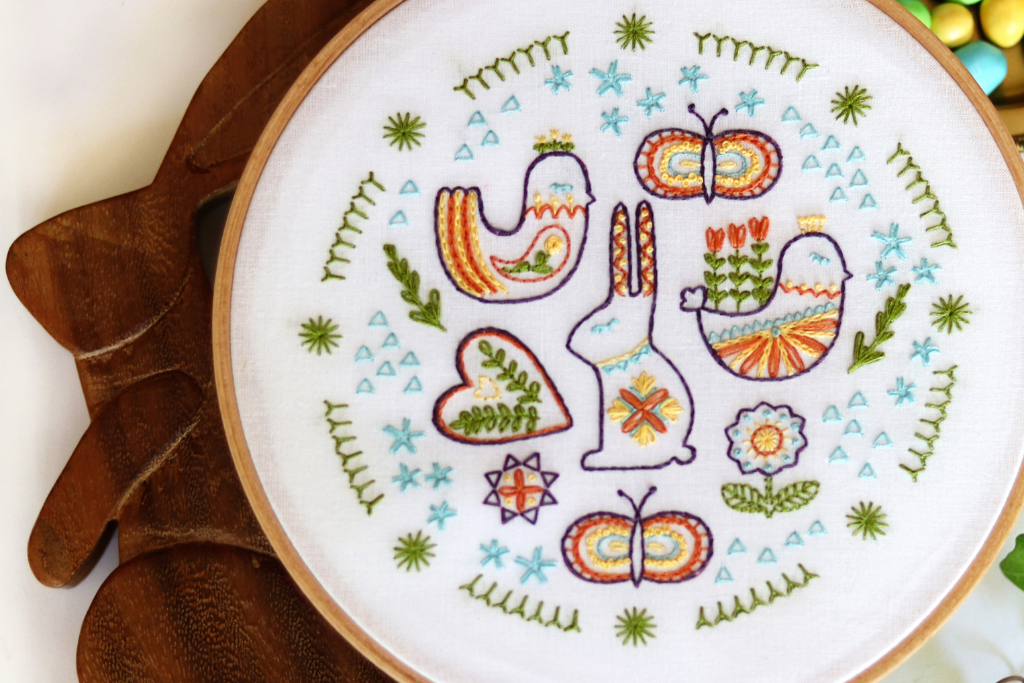 Stitch the spring shapes of bunny, bird and butterfly. You'll work with colors of the season: carrot orange, daffodil yellow, and moss green, and pale blue.
Triangles and loops, scallops and dots and stars are just of few of the shapes you'll render–and they'll give you an opportunity to work with 9 classic stitches. The finished piece is great for seasonal decorating or a child's room.
Lucy is our first great grandchild–brilliant, beautiful and brings lots of love to our family. Spring Folk will be on her wall, and her mom will be teaching her all about her new friends; ie the bunny, the chicken, butterflies and flowers. -Elle
---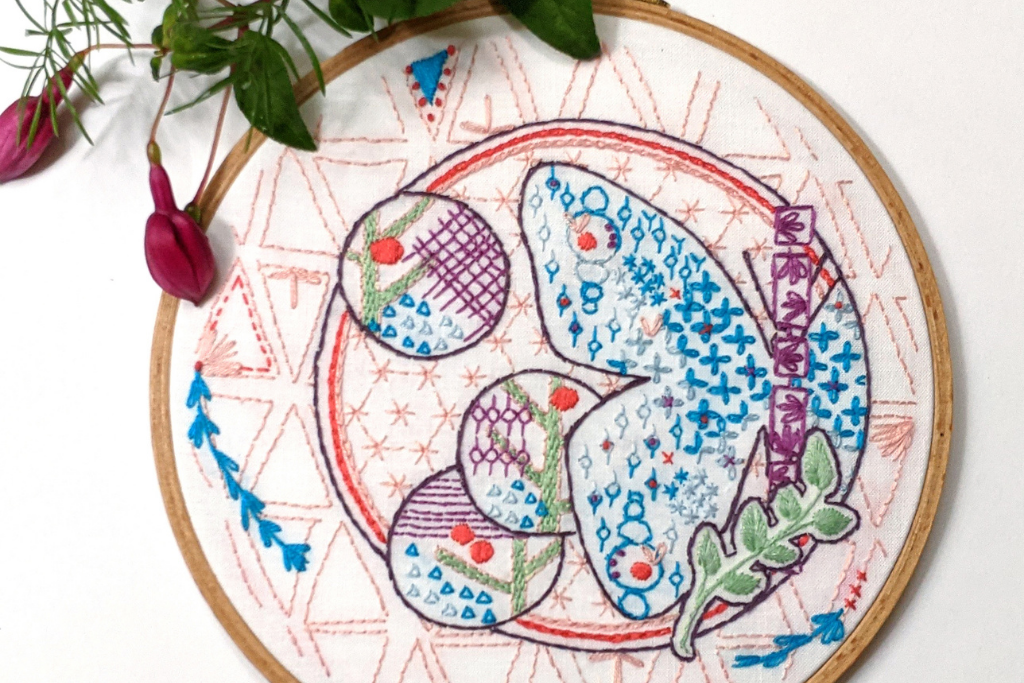 Stitched backgrounds, borders and embellishments make this a hodge-podge of stitching that–in the end–comes together in a piece with unity.
"Butterfly Collage" presents a mixed-media-inspired design. The layered pieces offer both relaxing repetitions and fun challenges that will have you mastering 10 classic stitches. The finished piece is perfect for your creative space and for gifting to artsy friends.
I love all your kits. The Butterfly kit it beautiful and unique. I cannot wait to start it. -Lucille
---
Celebrate Summer with…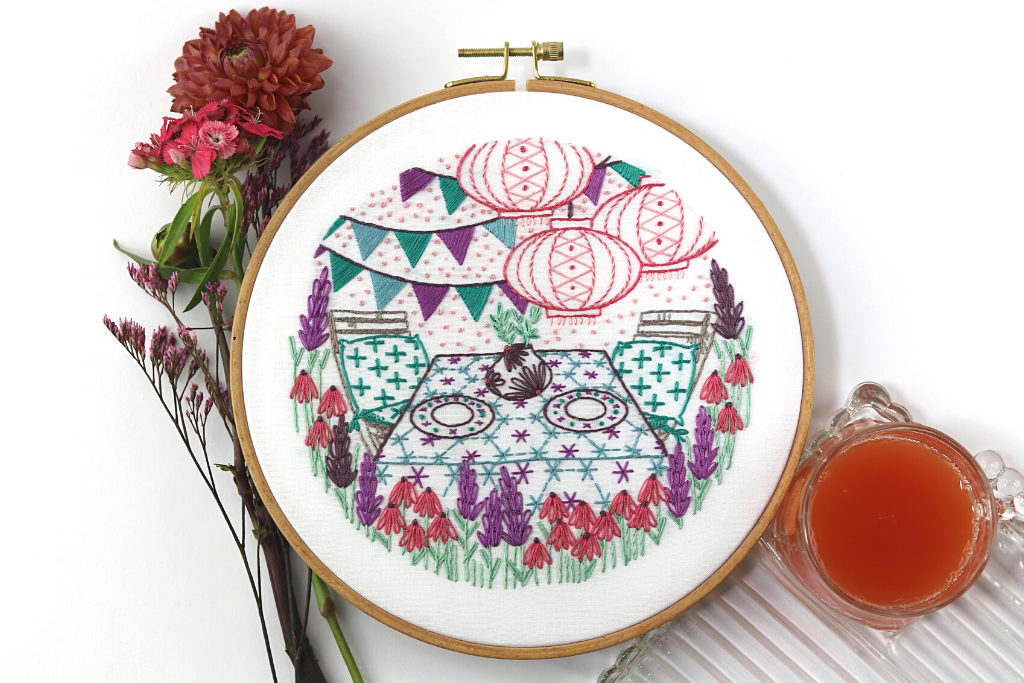 This design has you stitching an outdoor scene that's been decked out for entertaining. Each touch–pillows, tablecloth, pretty plates, pennants, and lanterns–has been chosen to make an everyday setting charming.
The straight-stitched patterns on tablecloth and chair pillows are great starters. As you gain confidence, you'll whip the backstitched lantern lines and master lazy daisies in the garden. The finished piece is great for display or gifting.
I was so impressed by the kit I purchased! Well put together with outstanding directions and pictures! Thank you for your attention to details! I'll definitely be ordering again. –Pat
---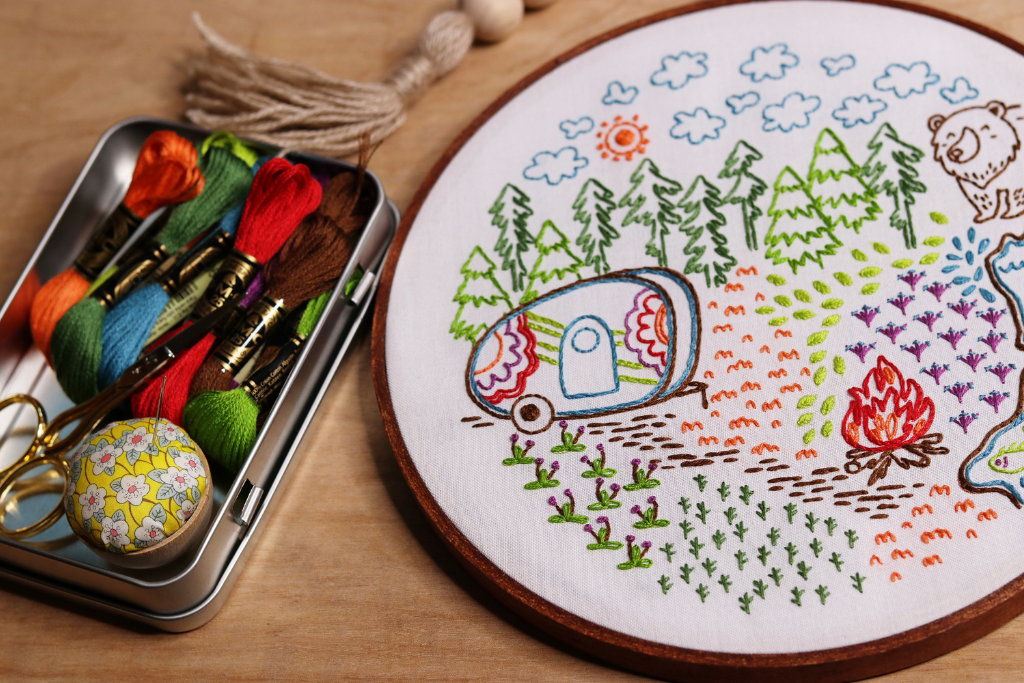 When you think of your favorite getaway, what are the images that come into your mind (realistic or not)? It's OK to have romantic notions once in while–to welcome the idea of a bear wandering gently into the campsite while you're snug inside of a Scooby-Doo-styled van.
With "To the Woods" you'll stitch a colorful, idealized camping scene–and master a dozen classic stitches. Stitch round the lake with blues and browns, then render the teardrop camper in brighter colors. The finished piece is great for display or gifting.
These kits are so much fun to do. The instructions and diagrams are easy to follow. – Susan
---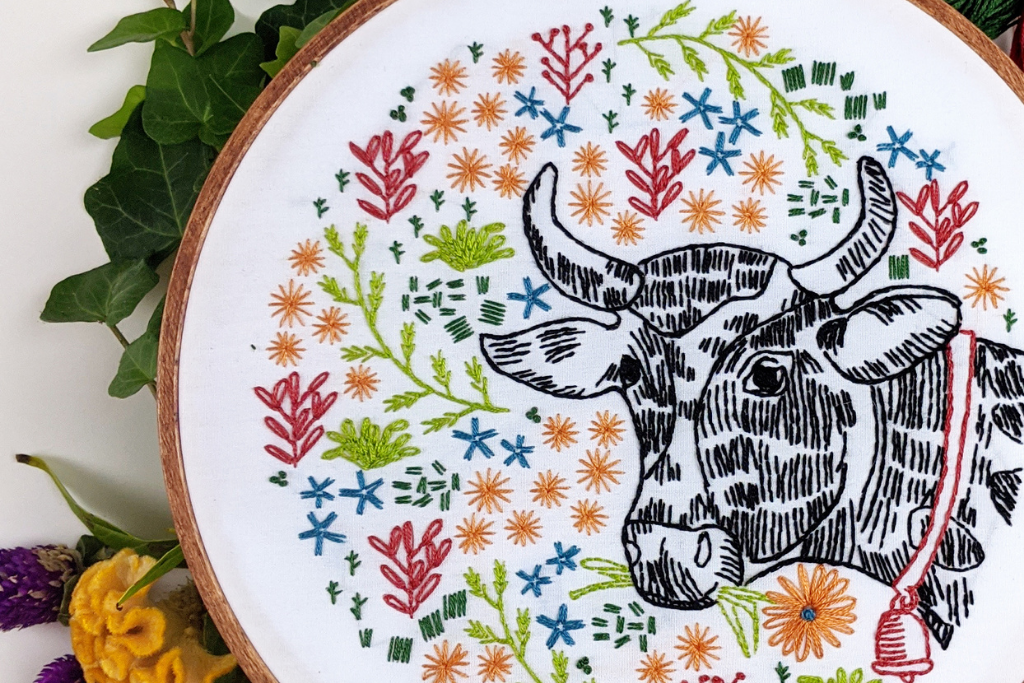 Ah, how calm Bessie looks. Could it be because she knows that cows do not sleep standing up (and truly cannot be tipped)? When do you have this kind of calm and strength that Bessie shows? And where is your favorite grassy and flower-filled meadow?
Capture the calm of Bessie in her pasture full of easy-stitch blossoms. With this design, you'll not only master nine classic embroidery stitches, you'll also have your own cow-inspired decor–to keep or gift.
I am having just the best time working on Bessie! The colors are wonderful and the stitches are varied and fun. Just love it! -Cathi
---
Celebrate each season with a new stitched story.
Build your own collection of seasonal hoops with Stitched Stories embroidery kits.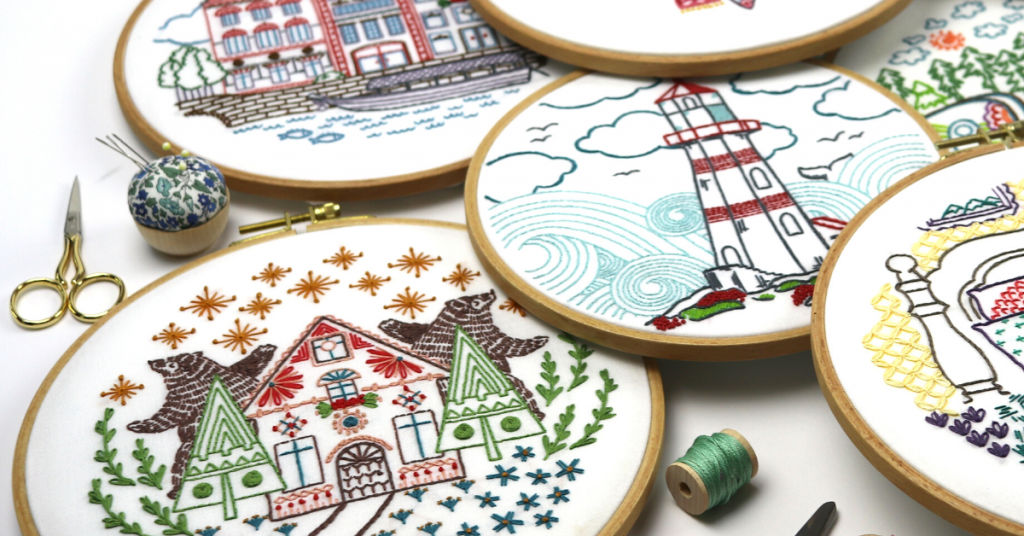 ---
Stitch your FALL story now...
Want to showcase your love for all things autumn? Our seasonal embroidery kits have got you covered!