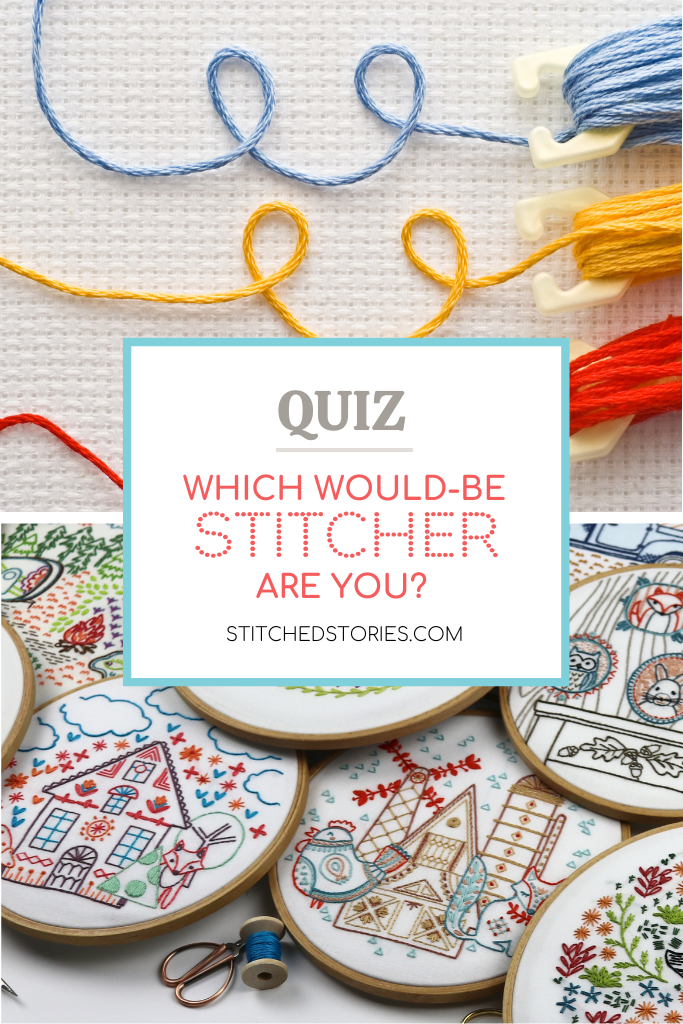 I'd love to help you make 2023 a year in which you embrace a regular practice of embroidery.
Embroidery is a beautiful, ancient craft used to decorate clothing and household items for centuries.

Embroidery is a relaxing and meditative activity to be done in the comfort of your own home–or to take on your travels. (Lazy afternoons with extended family, waiting for appointments, on the airplane when traveling …)

Embroidery is a wonderful way to express your creativity and to make unique and personalized items for your home and for gifting.
Read on to identify which kind of would-be stitcher you are--and to see projects that match up to your crafty aspirations.
IF YOU'RE BRAND NEW TO EMBROIDERY
If you're brand new to embroidery, the best way to get started is to hoop up a printed pattern, thread a needle, and start stitching.
Of course you need a solid how-to guide and a pattern well suited to a new stitcher.
Here's what new stitchers have said about the patterns and guides in our kits:
I am new to hand embroidery and the Stitched Stories kits have been a perfect balance of fun and challenge. I also love how easy the projects are to set down and pick up again. The instructions are clear and well-written, even for a beginner to follow. The finished designs are beautiful. – Ashley
I've tried a few different hand embroidery kits and patterns…this is my favorite by far. The design aesthetic is awesome but the printed pattern and directions are what will bring me back for more. I am a total newbie and found the project to be accessible but not boring. Looking forward to my next project! -Keli
While new stitchers have started with any of our designs, the three in our "First Stitches" Bundle are great for a new embroiderer.
BUNDLE | Start with Coffee | Patchwork | Hen & Fox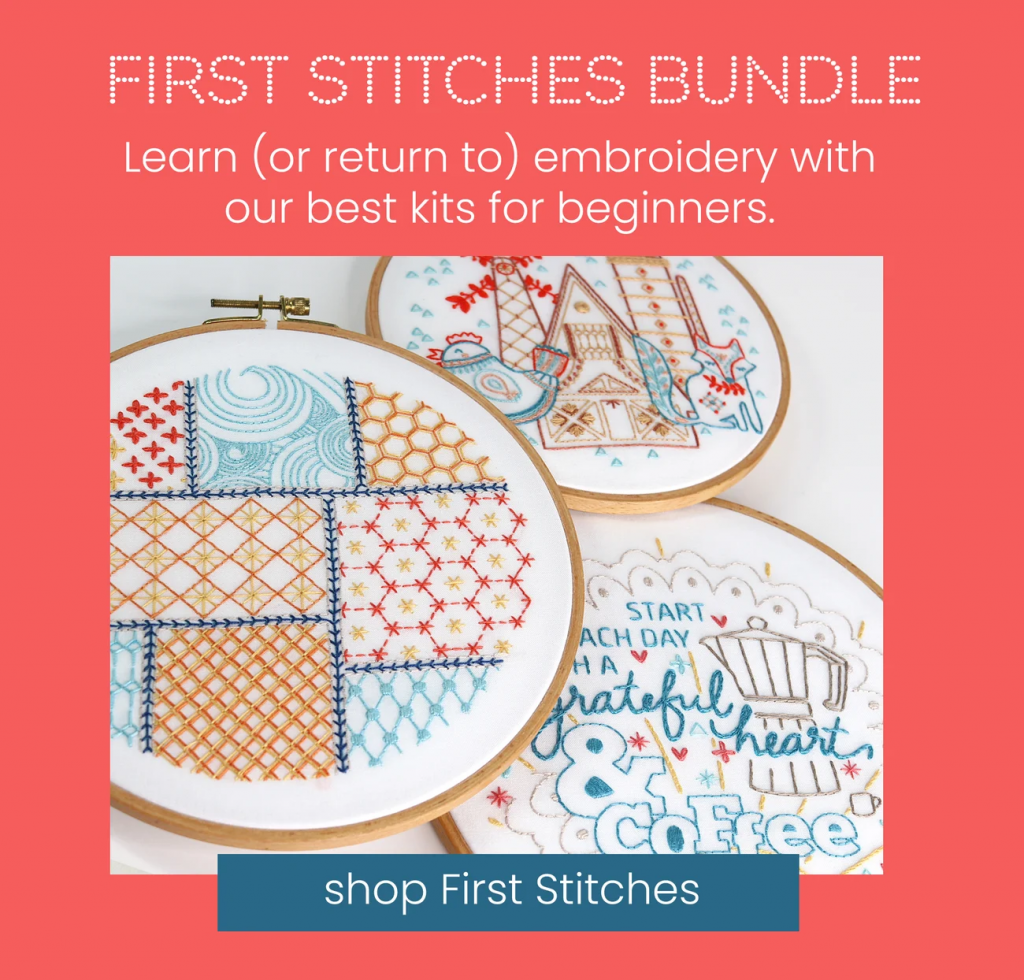 IF YOU'RE COMING OVER TO EMBROIDERY FROM OTHER CRAFTS . . .
Are you a cross stitcher?
The work of hand embroidery (as in our Stitched Stories kits) is similar to cross stitch in that it involves using a needle and thread to create a design.
It's different, though. Hand embroidery offers a wider range of techniques and styles to explore. Our kits help you master 12 classic stitches that you can use on prescribed patterns or in your own free-form designs.
You'll also find that using our patterns is easier work than cross-stitch since there's no counting and the pattern is already printed in color to the fabric.
While you'll always love the challenge of counted cross stitch, this is a great project for working while sitting with friends and family–any time you can't give completely focused attention to the work.
Consider our Mountain Time embroidery kit. The are lots of fills within the design built on regular geometric repetitions–as in cross stitch!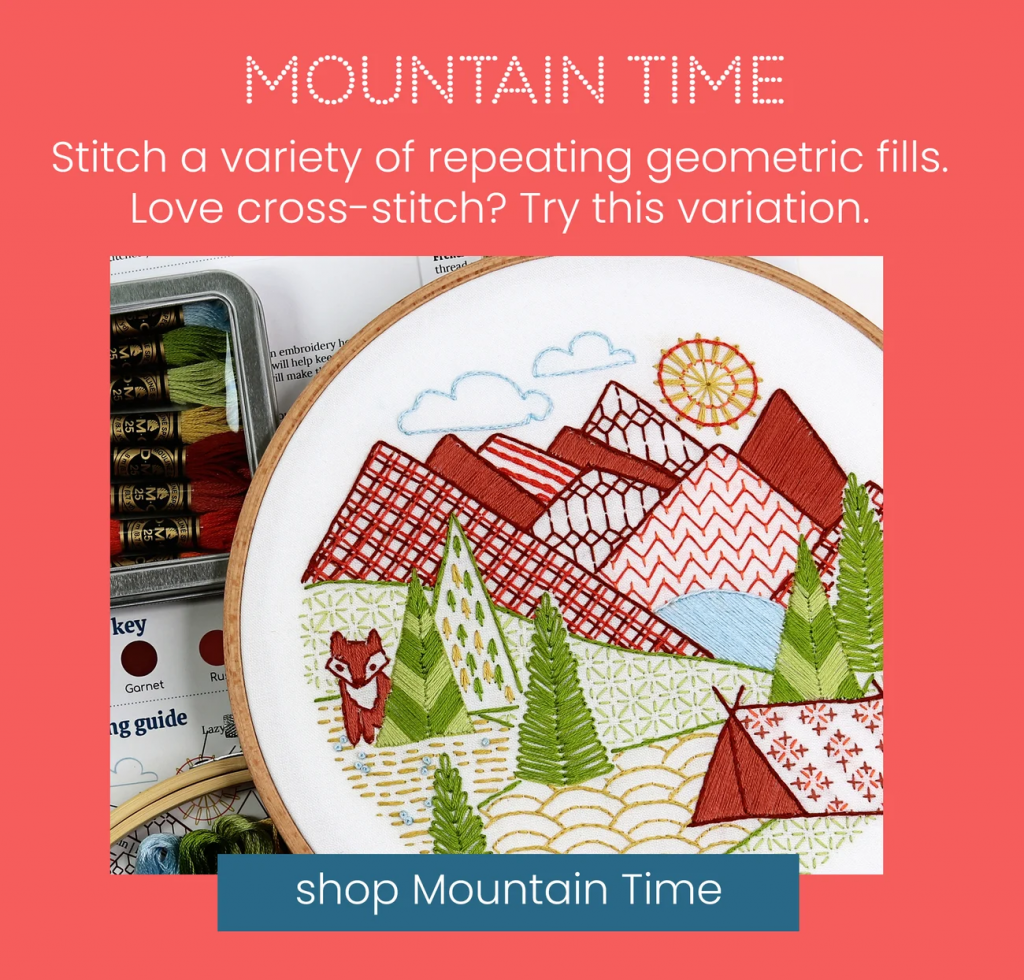 Are you a knitter?
Embroidery and knitting may seem quite different, but they are both fiber arts, and . . .
Many of our customers find embroidery provides a little break from knitting, a quick project that is like a palate cleanser and keeps their hands still making.
By learning embroidery, you can add a new dimension to your knitting projects. Use it to embellish and personalize your knit items with a combination of classic hand embroidery stitches.
Consider our Tea Party embroidery kit. The florals filling the pot and cups can inspire details you might add to your knitted projects.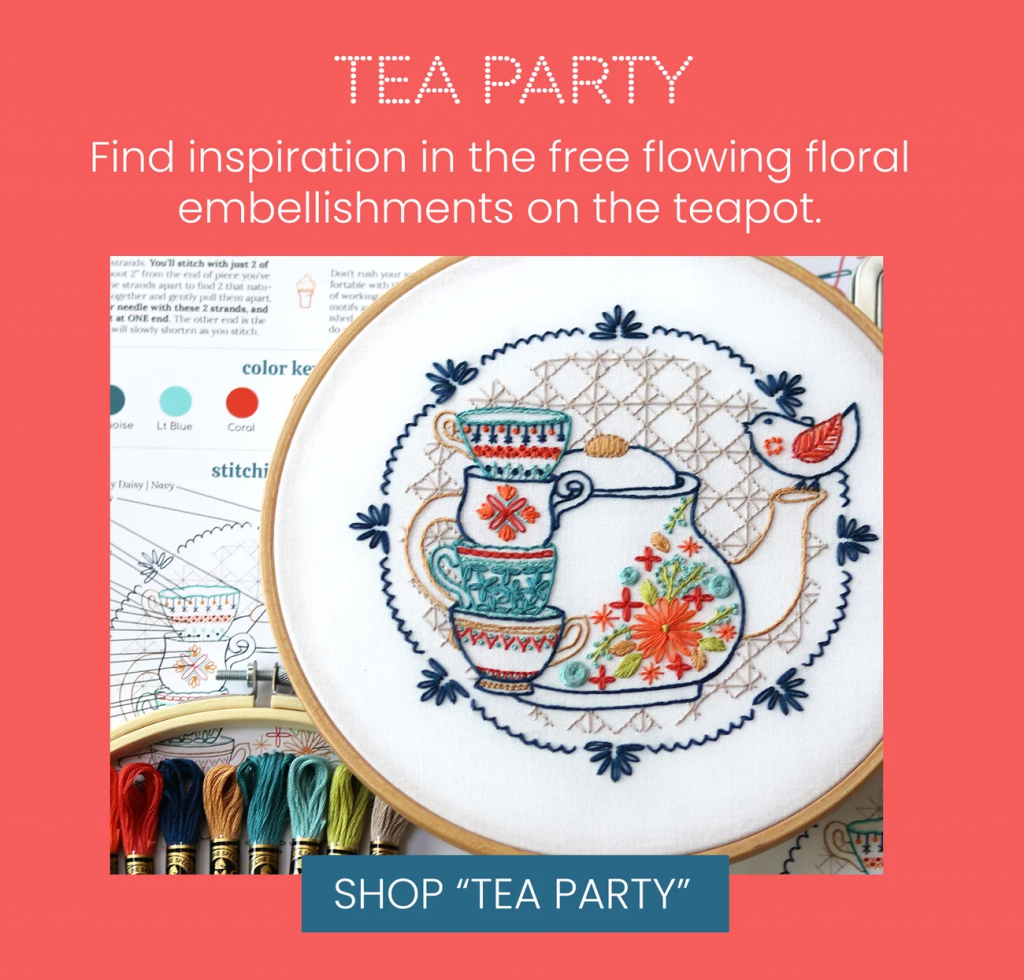 Are you a quilter, beadworker, caligrapher . . . any variety of hand crafter?
I invite you to add hand embroidery to your repertoire of skills.
You do not need a lot of expensive or large tools to embroider, and it's a craft that can be a wonderful complement to your other creative work.
Consider our Create embroidery kit. The subject matter celebrates your own crafty inclinations—and this is a design that is FUN. Skip from one motif to the next, change colors, change stitches–until it all comes together.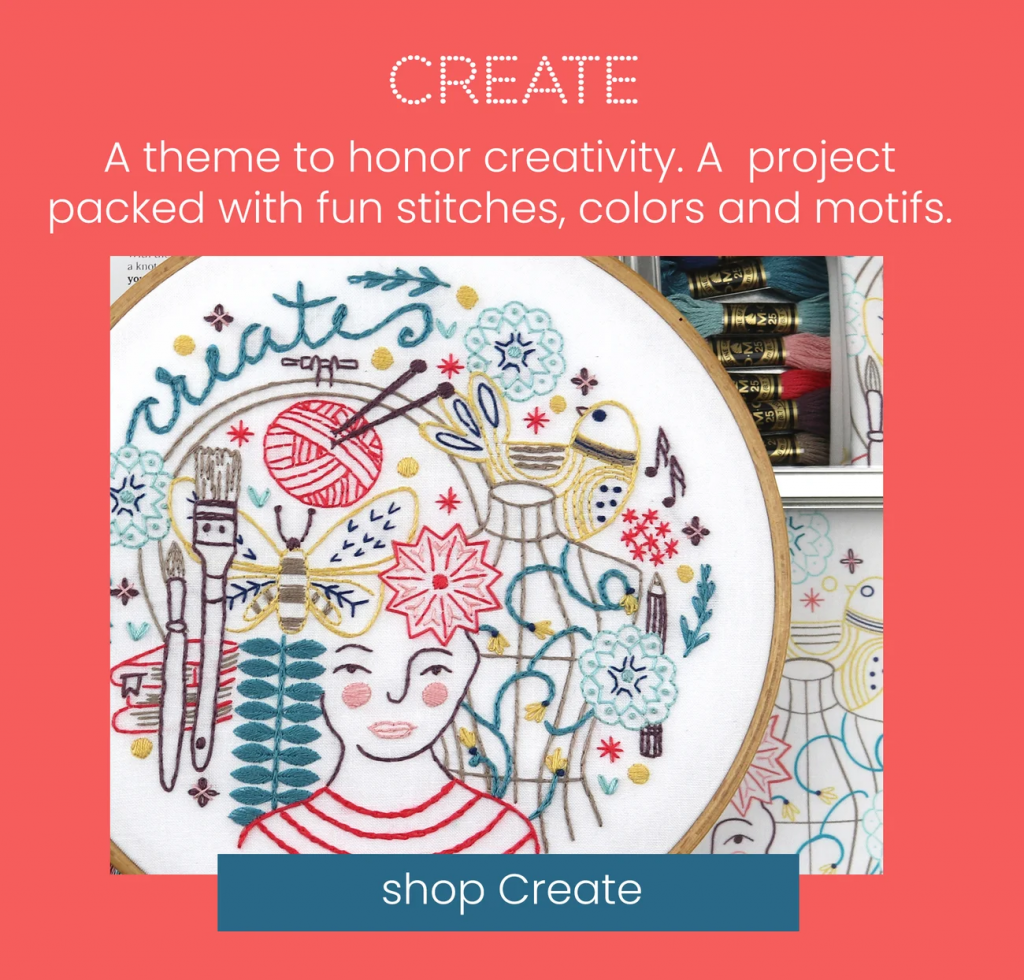 IF YOU'RE COMING BACK TO EMBROIDERY AFTER YEARS AWAY
Welcome back! So happy to see you returning to a craft you may have learned while young–perhaps from an older relative.
I came back to embroidery in 2020—after over 30 years away. I'd been an avid counted cross stitcher in my 20s. I'd been seeing embroidery showing up in my Instagram and Pinterest feeds.
I wanted to stitch, but . . .
I couldn't get a pattern downloaded and transferred.
I couldn't find a project that appealed to my aesthetic.
I couldn't find a project that had a lot of fun stitches (I didn't like the ones that looked like I'd be outlining coloring sheets OR that were too intense with lost of satin stitch and "thread painting").
The kits at Stitched Stories were my answer to this problem.
Consider our No Place Like Home embroidery kit. It's a modern design inspired by countless vintage samplers.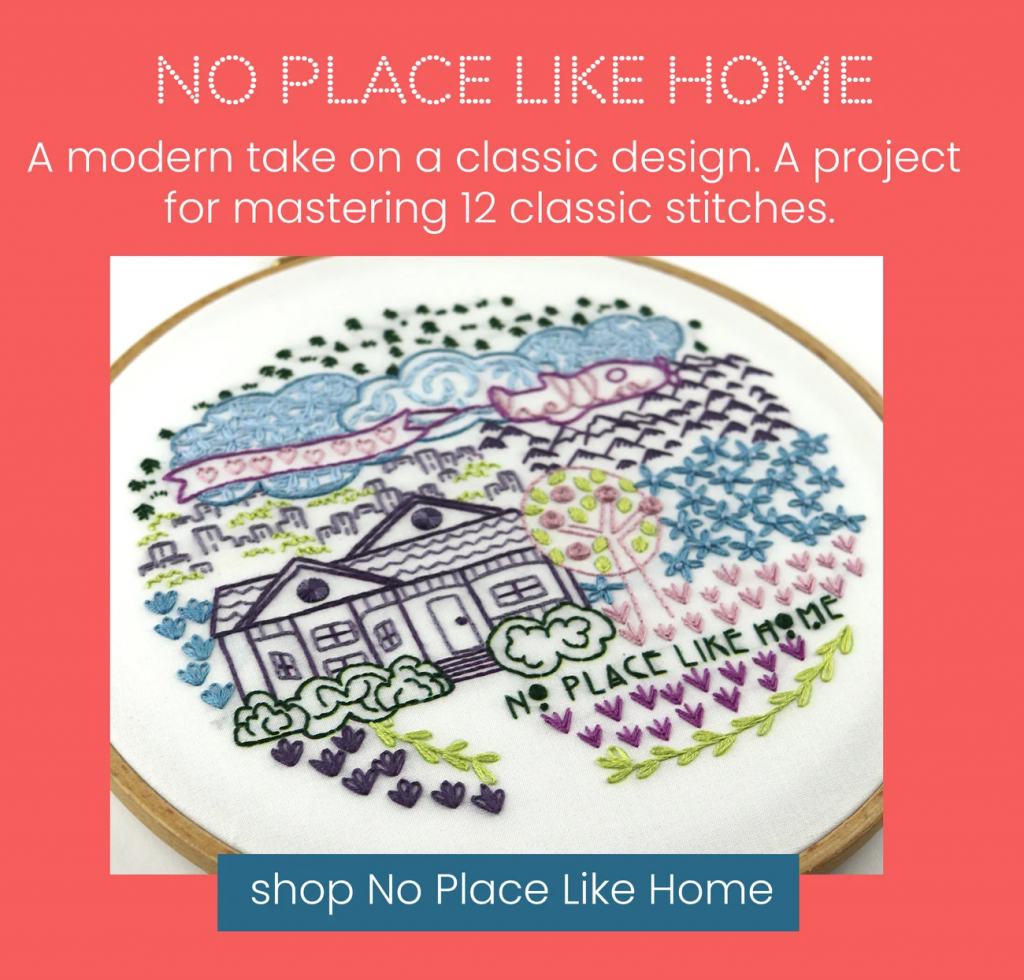 READY TO GET YOUR FIRST STITCHED STORIES PROJECT ROLLING IN THIS NEW YEAR?
Click here to take a look at 3 dozen different projects–all built around 12 classic hand embroidery stitches and a variety of fun stitch combinations.
---
Get started stitching your holiday gifts and decor...
Add embroidery to your own fabric projects--from tea towels to tote bags, home decor and clothing with one of our holiday-themed stick and stitch wash-away patterns.