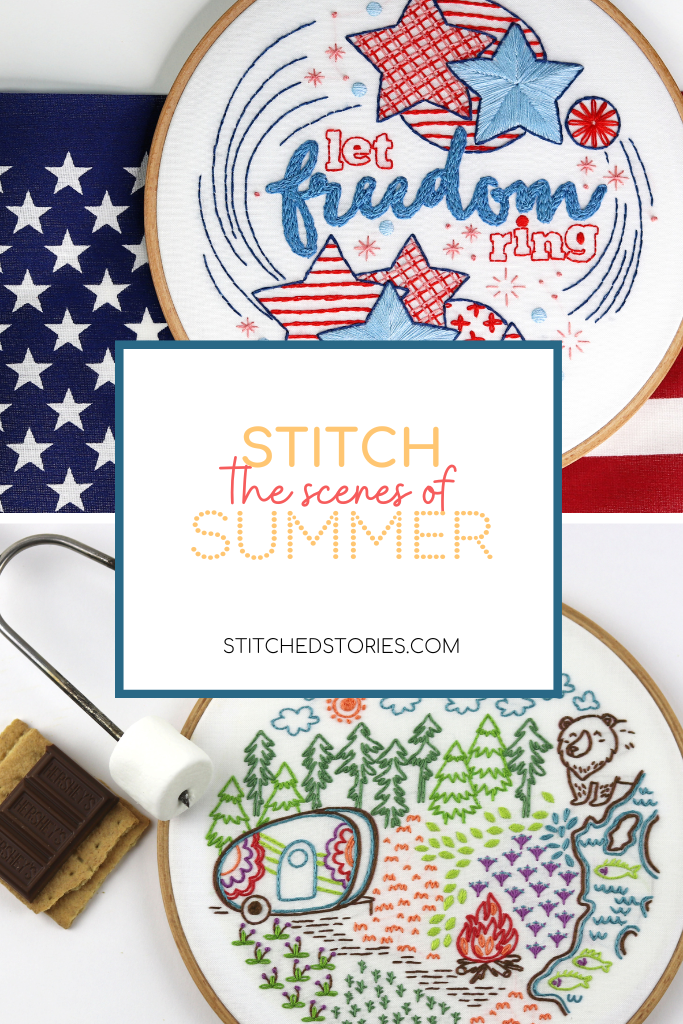 Have you started settling in to your favorite summer stitching spots yet? Maybe the porch or backyard at home, the campsite or beaches you're visiting.
Stitched Stories all-in-one kits make it easy to embroider everywhere you go this summer–and to embroider scenes packed with the motifs and colors of the season.
In each kit, you get a color-printed pattern designed to make your stitching experience absorbing and relaxing.
Quality materials (hoop, floss, pattern, needles) and handy extras (storage tin & needle minder) make it easy to get started with embroidery–and keep going.
Here are a few summer-perfect projects.
If you love camping
To The Woods is filled with a rich variety of stitches for embroidering a colorful, idealized camping scene. You'll master a dozen classic stitches as you stitch around the lake with blues and browns, then render the teardrop camper in brighter colors.
Sarah says: "I'm brand new to embroidery, though I have done other kinds of needlework. I love To the Woods! The design is adorable. But also, the included materials are complete and great quality. I was able to read the directions and start immediately."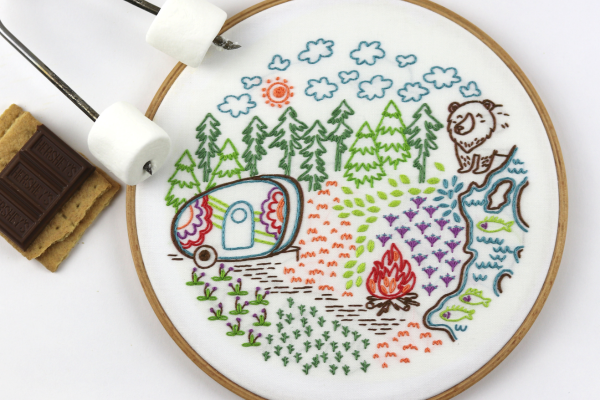 When the garden is your passion
Grow is a rich mosaic of garden themes–from seedling 6-packs to blooming lupines and dried sheafs. It's a satisfying project that puts you in a summer mood.
Lauren says: "Still learning and this one is teaching me all the stitches! I bought it because I'm a gardener but I have fallen in love! Easy to follow and built my confidence!"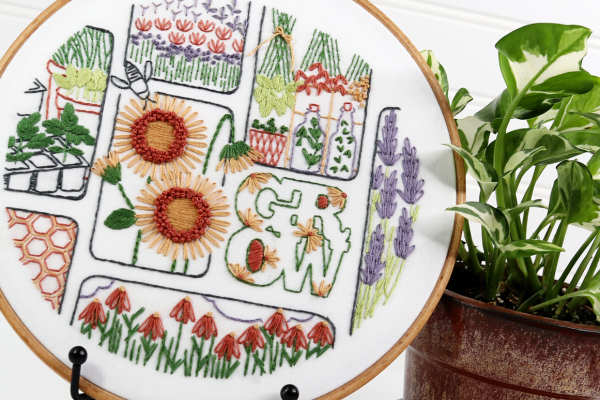 Getting patriotic
The variety of stitches in the patriotic Let Freedom Ring make this an engaging and satisfying project. You'll embroider chain-stitched stripes, a collection of stitch-filled stars, and a scripty rendering of the word "freedom" — all in shades of red and blue.
Cathy says: I absolutely love Let Freedom Ring. It's so fun using different stitches and just a super fun stitch out. I've ordered and finished several kits from Stitchedstories and have never been disappointed. I love the metal tins that come with the kits. They help me stay organized. The directions are so great, too.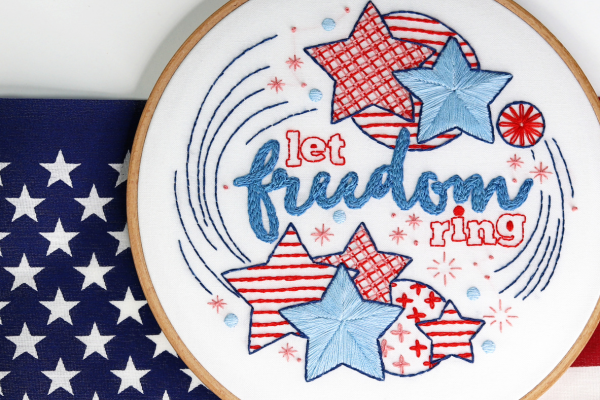 Green summer hills
Rolling Hills is a whimsical landscape inspired by the folk-art style. Lollipop trees, a greenhouse and fountain are nestled into hills you'll fill with a variety of stitches.
KayDee says: "Fun stitching ahead. This is such a fun project with all the different stitches. I love the fact that these kits come with everything you need. Easy to transport with you wherever you go. Appreciate the clear and illustrated directions."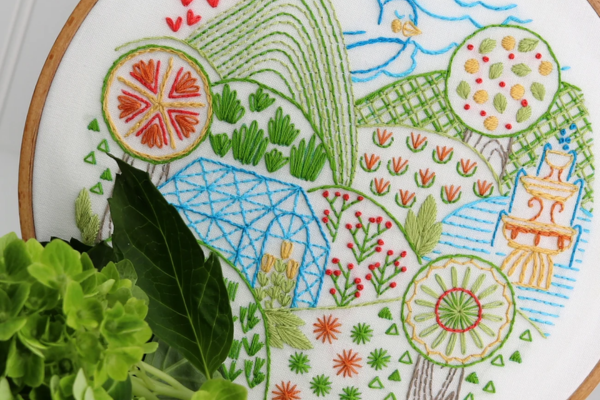 When the mountains call
Mountain Time is an embroidered landscape built on visual contrasts. You'll stitch sharp, dark mountains and triangular trees alongside lighter colored and more gently rolling hills.
Laurie says: "Absolutely loved stitching this project! So many fun stitches and such a variety of colors!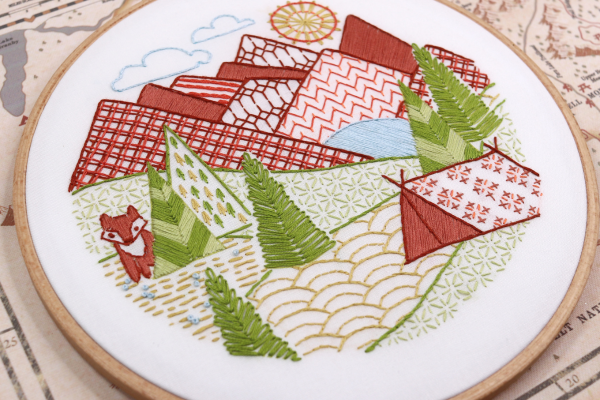 Pretty picnics
With Garden Party you'll render an outdoor scene that's been decked out for entertaining–and charm! Repeating patterns on tablecloth and chair pillows are a great starting point. As you gain confidence, you'll whip the backstitched lantern lines and master lazy daisies in the garden.
Katie says: All of these kits are fantastic for stitching either at home or on the go! I love the fact everything is included in the darling silver tin. If you are looking for an embroidery piece, check out Stitched Stories, her kits are the BEST!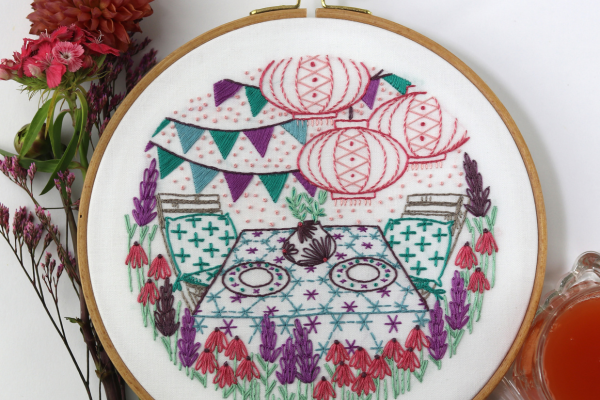 Salty air scene
With Lighthouse you'll stitch both straight lines and nested curves–repetitions to remind you of the sea's rhythms and keep this project moving forward. Master several classic stitches and create a stunning finished piece that celebrates the ocean.
Heather says: How can you go wrong with the beauty of lighthouses? Stitched Stories knows how to keep the fresh designs coming, and I love how they make us a part of the process.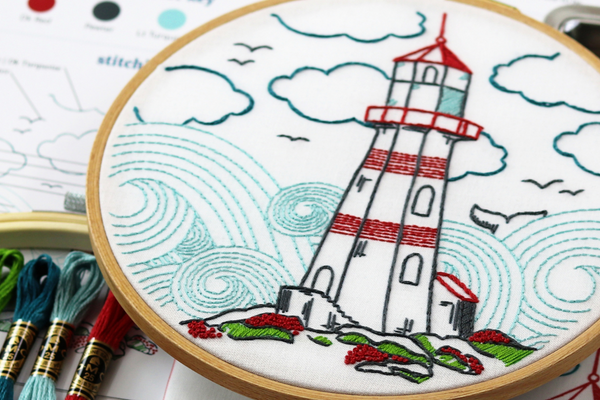 Are you ready to relax and stitch the colors and imagery of summer?
CLICK HERE to visit the shop to see these designs as full kits, fabric patterns, and "Stick & Stitch" patterns.
---
Stitch your FALL story now...
Want to showcase your love for all things autumn? Our seasonal embroidery kits have got you covered!