Stitched Stories

give crafters everything they need to make a finished piece of hand-embroidered hoop art–and fall in love with this comfort craft suited to all generations.
Like traditional samplers, Stitched Stories designs are built on a dozen classic hand embroidery stitches. Our modern, colorful motifs give this vintage craft a fresh look.
We aim is to inspire and motivate would-be stitchers of all ages to embrace their crafty side.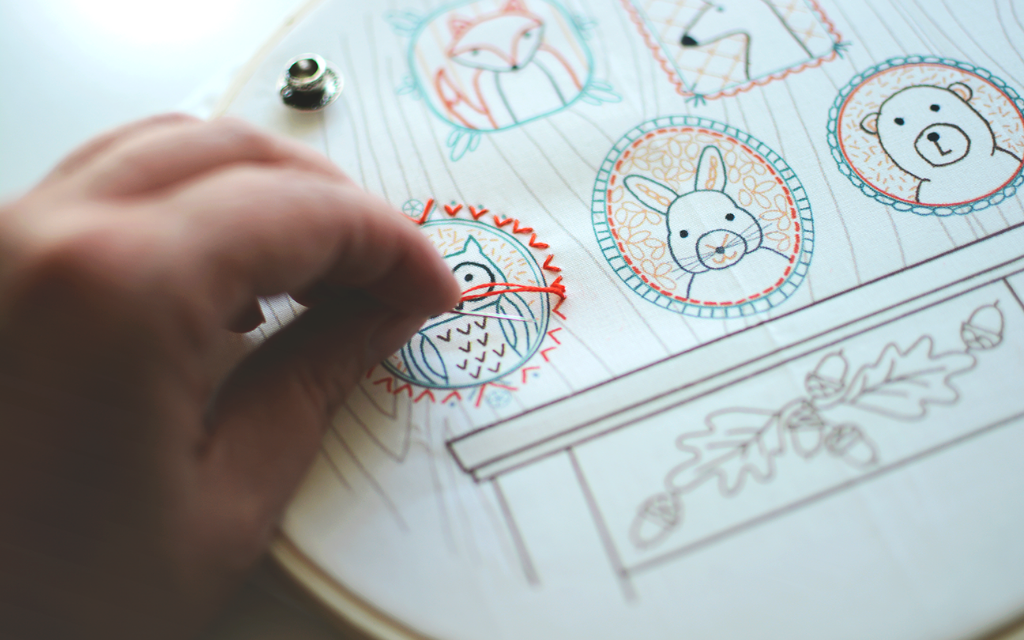 Embroidery is a comfort craft.
Embroidery is relaxing to practice, easy to take along on outings and appointments, a way to create heirloom projects, and a craft that can be shared by all ages.
Stitched Stories kits have everything you need to get started–and keep going with this comfort craft.
DIY embroidery kits make meaningful gifts.
The holiday unwrapping moment is turned into an ongoing experience when you give a DIY embroidery kit. You create the opportunity for time together, time spent making and connecting well after the unboxing.
Stitched Stories embroidery kits include detailed how-tos for new stitchers as well as tips even the experienced embroiderer will appreciate.
Embroidered décor is unique and enduring.
Embroidered hoop-art adds interest and appeal to wall groupings and table-top vignettes. Finished projects on display contribute to the story your home tells of your experiences, connections and aesthetic preferences.
Stitched Stories kits offer a variety of themes and seasonal designs so each stitcher can find their own stories in them.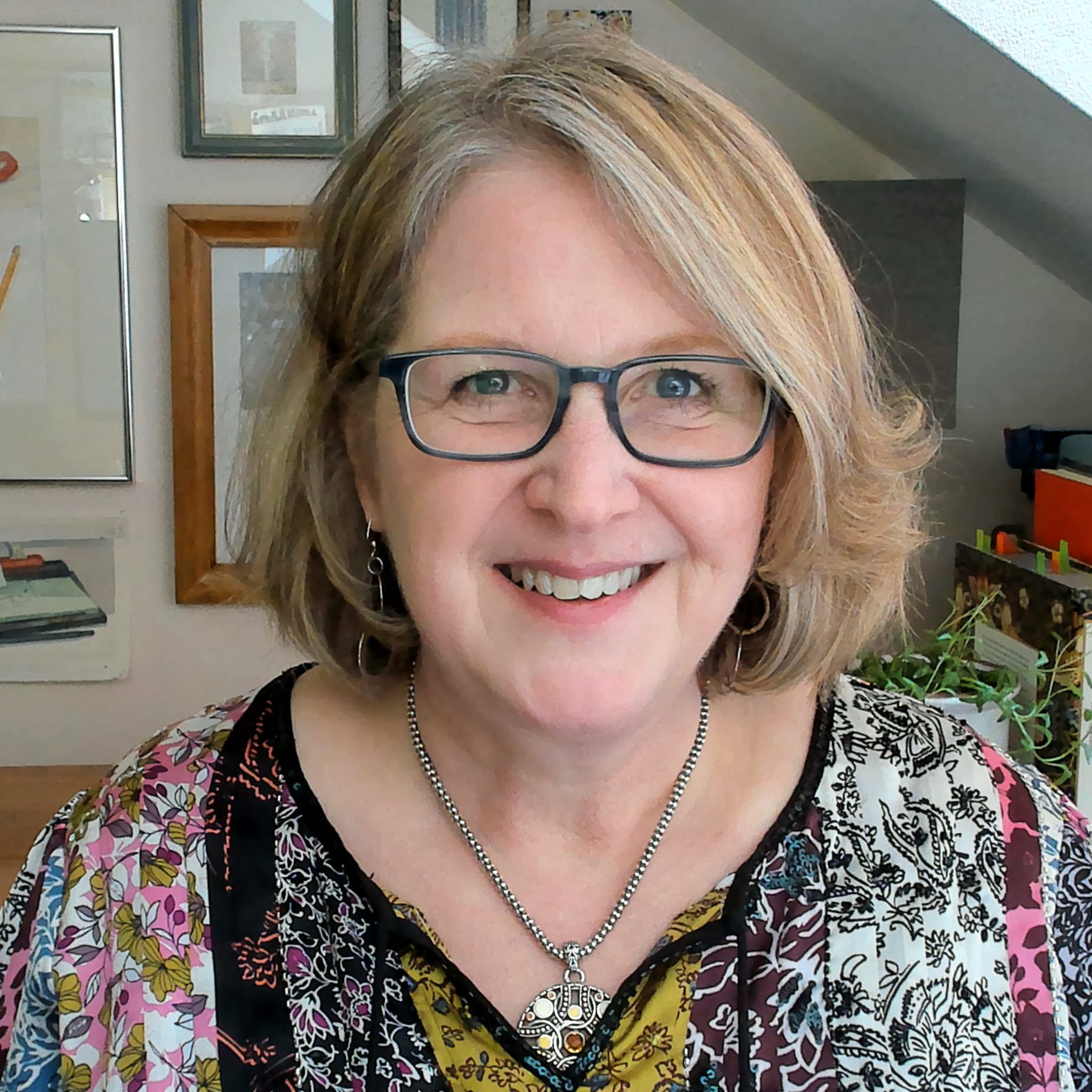 Hi, I'm Debbie Hodge, the founder of Stitched Stories...
And I know the desire to create. I know what it is to have crafty aspirations.
When I decided to try hand embroidery, I could not find the kind of kits that I wanted to stitch.
Cross stitch felt too controlled.

Intricate "thread painting" looked like too much work.

Simple (and gorgeous) designs wouldn't be enough work.
I was like Goldilocks—it was all either too much or not enough.
I wanted embroidery kit designs:
that were more fun than they were complex

that presented a variety of stitches rather than just a few gorgeous ones

that offered a project with several areas to stitch, with modern motifs–and even storylines
And that's how the Stitched Stories was born.
Our kits are built on classic hand embroidery stitches, and we've been thrilled to see over 4000 new and experienced stitchers embrace our embroidery kits during our first year in business.
Take a closer look at our embroidery kits… 
Each kit comes complete with:
8″ Bamboo embroidery hoop (unstained/natural)

Cotton fabric with design pre-printed in color

6+ full skeins of coordinated DMC Embroidery Floss

2 embroidery needles

5.5″ tin for organizing your supplies

Easy-to-follow illustrated instructions
Every Stitched Stories kit includes a variety of stitches and motifs.
There are small scenes you can complete in a sitting, all of them coming together in the finished project. Immerse yourself in the imagery, color, and classic embroidery stitches. Recall your life's past stories and consider the new ones possible.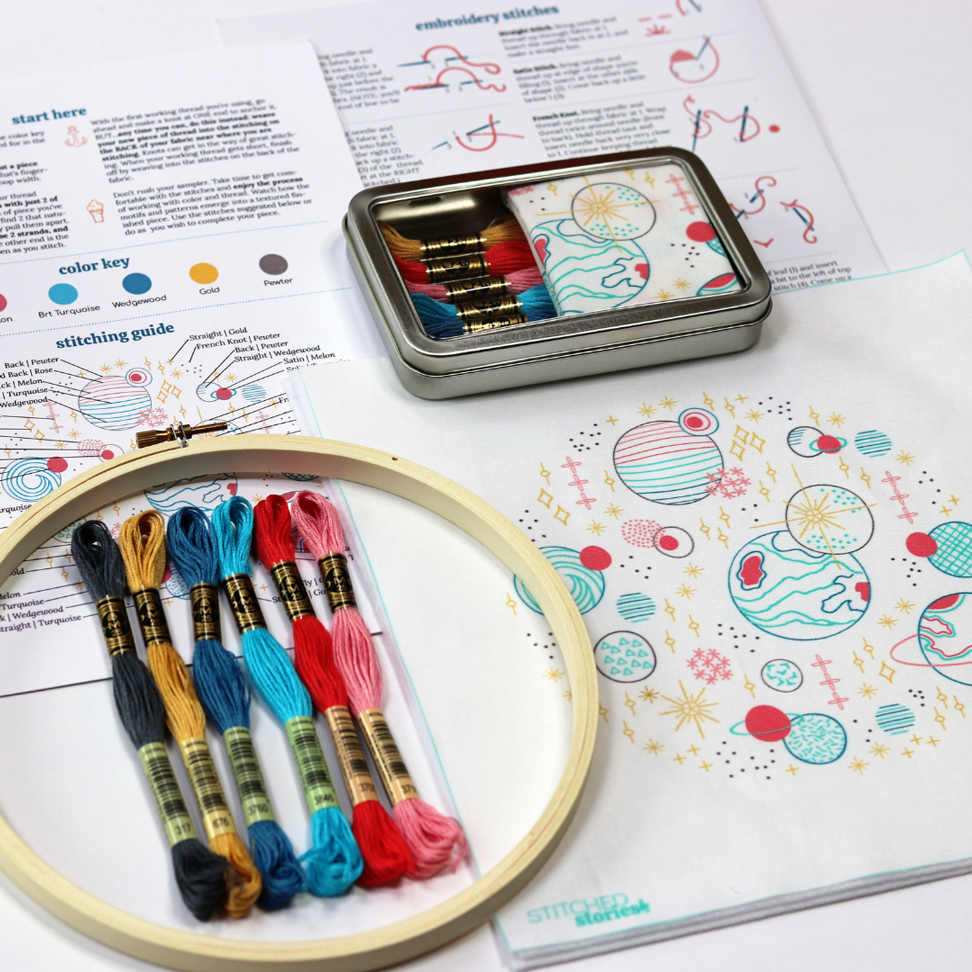 Happiness Guarantee
Something went wrong? Let us know and we'll take care of you ASAP.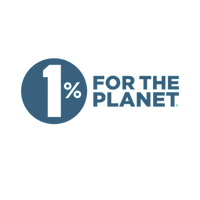 Your Purchases Give Back
1% of our gross revenues support environmental organizations working on the front lines for our planet.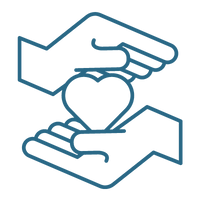 Small Batch Production
Each kit is designed by Debbie Hodge. We cut the fabric and pack each of your kits right here in New Hampshire.
See what our amazing customers have to say…
Handy little kits. I love how everything I need to make the project comes in a tidy kit! Easy to take anywhere, anytime. Clear and illustrated directions make a beginner like me feel confident and successful. And the cute little needle minder they throw sure helps me keep track of it
I love that these kits come neatly packaged with all the supplies needed. The directions are easy to follow and it makes a great project for any level of stitcher. I like to take one with me in the car for waiting on kids.
Love these kits! 

I've purchased 13 different kits from Stitched Stories! Plus some duplicate buys of the printed patterns! I think that says how wonderful I think they are! Just absolutely love them! They're fun and they are so organized there is no frustration in getting started!
Follow us on social media…