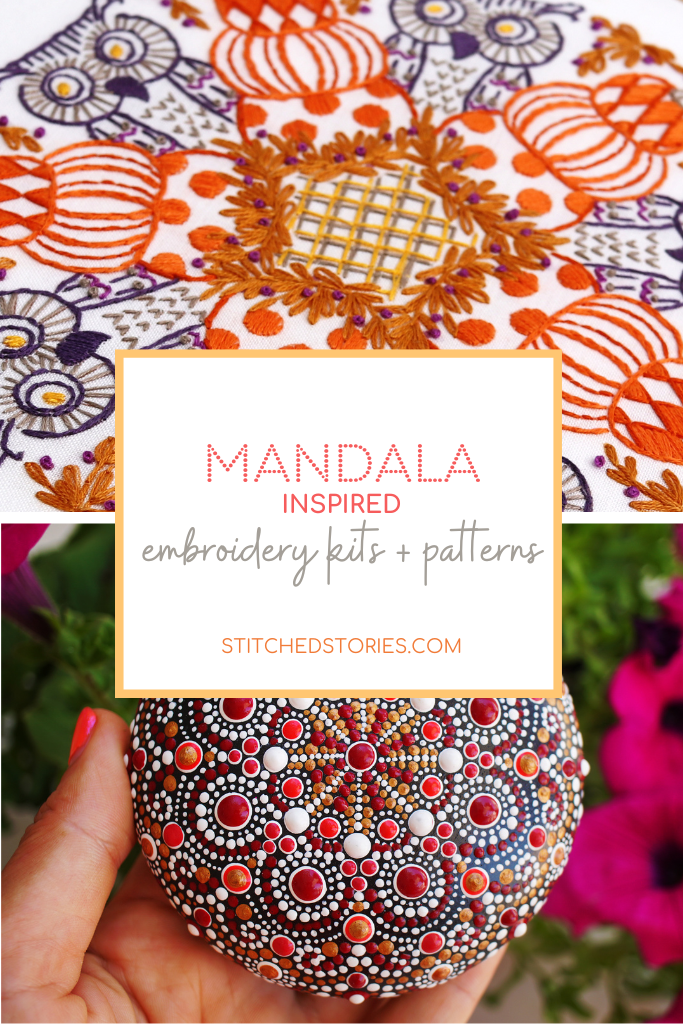 Stitching mandala-inspired designs is a unique kind of mindful pleasure.
The individual motifs add variety—but then the multiples of each motif give you relaxing repetitions.
While mandalas are typically composed with geometric symbols, our embroidery patterns give you meaning-laden motifs in a repeating design.
Here are five mandala-inspired kits and patterns in the Stitched Stories Shop:
With Pumpkins and Owls, you'll embroider two layered and offset five-point mandalas. The first is a topiary of pumpkins in two tones of orange. Fill spots and diamonds with satin stitch. Detail pumpkin ribs with back and chain stitching.
The five owls are layered behind the pumpkins. You'll straight stitch around the eyes, and add little fly-stitched "v"s to the chest. There are more lines and scallops and French knots on the wings, and you'll outline each owl with the split stitch.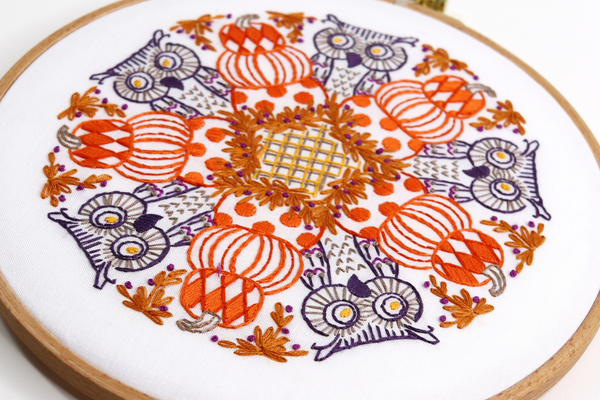 Joy is a bright Christmas arrangement–again with two layers. The top layer gives you four whimsical reindeer to outline with the split stitch (use the fly stitch for the antler curves). Add a scalloped neck ornament and poinsettias between the antlers
Behind the reindeer are 4 bright trees to trim with garlands in red satin-stitch and paler chain stitching. Top the trees with lazy daisy blossoms and a French knot.
Finish this piece with a center wreath of greens and a playful rendering of the word "joy."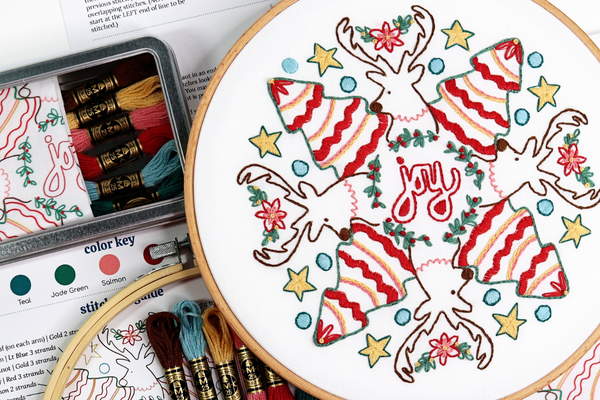 Lucky Circle presents the four leaves of a lucky clover that you'll fill with basket weave, straight stitches and satin fill. Between the leaves are Claddagh rings to stitch in yellow, orange and green.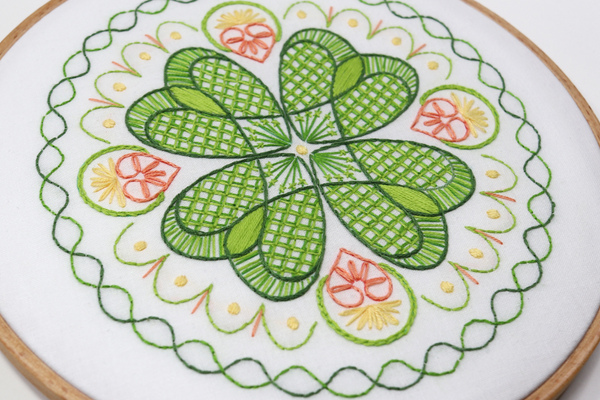 Choose Love gives you a small geometrical design of hearts layered behind a bright blue dove. A scripty "choose love" message finishes the bottom curves of the designs.
Fill the hearts with fly-stitched scallops, color-blocked satin stitching, and ornamental French knots and lazy daisies.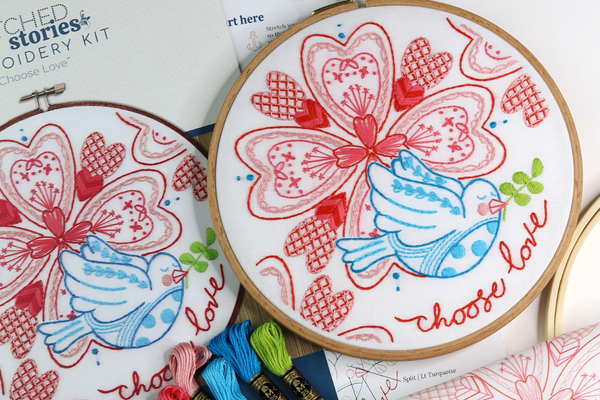 Easter Fluffle is a playful design packed with stitch variety and two spring-themed color palettes. Stitch the bunnies in blues and pinks. Fill their ears with fly stitches. Add neck ornaments and bright folk-art inspired clusters to their bellies.
Behind the bunnies are two different egg designs–giving you even more engaging stitch combinations: back-stitched rays, satin-stitched polka dots, bands of fly stitching and zig zags, and mini floral clusters.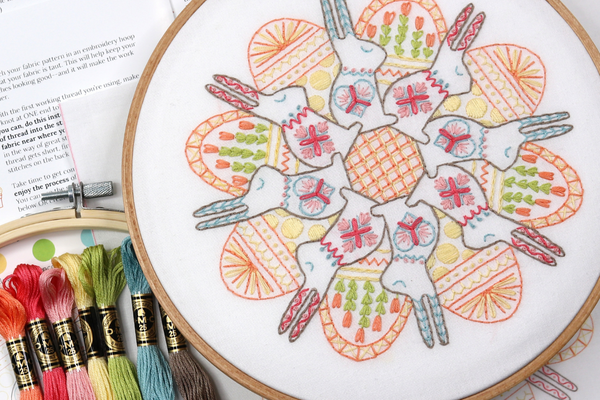 Here's to getting crafty side with engaging, mandala-inspired embroidery projects.
You can find Pumpkins and Owls, Joy, Lucky Circle, Choose Love and Easter Fluffle in the Stitched Stories Shop as both full kit and printed embroidery patterns.
---
Get started stitching your holiday gifts and decor...
Add embroidery to your own fabric projects--from tea towels to tote bags, home decor and clothing with one of our holiday-themed stick and stitch wash-away patterns.