Search for "embroidery kit" on Etsy and you'll get over 380,000 results, an assortment that, at first glance, looks rich in cacti and floral motifs.
Do a little digging and you'll not only find a wide variety of inspiring imagery to stitch, you'll also discover that the kits come in sooOoooO many variations.
Some include a printed design while with others you need to transfer the pattern to fabric yourself.
Some are clean and simple and can be stitched up in an hour while others will give you days of stitching joy.
Which one is a would-be stitcher to choose?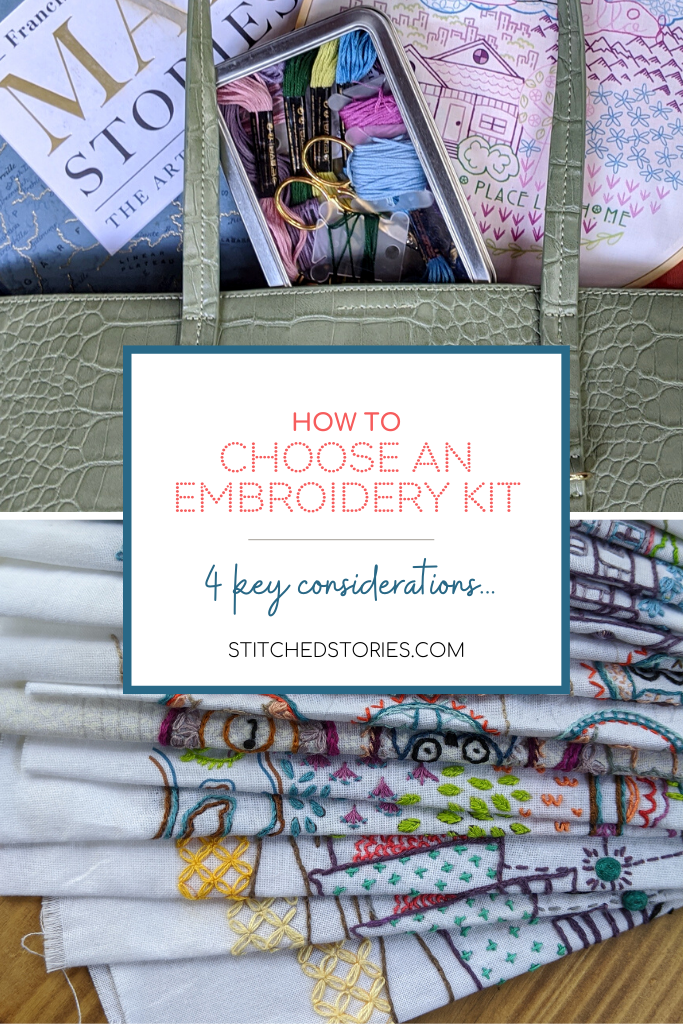 Here's a run-down of key considerations as you select your next (or first!) embroidery kit
1. Do you want the design already printed to fabric or will you transfer it yourself?
You can get going with a kit for a lower price if your are willing to transfer the pattern to the fabric yourself.
There are a variety of transfer techniques. You can trace directly to fabric, trace to paper and iron it on, use water-soluble stabilizer fabric or even stiffen your fabric and run it through your printer.
With a pre-printed design, you simply pop the printed fabric into your hoop and start stitching. Even better if the design is printed in a variety of colors to match the threads needed.
Stitched Stories kits include the design pre-printed to fabric--in color.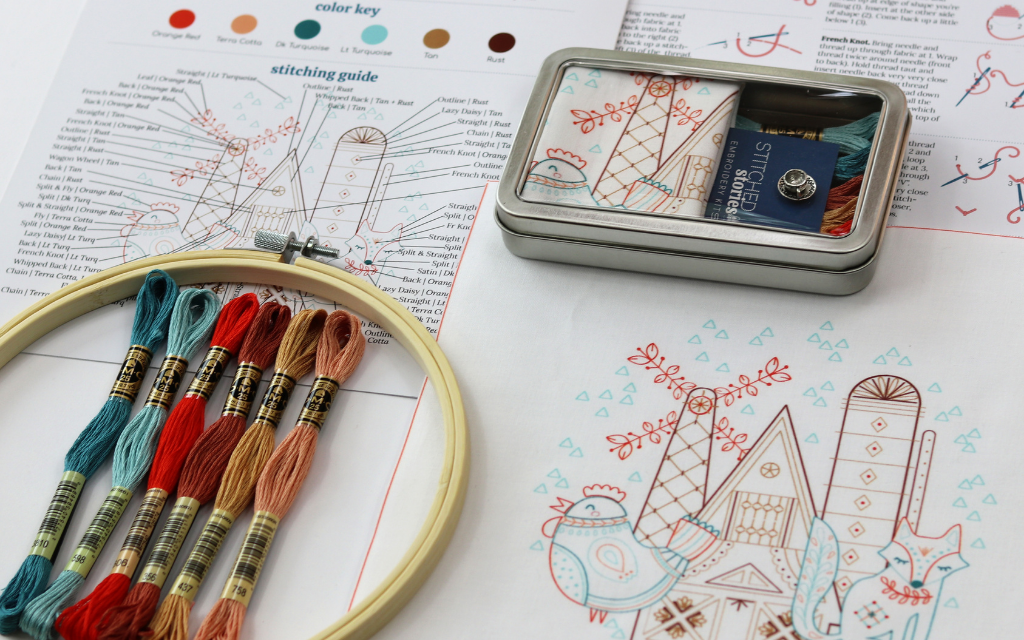 2. Do you want plenty of thread for tweaks and stash-building or are you happy with pre-cut precise amounts?
Many kits come with pre-cut thread that's sorted and labeled and that will get your design stitched.
Other kits come with full skeins of floss. I love getting those full skeins–especially when they're made by DMC because their floss doesn't tangle and fray as other less expensive flosses do.
It's great to have the full skeins because each stitcher works in their own way. While I might have used just a quarter of a skein to render a design, another embroiderer might use shorter more dense stitches, or they might add additional details.
The tins that comes with Stitched Stories kits are perfect for storing and sorting threads as you build your stash.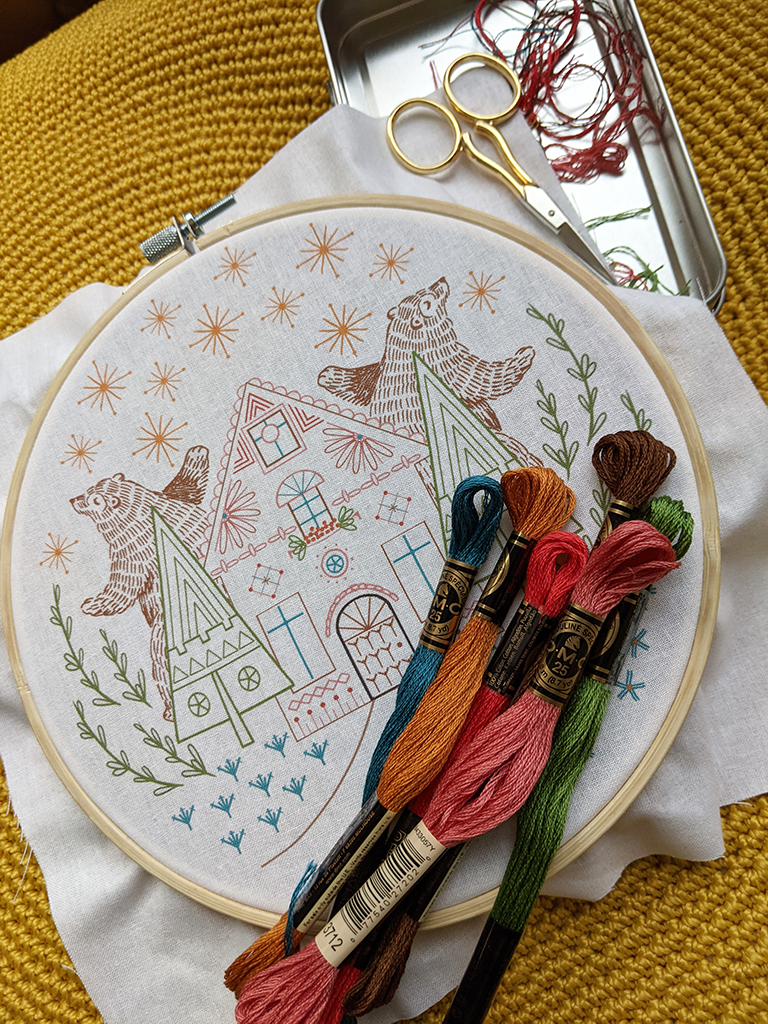 3. Do you want a printed guide to stitching the design (and learning the stitches you don't already know)?
If you're a new stitcher, you'll definitely want basic stitch how-tos AND a guide to the kit project. More advanced embroiderers need less support.
Check the kit you're considering to see what kind of instruction is included right in the physical kit–and what supports are available online. Some designers include a downloadable PDF that you can view on your device or print yourself. Others will point you to their video tutorials.
I always love a kit that provides extra tips and insights from the designer. It helps me grow my skills.
In Stitched Stories kits, we include a 4-page booklet so that you have: a large full color image of the finished project, color key and pattern diagram to suggested stitches, and detailed how-tos for all of the stitches in the pattern. One more page provides detailed stitching tips for the design as well as a guide for new embroiderers so that they're starting with the simpler stitches and then moving to the more complex.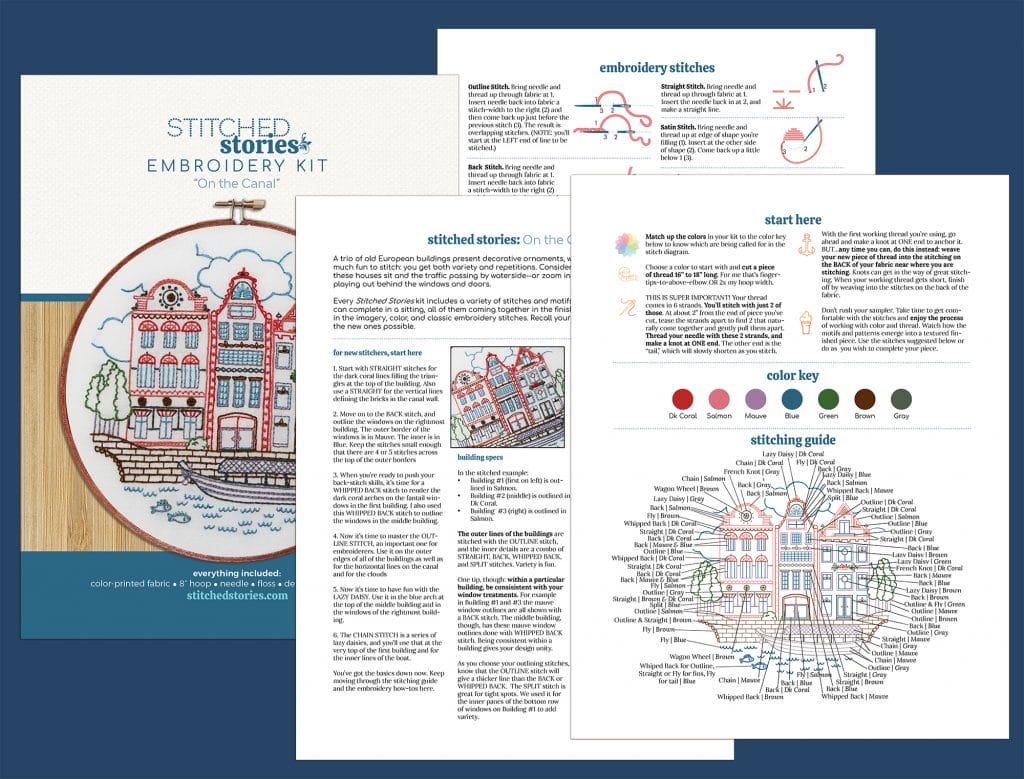 4. What's your ultimate goal right now with this project you're about to take on? What type of design do you want to stitch?
Your answer to this question gets at the final use for your project, the time you want to spend, and the final effect you want to achieve. Here are several questions for you to consider as you choose your kit.
Do you want a quick-and-easy project that's done in a couple of hours? Or do you want something you can work on over many days or even a week or two?
Do you want to create a showstopper–a project that wows viewers with the way embroidery thread and creative stitching are used to render the imagery in the design?
Do you want to push your skills with advanced techniques?
Do you want to use a variety of stitches–so that you're learning and having fun with the piece
What kinds of imagery and color do you want to work with?
With the final project be for display? For gifting? For the simple joy of stitching?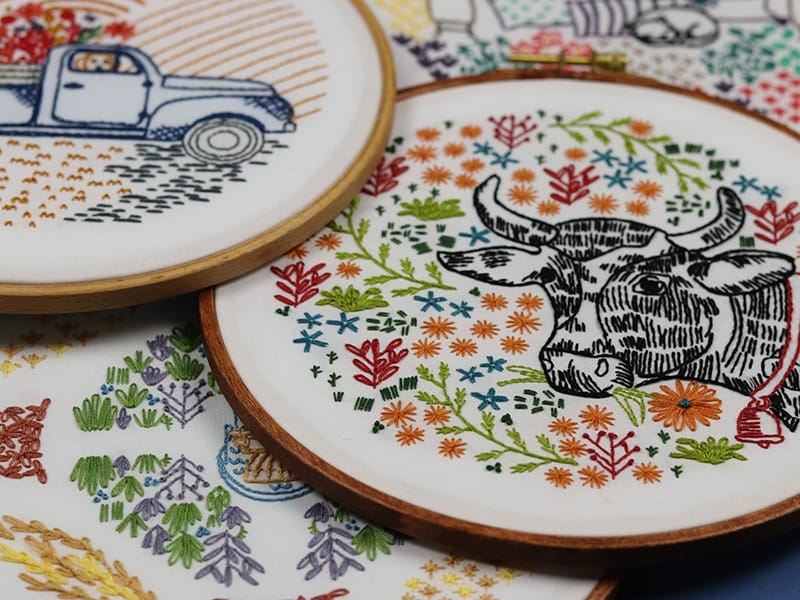 Understanding what you want to create–as well as the supplies and guides you count on–makes it possible to choose the right kit
The best kit for you is the one that gives you the supplies, stitching experience and completed project you want.
If you're ready to try a Stitched Stories kit, click here. Our kits:
are color-printed to fabric that's ready for you to pop into the hoop and start stitching
include plenty of floss so that you have no worries of running short AND have extra to build your stash
give you a variety of stitches to work rather than just a few gorgeous ones,
include several areas within the image that come together like a collage in the end,
yield finished projects that you can display or gift