Here's a run-down of key considerations as you select your next (or first!) embroidery kit
1. Do you want the design already printed to fabric or will you transfer it yourself?
You can get going with a kit for a lower price if your are willing to transfer the pattern to the fabric yourself.
There are a variety of transfer techniques. You can trace directly to fabric, trace to paper and iron it on, use water-soluble stabilizer fabric or even stiffen your fabric and run it through your printer.
2. Do you want plenty of thread for tweaks and stash-building or are you happy with pre-cut precise amounts?
3. Do you want a printed guide to stitching the design (and learning the stitches you don't already know)?
If you're a new stitcher, you'll definitely want basic stitch how-tos AND a guide to the kit project. More advanced embroiderers need less support.
Check the kit you're considering to see what kind of instruction is included right in the physical kit–and what supports are available online. Some designers include a downloadable PDF that you can view on your device or print yourself. Others will point you to their video tutorials.
I always love a kit that provides extra tips and insights from the designer. It helps me grow my skills.
4. What's your ultimate goal right now with this project you're about to take on? What type of design do you want to stitch?
Your answer to this question gets at the final use for your project, the time you want to spend, and the final effect you want to achieve. Here are several questions for you to consider as you choose your kit.
Do you want a quick-and-easy project that's done in a couple of hours? Or do you want something you can work on over many days or even a week or two?
Do you want to create a showstopper–a project that wows viewers with the way embroidery thread and creative stitching are used to render the imagery in the design?
Do you want to push your skills with advanced techniques?
Do you want to use a variety of stitches–so that you're learning and having fun with the piece
What kinds of imagery and color do you want to work with?
With the final project be for display? For gifting? For the simple joy of stitching?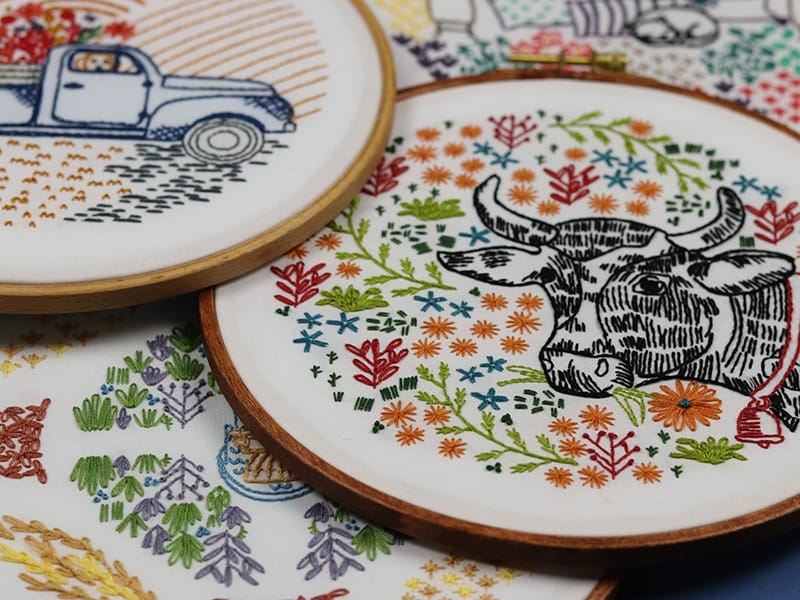 Understanding what you want to create–as well as the supplies and guides you count on–makes it possible to choose the right kit
The best kit for you is the one that gives you the supplies, stitching experience and completed project you want.
If you're ready to try a Stitched Stories kit, click here. Our kits:
are color-printed to fabric that's ready for you to pop into the hoop and start stitching
include plenty of floss so that you have no worries of running short AND have extra to build your stash
give you a variety of stitches to work rather than just a few gorgeous ones,
include several areas within the image that come together like a collage in the end,
yield finished projects that you can display or gift
---
Stitch your FALL story now...
Want to showcase your love for all things autumn? Our seasonal embroidery kits have got you covered!