Have you heard about the Granny-Chic or Grandmillenial decor trend?
It's a mashup of the old with the new.
It says goodbye to the sleek minimalism of midcentury modern and hello to trim, tassels, and embroidery.
At its heart, this is a style that finds comfort through nostalgia.
While I'm never going full ruffles and florals, I do love decking out my shelving, sideboards, china cabinets and side tables in this style.
I like to create a layered arrangement of tchotchkes, travel curios candlesticks and embroidered hoop-art. I use a variety of small easels and plate stands at different heights to display my finished embroidery alongside other favorite pieces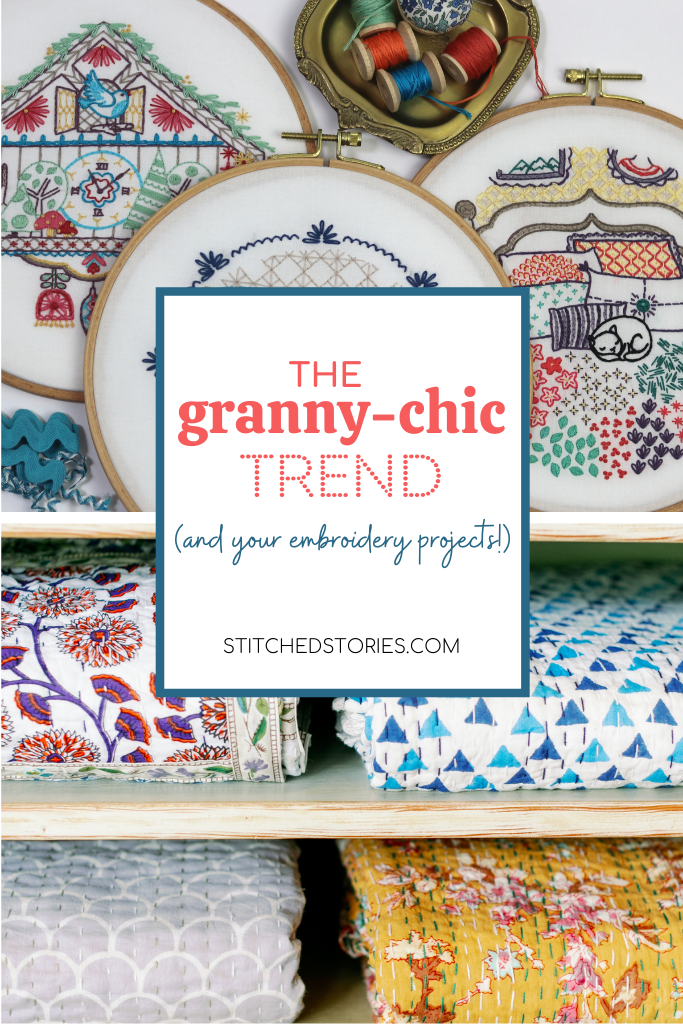 If you want to try your hand at embroidery projects that are great matches for the Granny-Chic style, here are three I recommend.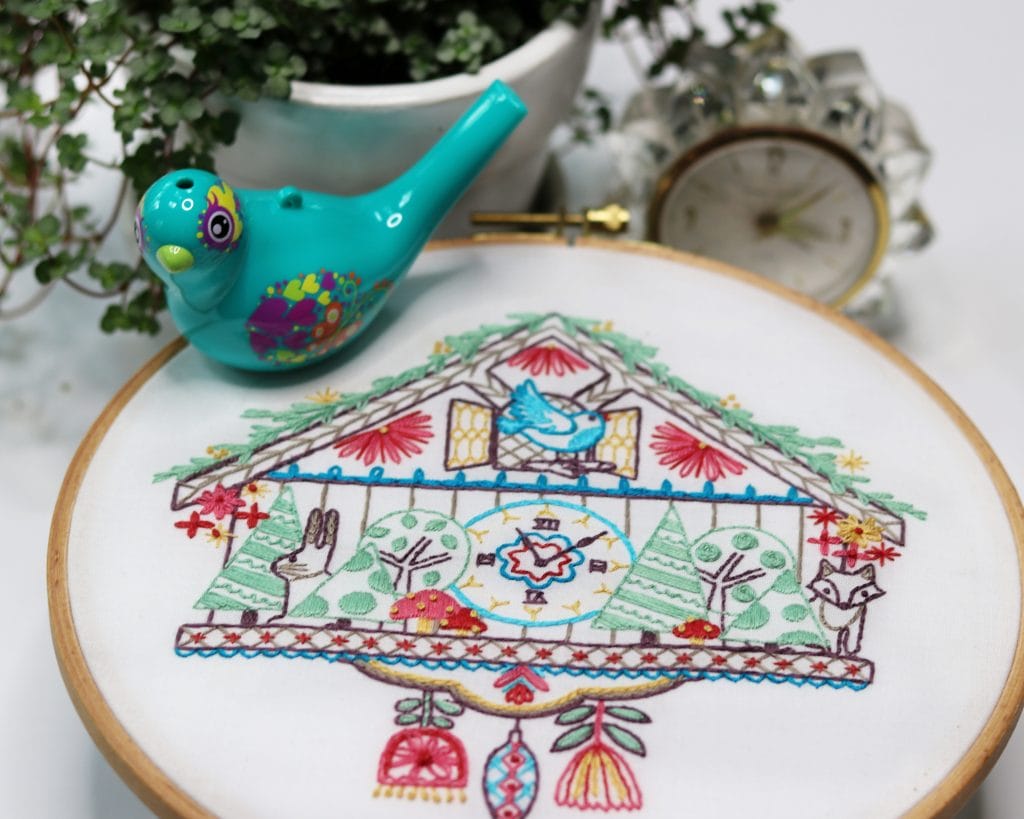 What's more old-style than an embellished woodland-scene below a bird announcing the time?
As I made this design, I was purposefully mixing the traditional with the modern:
::> you'll stitch the classic cuckoo clock shape with the expected bird popping out of a shuttered window.
::> and then colors and motif tweaks give this classic piece a kitschy update: mushrooms pop up in the forest, the pinecone dangler is combined with upside-down flowers, and the eaves are covered with lush greenery.
---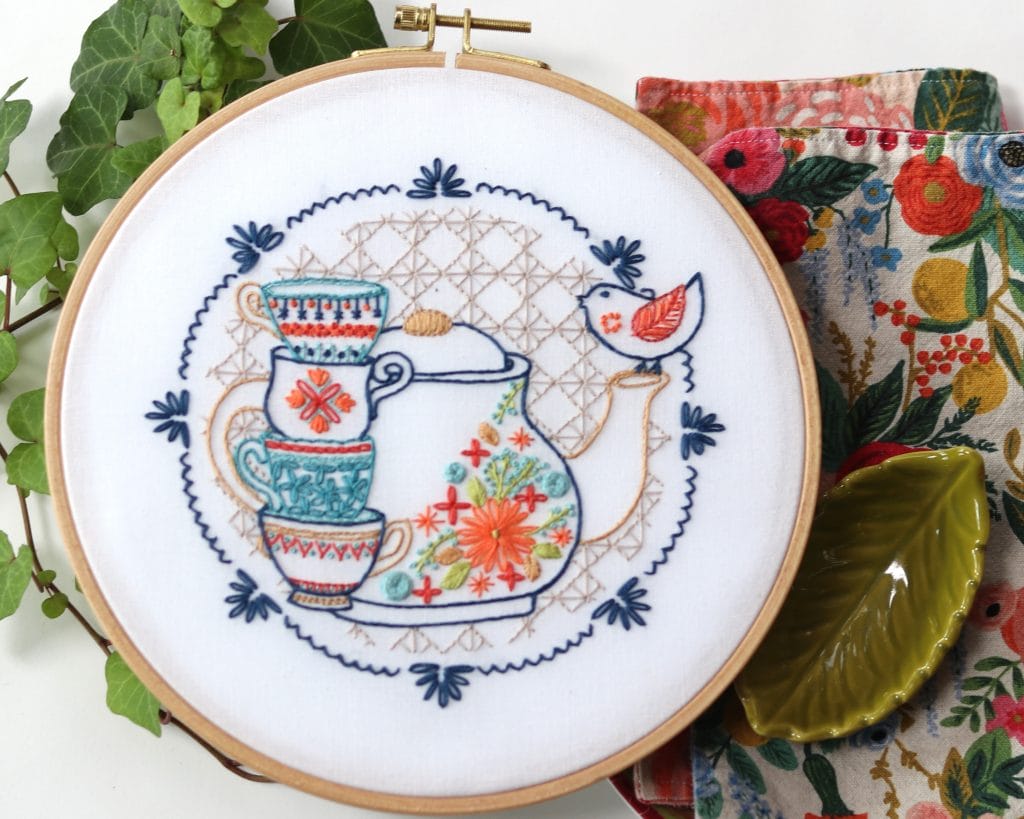 Tea Party is packed with the Granny-Chic motifs I've always loved:
::> a stack of mismatched teacups, each with their own detailed decorations (that give you plenty of stitching variations)
::> the teapot with its gold handle and spout is both fancy and homey, especially with the diagonal swath of florals (again, so many fun stitches)
::> cream-colored wallpaper backs up the scene and immediately takes me back to the wallpapered rooms of my childhood (and wallpaper is trendy again)
::> the navy scalloped edge evokes the shape of a doily
---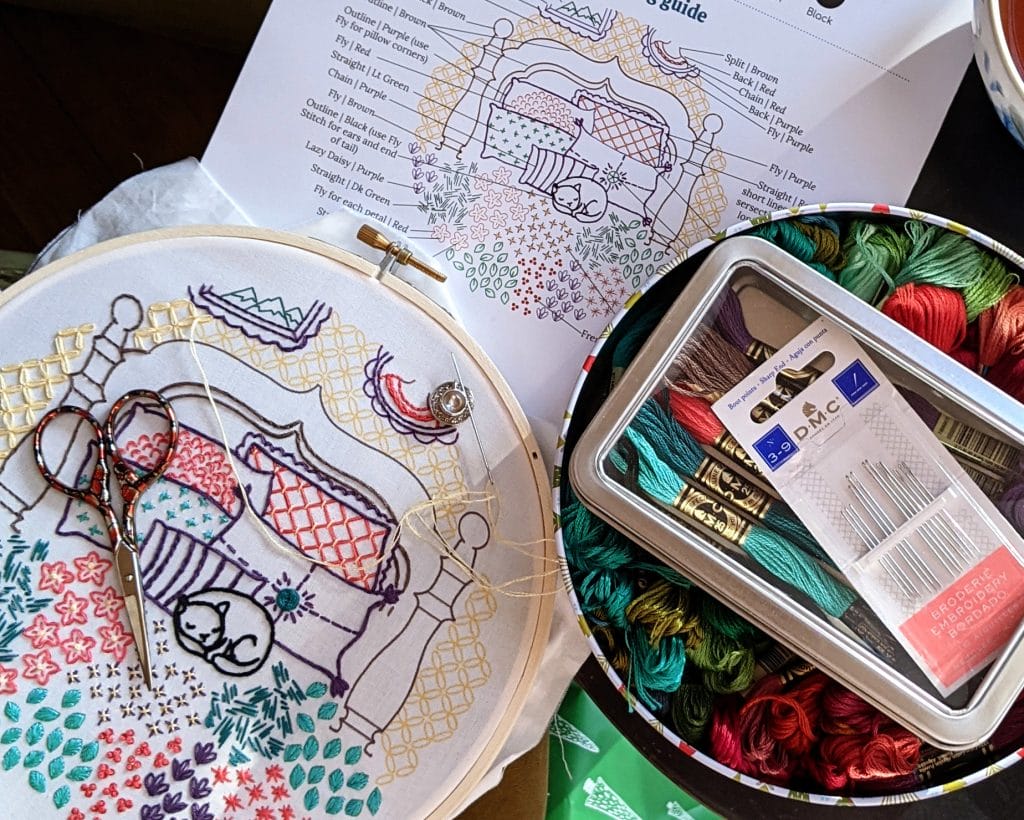 As I created the Catnap design, I had a bedroom at my Grandma's little white cottage in mind. The nostalgic details here include:
::> an old-fashioned bed frame with turned posts and carved headboard
::> yellow wallpaper (its so relaxing stitching these lazy daisies)
::> an assortment of pillows: the stripes and crosses, the florals and lattice work all give you more stitching opportunities
::> a free-form crazy quilt is rendered in straight stitches along with lazy daisies, fly stitches, French knots and leaves
::> the cat!
---
What do you think?
Which of these nostalgic embroidered pieces will you add to your own sidetable displays to add a bit of granny-chic to your home? (And if it's all 3, click here to save with the bundle.)