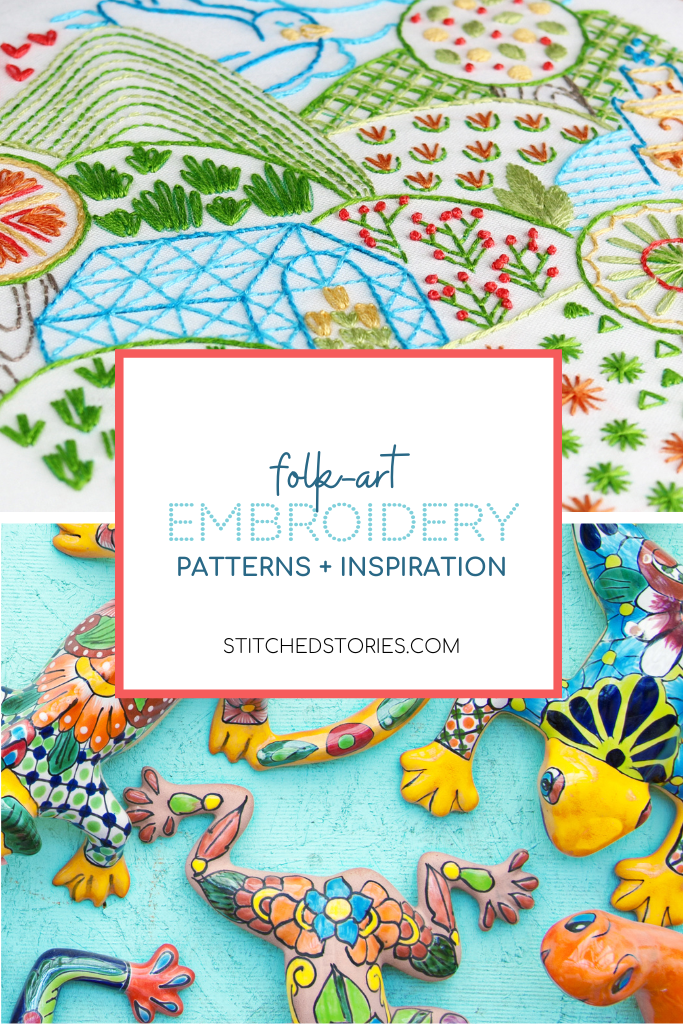 Folk embroidery patterns use motifs and colors that evoke a culture's popular traditions rather than those of fine art.
Its appeal comes not only out of the fun decorative stitch combinations–but also because of how it can make you feel a nostalgia for pre-industrial and simpler times.
Here are a few folk-art-inspired embroidery kit designs from the Stitched Stories shop.
Hen and Fox pulls on the colors of Pennsylvania Dutch folk art: blues, reds and yellow/browns. It also takes the farm motifs from that style. The hen and the fox, though, come from a Scandanavian folk art style.
All of the elements are filled with decorative florals and leaves, loops and repetitions that make any folk art style fun.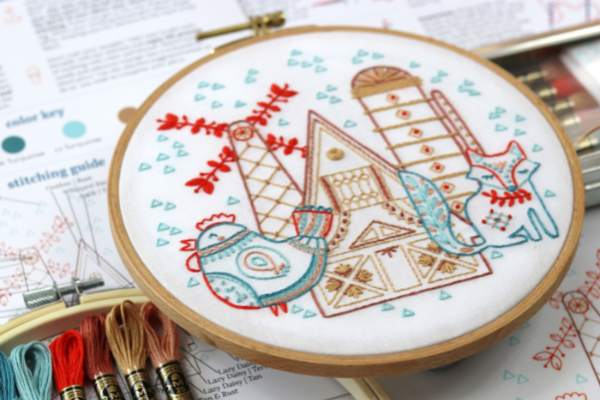 Holiday Folk is an embroidery kit inspired by Scandinavian Christmas motifs.
The reindeer with its simplified and filled antlers is just one of the elements pulling from that tradition. The decorated blanket on its back is like that of traditional painted horses.
The birds are filled with a variety of nested, looping and repeated stitch combinations to complete the look.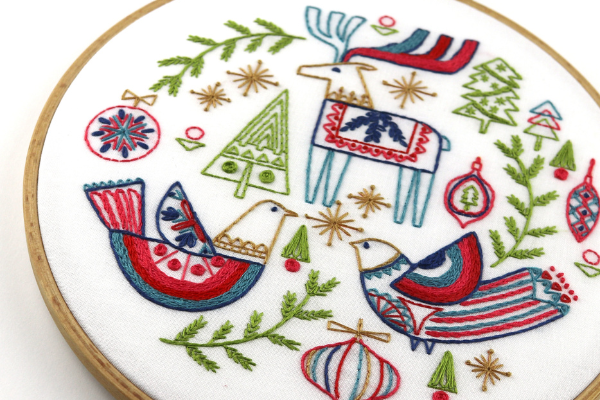 Rolling Hills is inspired by the colorful, simple lines and whimsical motifs found in folk art landscapes of many cultures.
Perspective and scale veer from the realistic and elements of nature house fun stitch combinations. See the lollipop trees, each filled with a different motif. The hills are rendered with different repeating patterns and motifs. An oversized bird in the sky merges with the clouds.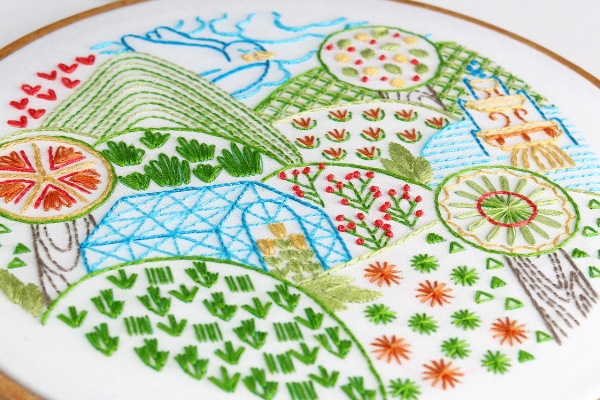 If you love color, enjoy stitching the decorative, and just want to have fun with hand embroidery, folk art designs are a great choice.
You can find Hen and Fox, Holiday Folk, and Rolling Hills in the Stitched Stories Shop as both full kit and printed embroidery pattern.
The full kit includes the pattern printed in color to cotton fabric, full skeins of floss, a hoop, storage tin, needles and 4-page illustrated stitching guide.
Here's to stitching the simple and traditional styles with folk art embroidery.
---
Get started stitching your holiday gifts and decor...
Add embroidery to your own fabric projects--from tea towels to tote bags, home decor and clothing with one of our holiday-themed stick and stitch wash-away patterns.