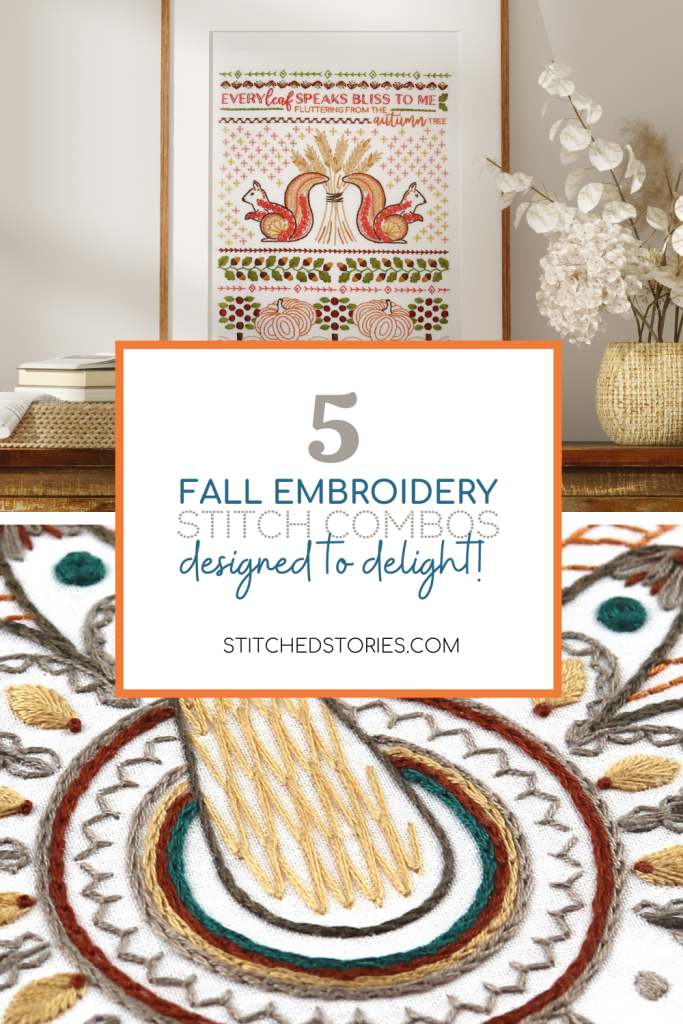 At Stitched Stories, we understand the desire to make.
We understand it as a way to be creatively engaged and, at the same time, producing an appealing finished project.
That means we give you designs:
::> that are more fun than complex,
::> that give you a variety of stitches rather than just a few gorgeous ones,
::> that are a little bit like old-time samplers BUT with modern motifs.
Here are five designed-to-delight bits of Autumn stitching
FALL STITCH COMBO #1:
At the center of the mandala-styled Pumpkins & Owls:
add a basket weave in two tones
stitch a wreath of lazy-daisy leaves
finish it off with purple French-knot berries
FALL STITCH COMBO #2:
On Harvest Table, a modern turkey tops iconic Thanksgiving motifs of pumpkin, pie, and cornucopia. Among the many fun stitch combinations are those at turkey center:
a scalloped neck rendered with fly stitches
six chain-stitched rings in earthy colors
feathers filled with eye and ovals, scallops and French knots
Two fall embroidery designs, Pumpkins & Owls and Harvest Table, are displayed above a mantle with fall garland. They look great on display through October and November.
FALL STITCH COMBO #3
Stitch a variety of haunting details on Spooky House:
yellow and orange glowing windows rendered in satin stitch and outlined in purple
pale back-stitched ghosts filling the sky (and popping out of the topmost window)
a scattering of sharply outlined black bats
---
Spooky House is the richly-detailed centerpiece of a styled Halloween vignette.
FALL STITCH COMBO #4
The focal point of Fall Squirrel Sampler is a pair of bright squirrels filled with:
rows of curvy chain stitching in warm fall tones
bright flourishes of nested lazy daisies
a half blossom of gold and orange layered stitches
Fall Squirrel Sampler is a classic piece of fall decor that looks great framed on a your entryway table.
FALL STITCH COMBO #5
Have fun stitching the caps on the large Amanita Muscaria Mushrooms as you embroider:
a geometric fill that gets progressively more complex to evoke shading
rings of scallops with loose fly stitching
radiating gills with yellow back stitches
While Mushrooms isn't explicitly fall-themed, the colors and woodland theme make it a good mixer during this season.
Which Fall designs are you most delighted by?
Click here to browse all of our fall kits and patterns at Stitched Stories.
---
Get started stitching your holiday gifts and decor...
Add embroidery to your own fabric projects--from tea towels to tote bags, home decor and clothing with one of our holiday-themed stick and stitch wash-away patterns.