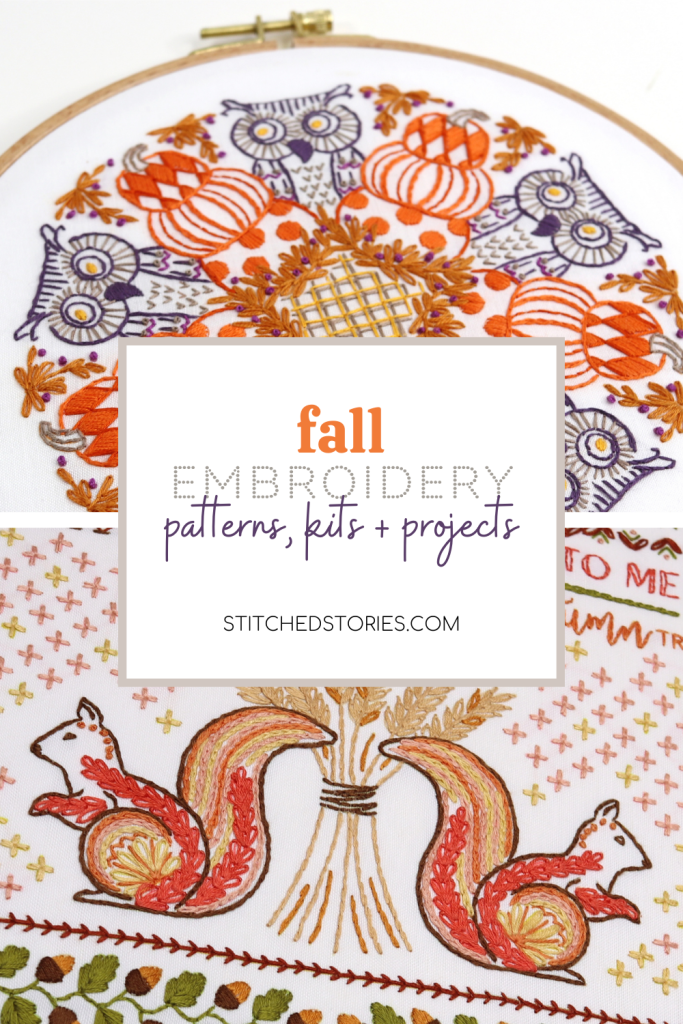 As the weather cools and new colors surround us, autumn is an ideal time to hand embroider. It's also a season that inspires projects packed with fall motifs and colors.
Embroider kits and patterns with fall themes
Here's a set of autumn-themed designs that will give you hoop-art to put on display from September through November. They're all in our Fall Embroidery Shop in a variety of formats.
A circle of autumn motifs offer up a stitch-packed embroidery project for fall in Pumpkins & Owls. You'll embroider a topiary of stacked pumpkins layered with wide-eyed owls, adding fun-to-stitch details like scallops on the owls' wings and fall berries accenting the foliage.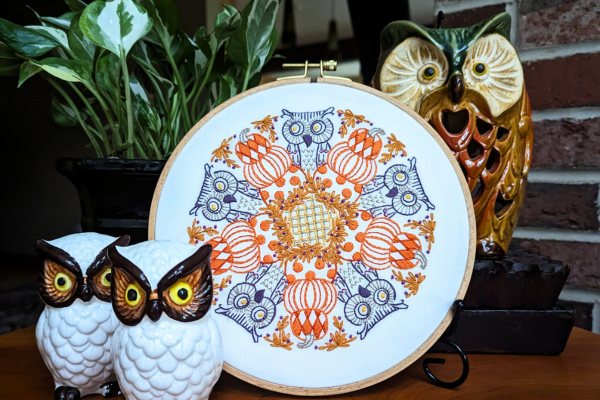 Click here to see our full Fall Embroidery Shop where all of these designs are available in multiple formats including full kit, fabric pattern only, or stick-and-stitch washaway pattern.
School Days gives you an early fall theme featuring vintage schoolhouse motifs. Chalkboard gray and greens are combined with primary colors for a classic sampler-styled project. You'll use a variety of stitches from satin stitch for filling the continents and pennants to simple straight stitches for the "v" shapes on the wise owl's chest.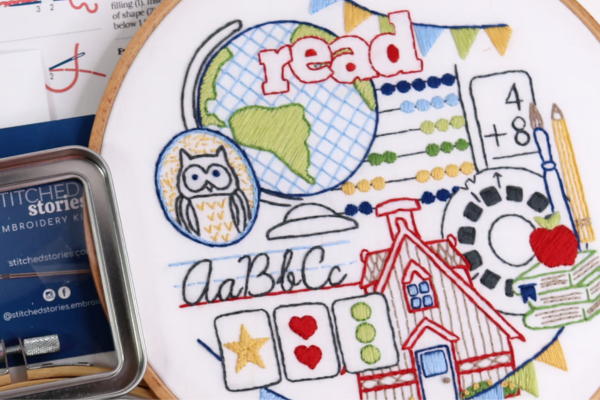 Spooky House is a design packed with classic Halloween motifs from the deserted house with candles in the window and boarded-up-door to the harvest moon, creepy trees, and ghost-filled sky.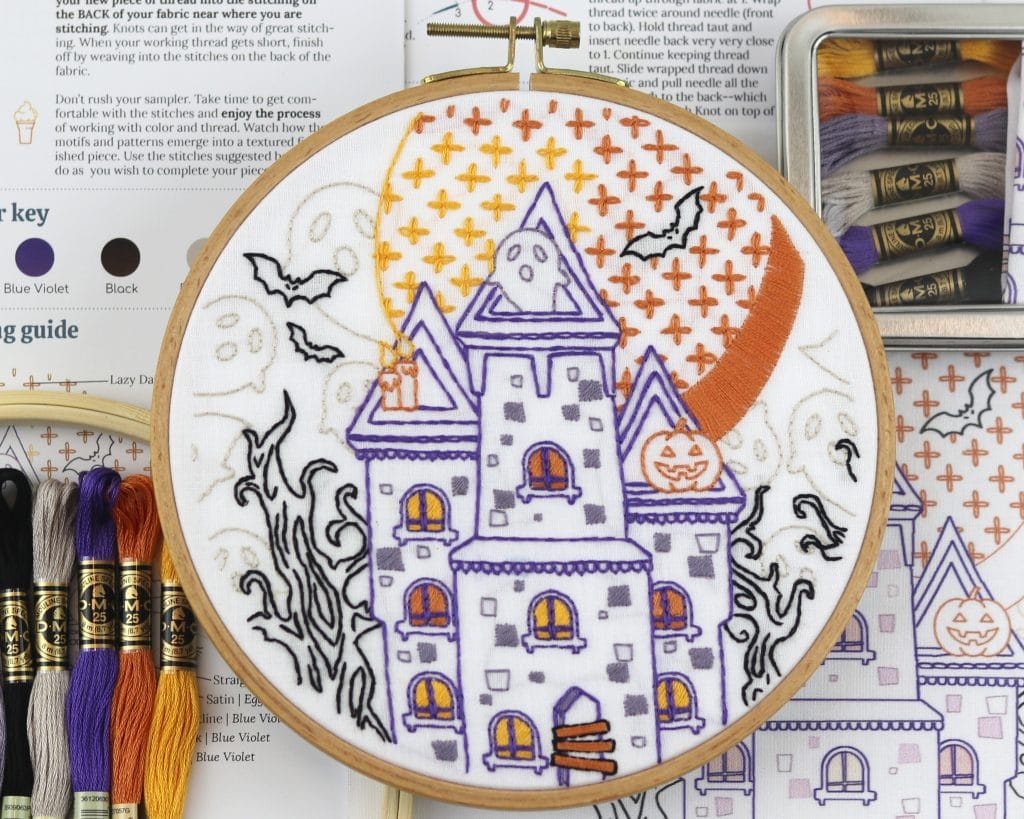 Choose from fall motifs that include pumpkin topiary, wheat sheaf, acorn garland and more to decorate your fall tea towels or t-shirts. Trim the motif you want to stitch. Peel the backing and adhere to your fabric. Once you've embroidered, soak in warm water to dissolve the temporary pattern.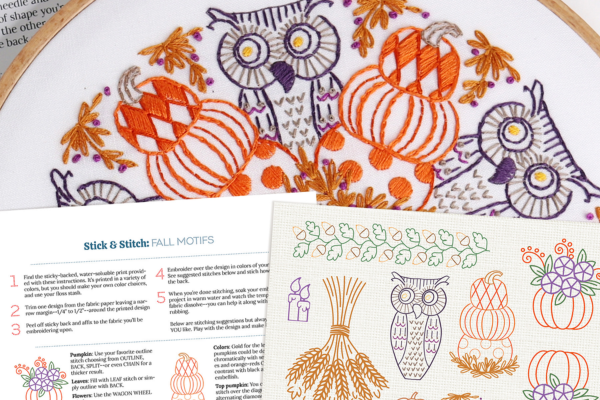 Embroider a classic band sampler packed featuring a pair of squirrels filled with texture and flourishes in fall colors ranging from gold to orange to pink.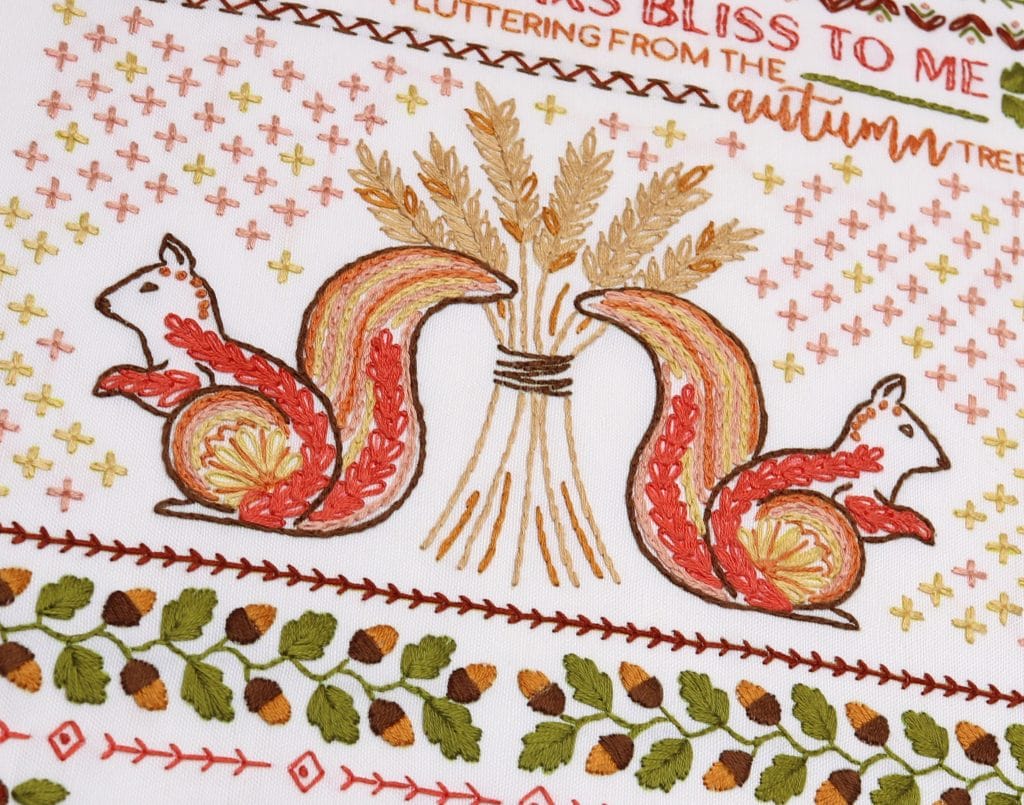 Embroider the design in rows filled with classic fall motifs including acorns and oak leaves, pumpkins and apple trees, wheat-sheaf and fall poetry.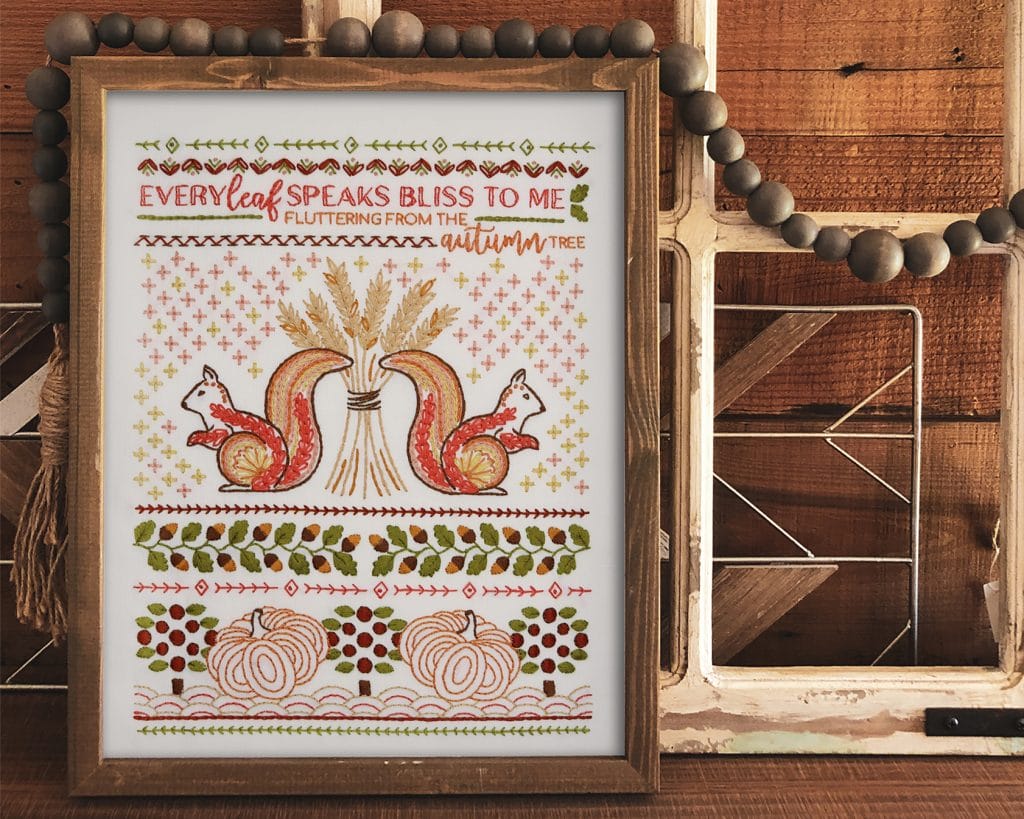 Embroider a fall feeling with Harvest Table. In the background are pumpkin, cornucopia, and lattice-topped pie. These elements are all embroidered in back stitch. And then the turkey takes center stage visually and stitchwise. You'll be using lazy daisies, chain stitch, French knot, fly, split, outline, and leaf–which means this is a fun project.
The color scheme makes the finished hoop-art a natural mixer with your fall decor for the next two months.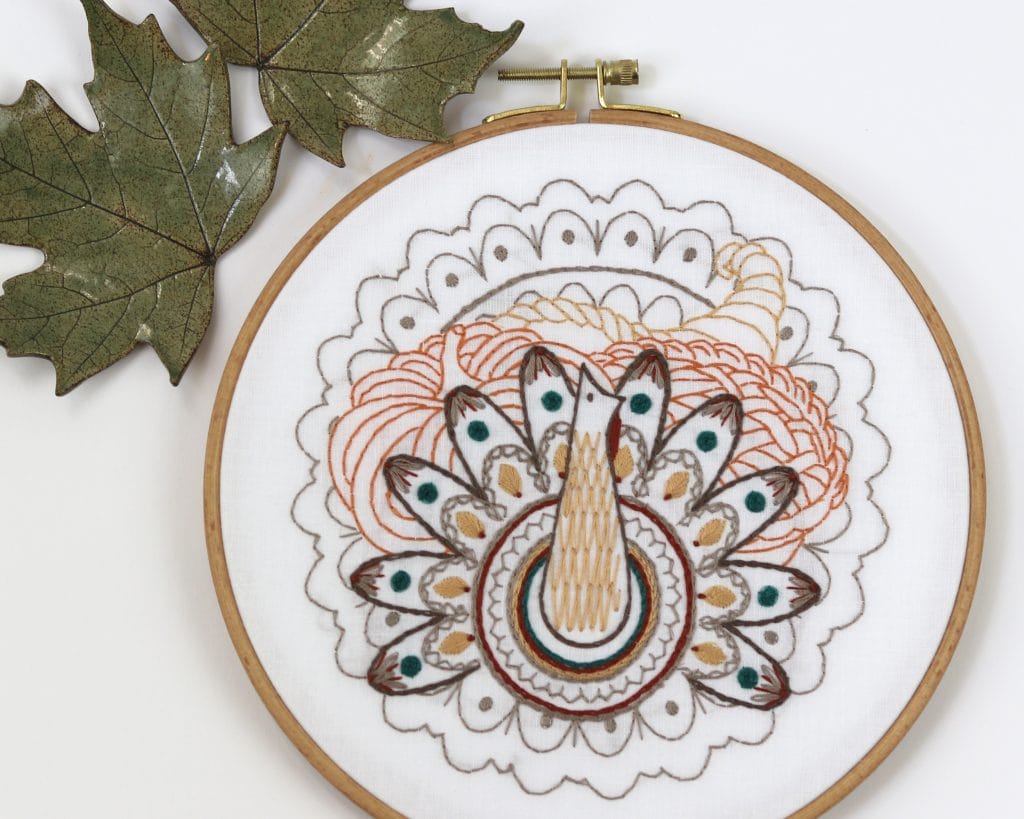 You can also buy these three together in our Fall Y'all Bundle.
All three are now available as kit, pattern and Stick-and-Stitch
Embroider kits and patterns with fall colors
While the embroidery kits and patterns that follow are not explicitly fall-themed, they include fall colors and nod to getting outdoors in nature and even doing a little bit of foraging.
Grow is rendered with fall-perfect shades of rust, gold, green and lavender. What's more, while the motifs may start with spring seedlings, they also include include fall elements of sunflowers and a scene of dried flowers and tinctures.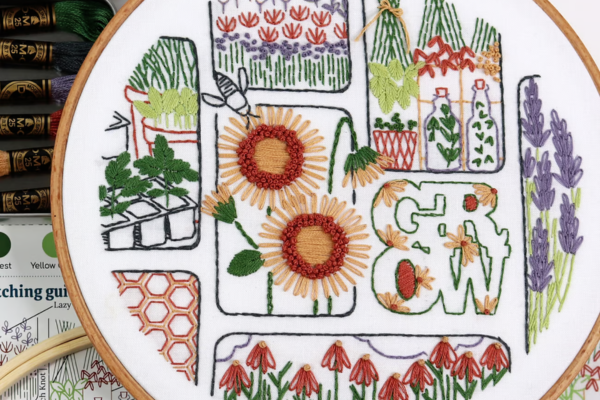 Home & Gardens calls mushrooms a micro trend that has become the unexpected star of 2023, writing: "This interior design trend started out as simple mushroom motifs in 2021 and has quickly become a dominant theme in design, with mushrooms infiltrating the work of even high-end designers and artists worldwide."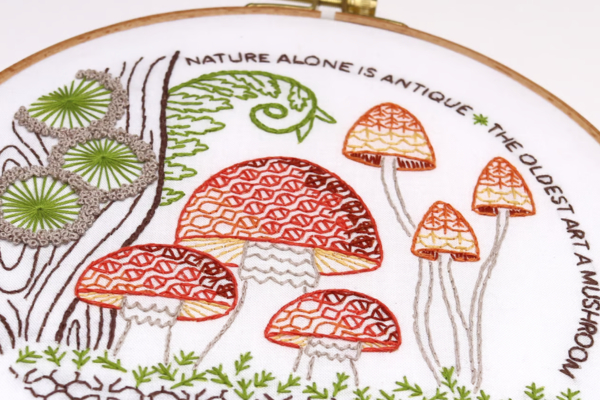 The motifs and colors in our Mushrooms design make it a great fall decor element. Plus our take is different from the others, with cap color and shading rendered with blackwork stitching from the 15th century. The quote on this piece is from Scottish philosopher Thomas Carlyle.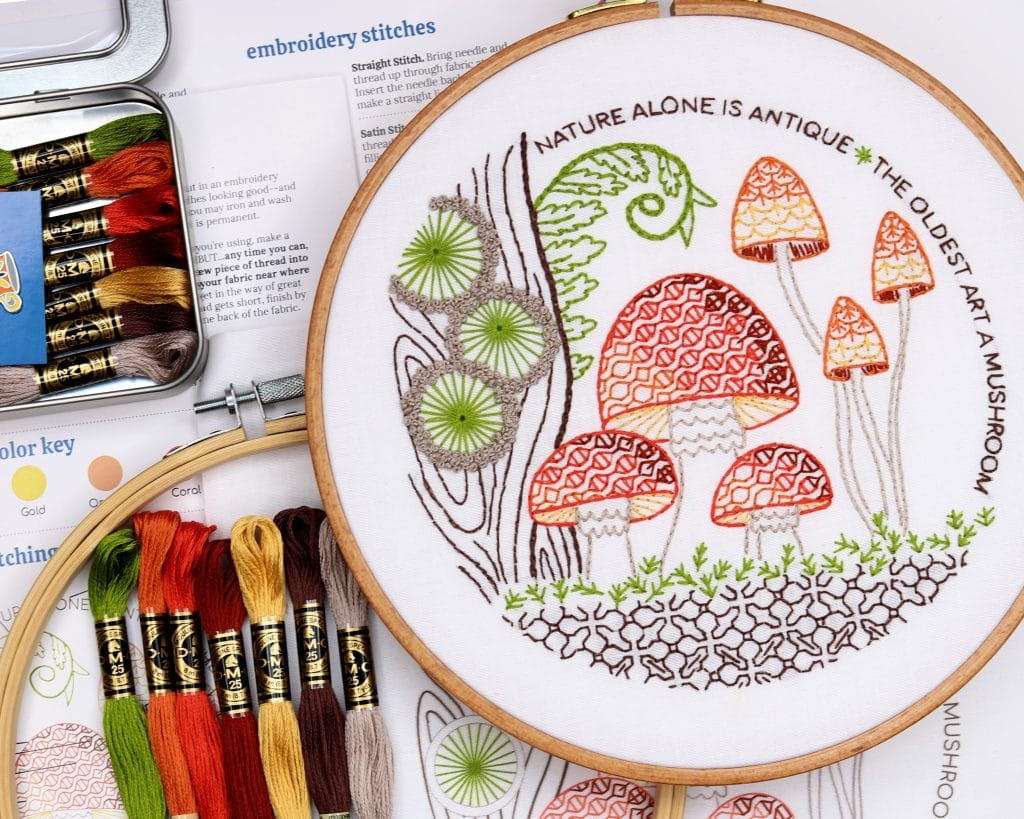 Finally, consider our Moths design for your fall styling. Jewel tones of garnet and turquoise along with gold and orange make it an ideal piece to stitch and display. This is in the Fall shop as kit, pattern, and stick-and-stitch.
Visit our Fall Embroidery Shop
Be sure to visit our Fall Embroidery Shop where you'll find fall-themed hand embroidery designs in multiple formats including full kit, fabric pattern, or wash-away stick-and-stitch. Click here for Fall Embroidery Designs.
---
Get started stitching your holiday gifts and decor...
Add embroidery to your own fabric projects--from tea towels to tote bags, home decor and clothing with one of our holiday-themed stick and stitch wash-away patterns.