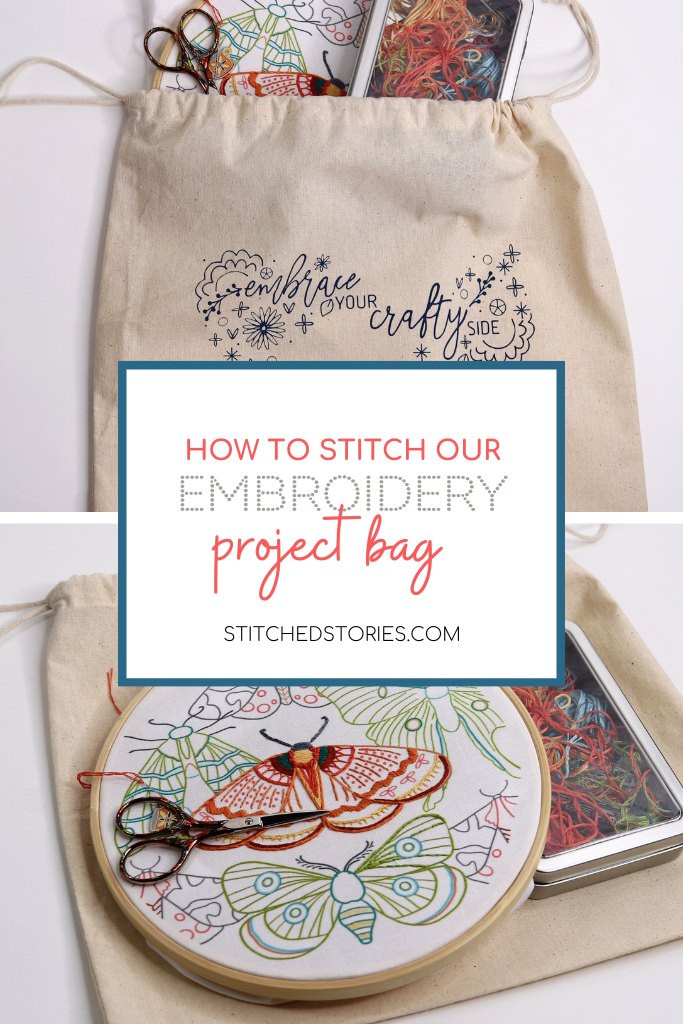 Keep your crafty works-in-progress clean, organized and ready to take along on outings and travel with our ready-to-stitch drawstring project bag.
It's wider than it is high–and that means hoop and supply tin are easy to add and remove.
This bag with screenprinted crafty saying and flowers also works great as wrapping for a grab-bag of gifts for your creative friends and family members.
While this bag does not include floss or how-tos, here are a few suggestions and details on how I stitched mine (though you should definitely have fun and make your own choices).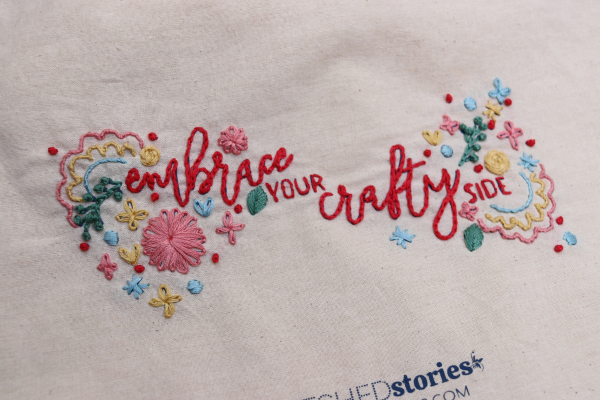 COLORS
Choose 4 or 5 colors.
One should be darker than the rest. Use it for the quote and the scattered dots. I used red for this part of the design.
Use another color for the leaves and branches.
Use the other 2 or 3 colors for the rest of the design, looking for a balance and flow in their placement.
I used DMC Floss colors: 163 Celadon Green, 347 Vy Dk Salmon, 598 Lt Turquoise, 676 Old Gold, 760 Salmon
FLOSS STRANDS
While I typically stitch with 2 strands, I wanted this to be a rugged and bold piece that will stand up to lots of handling, so I used 6 strands. The exception is the little words "YOUR" and "SIDE" for which I used 3 strands.
STITCHES
The scripty letters for "embrace" and "crafty" were stitched with short and loose SPLIT stitching. The goal was a thick and textured effect.
The large partial flowers at top left and bottom right were done with WHIPPED BACK stitch.
The yellow textured circles were done with WAGON WHEEL stitch.
The branches with berries were done with SPLIT and FRENCH KNOT stitches.
The rest of the details were done with LAZY DAISY, SPLIT and FRENCH KNOT stitches.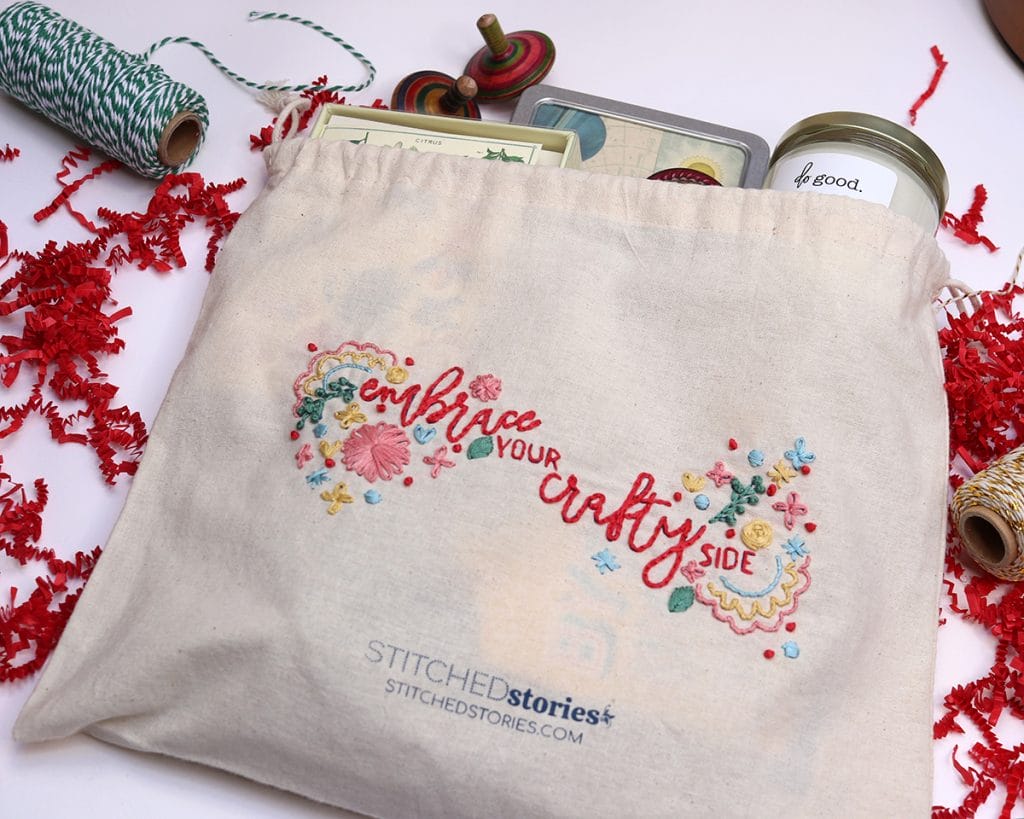 Need a guide to hand emroidery stitches? There's one on the back page of all of our pattern and kit guides. Or CLICK HERE to download a free printable to trim and fold into a handy pocket stitching guide.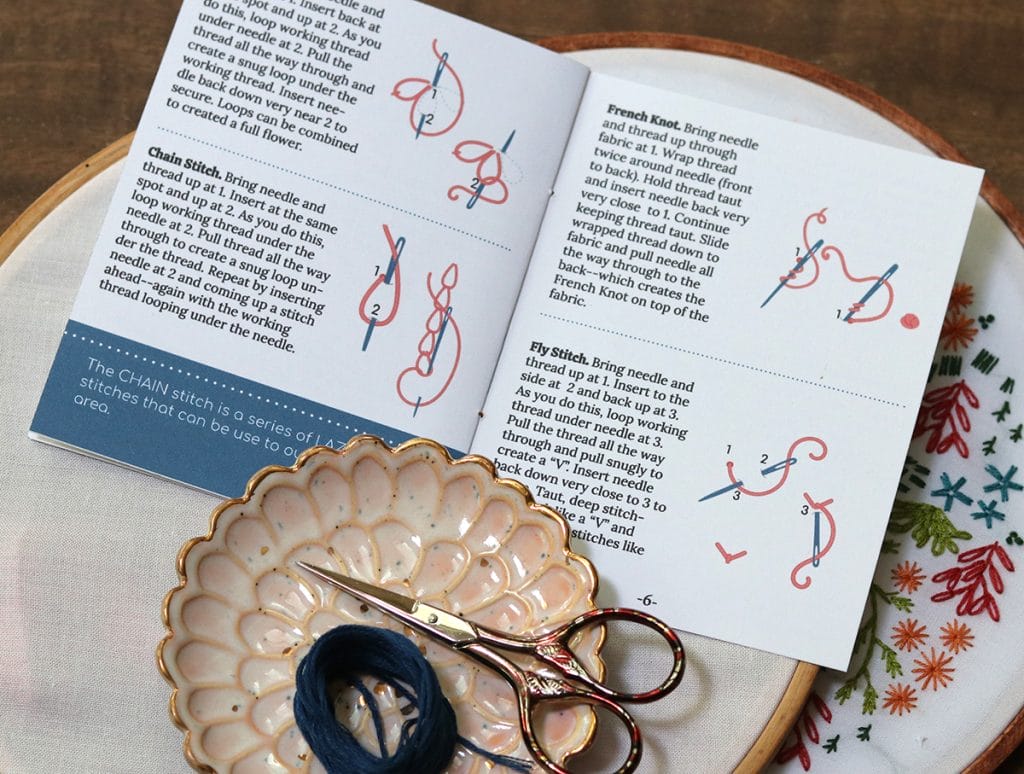 Ready to get started?
Grab your project bag and start customizing it today!
Happy Stitching!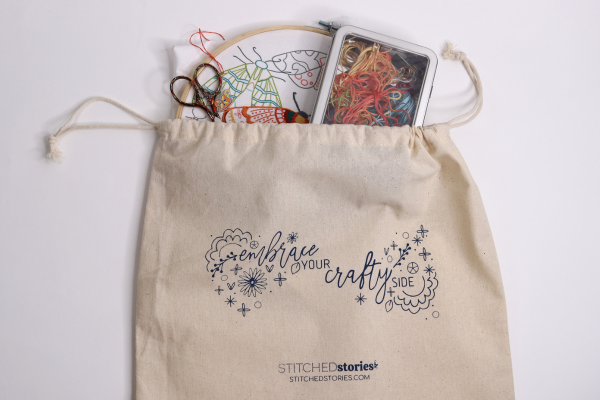 ---
Start stitching summer now…