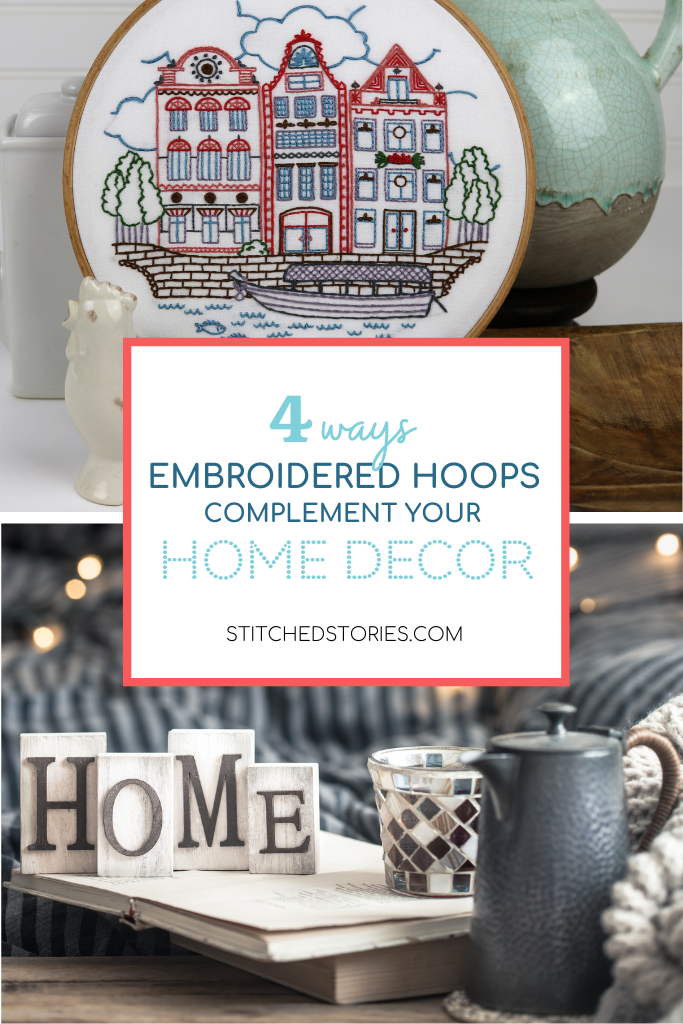 Every home tells a story of the owners' experiences, aesthetic preferences, and current daily life.
When you mix a handmade piece (or two) of embroidered hoop-art into your decor, you're adding elements with unique appeal.
Here are 4 reasons to display embroidered hoop-art on the wall or on a stand with table-top vignettes.
1. Embroidered decor adds shape and texture
The inclusion of an embroidered hoop in your decor groupings lets you add variety with a round shape and textured elements. So often groupings are filled with squares and rectangles–and flat or smooth surfaces.
In this vignette, our Vintage Truck hoopart mixes well with a rectangular piece of word art sitting on a slice of wood. Small pumpkins in wood and rafia add texture that complements the fibers in the embroidery.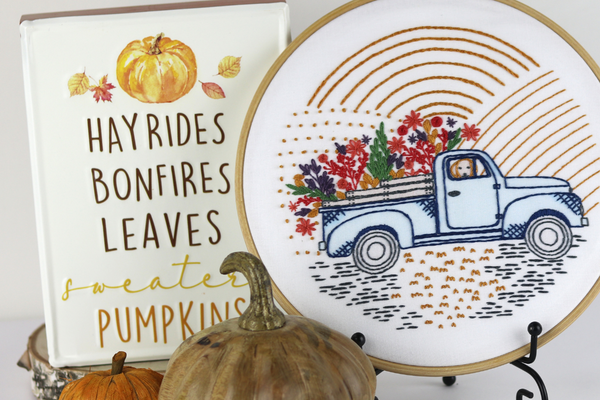 2. You can change embroidered décor seasonally
You don't need to display all of your finished hoops all of the time. Keep them in your buffet or living room cabinet and change them out seasonally. Choose pieces that add relevant motifs and colors complement your current décor.
Here, during the Thanksgiving holiday season, you can see how I'm displaying our Harvest Table hoop art–and there's a peek at additional hoops stored below.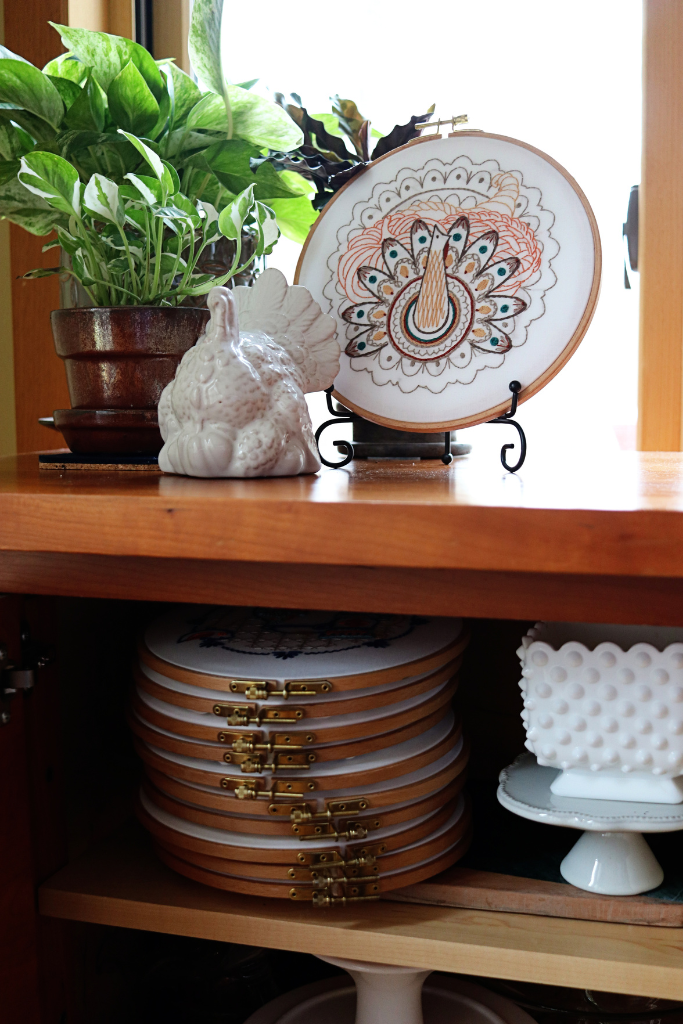 Rolling Hills is a great piece to display in the summer with plants or a vase of flowers.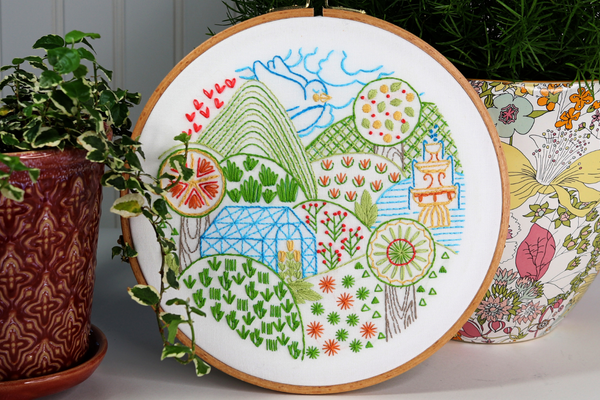 When there's no holiday to be celebrated, I like displaying a piece like On The Canal along with other pieces like the pitchers, wooden trug and pie bird shown here.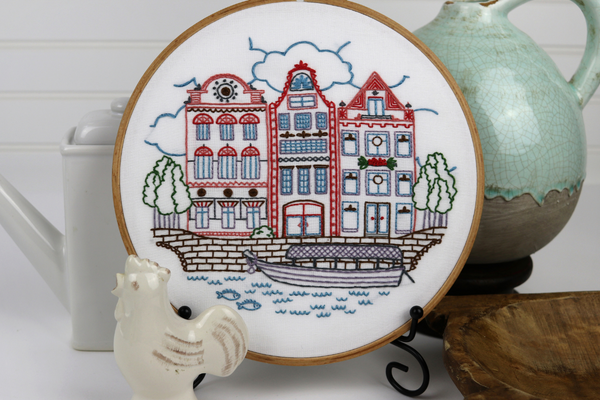 3. Embroidered decor oomphs the story your home decor tells
Your decor tells a story, and the motif-packed designs from Stitched Stories further that goal.
We've got patterns to go with your love of camping (To the Woods), gardening (Grow), domestic coziness (Start with Coffee), and so many more subjects.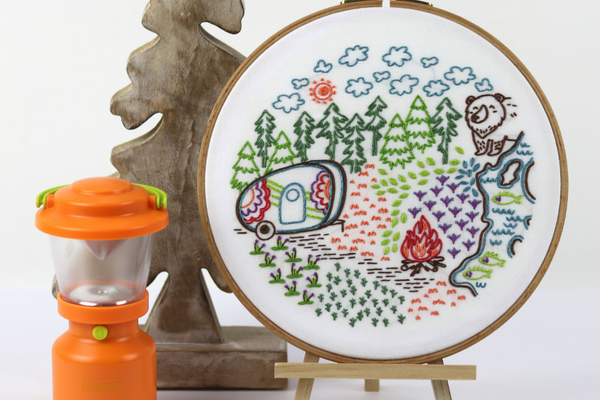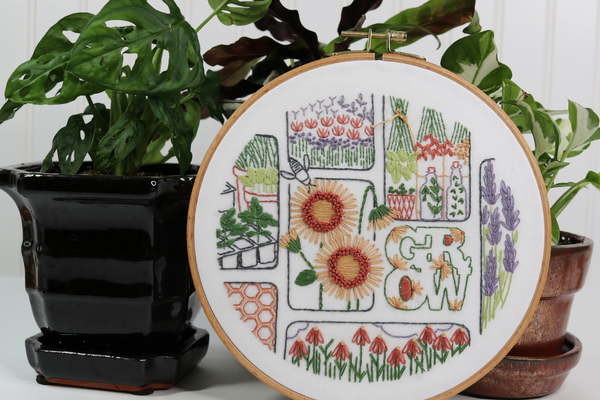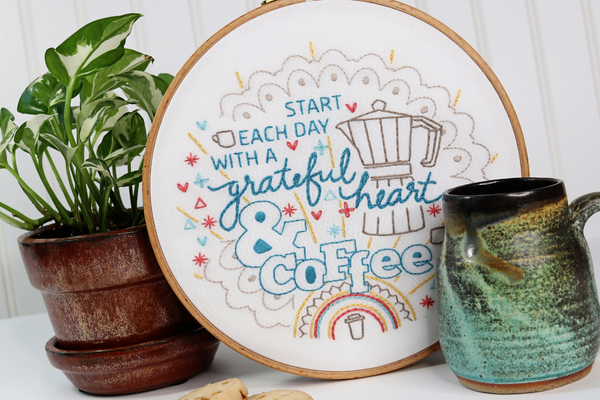 4. Embroidered décor becomes an heirloom piece
An embroidered piece displayed adds heirloom crafting to your home. It's a celebration of the handmade and the establishment of a piece that can be handed down through generations.
Cuckoo Clock mixes well with an alarm clock from my grandmother and a favorite childhood toy.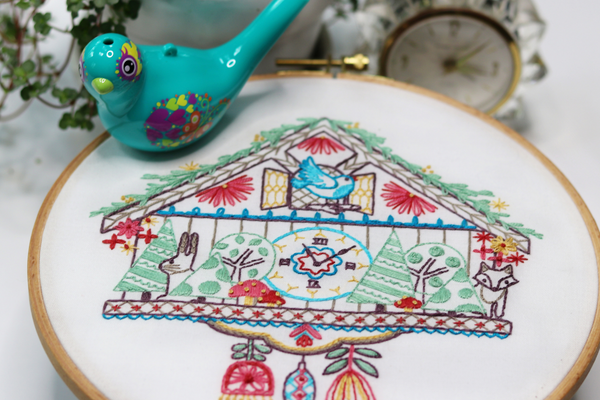 Stitched Stories kit designs support your home decor stitching choices.
The designs in Stitched Stories embroidery kits are created with 12 classic hand-embroidery stitches that you'll find in antique samplers.
---
Stitch your FALL story now...
Want to showcase your love for all things autumn? Our seasonal embroidery kits have got you covered!