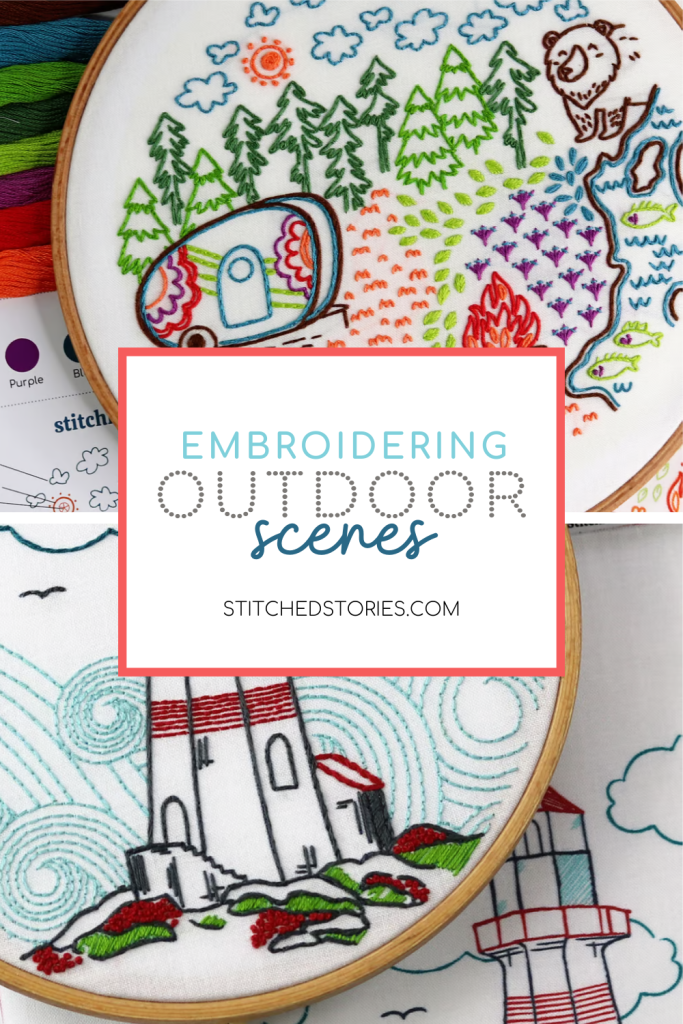 In every season, time spent outdoors serves us well. Here are 8 embroidery projects celebrating activities, spots, and creatures out of doors.
Take a look at the many ways embroidery stitches and clever combinations recreate these scenes.
Mountain Time
Embroider Mountain Time's sun high over red mountains with green valleys below. Each peak and pasture is filled with a pattern that has you engaged in the project. Fill one mountain with fly stitches, and others with layered grids, chain-stitched lines, and satin-stitched filling. The hills below are filled with repeating geometic patterns. Added charm comes from the pine trees, tent and fox.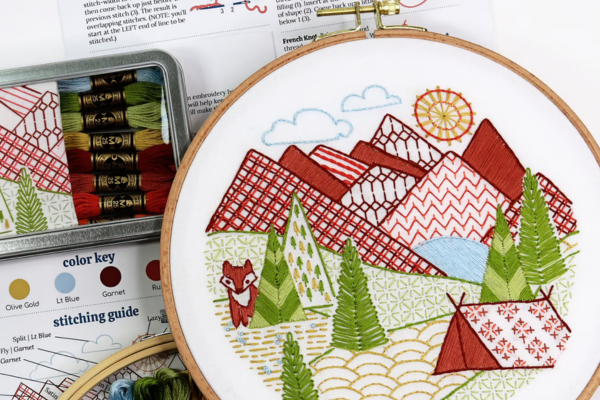 No Place Like Home
This scene of home and the lands beyond evokes the summer sound of screen doors slapping shut and the smell of mown grass. Use over 12 classic stitches to render mountains and flowers, house and trees.
In No Place Like Home you'll use small straight stitches for the faraway forest and cityscape. Clouds are filled with lazy-daisies, trees have wagon-wheel blossoms, and lazy-daisy vines line the walkway. It's a classic theme with updated colors and imagery.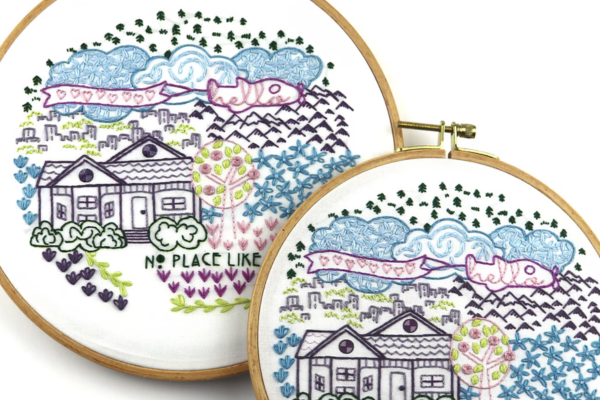 To The Woods
To the Woods is a scene packed with iconic camping motifs: camper and campfire, fish-stocked lake and bear, puffy clouds and pine trees. It's fun to embroider each of the different areas–all of them coming together like a collage and each presenting different stitch combinations.
The bonfire flames are outlined with a whipped backstitch. The ground cover is rendered with loose fly stitches, and the sun is surrounded with orange French knots.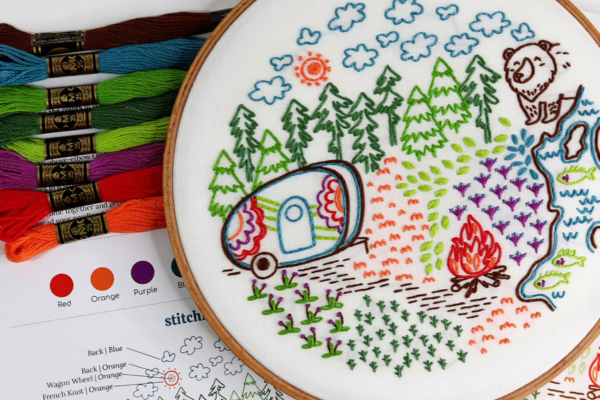 Lighthouse
A red and gray Lighthouse towers over waves embroidered with nested curves of backstitching. The ground is covered with French-knotted red blossoms and satin-stitched green hummocks.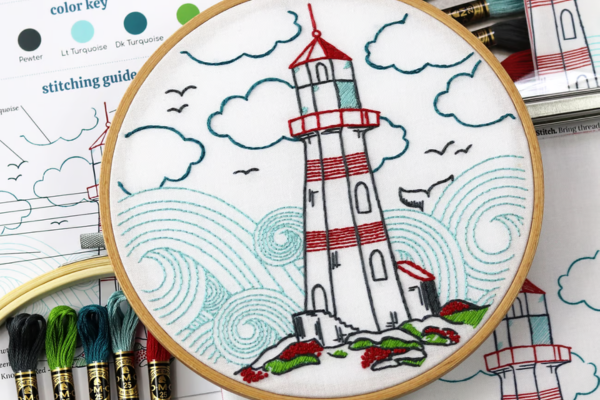 Mushrooms
Mushrooms, is a woodland scene features fungi-covered tree, red-capped mushrooms, and a woven root system. Stitch this natural scene with geometric fills, messy French knots, and straight-stitched bursts. Finish it off with a classic quote: Nature alone is antique; the oldest art a mushroom.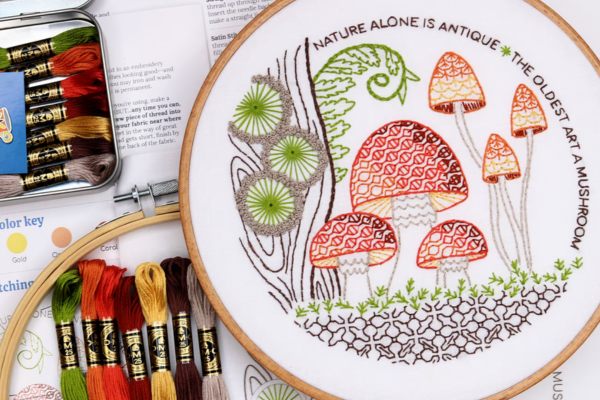 Snowy Pines
Snowy Pines is a collage of winter-lodge elements. Outline oversized ice skates with chain-stitched laces. Create trees of progressively smaller lazy daisies, and render skiers and skaters with colorful and precise fills of both satin and chain stitches.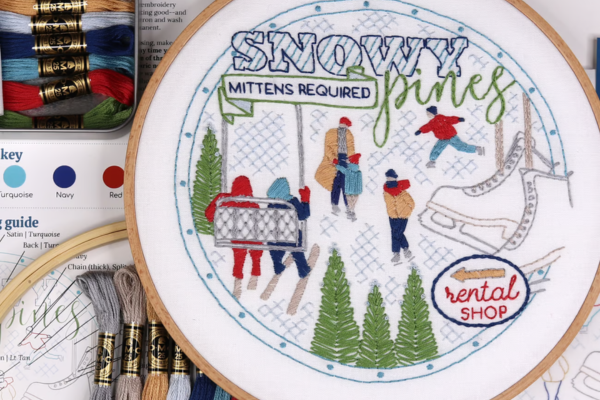 Winter Cabin
Stitch winter trees and snow-coverd cabin with neutrals and bold punches of navy and red. The snowy rooftop is rendered in two-toned satin stitching. The mounding snow is stitched with French knots, and the trees are rendered with clean outline stitches. Add small satin-stitched cardinals for a finishing touch to Winter Cabin.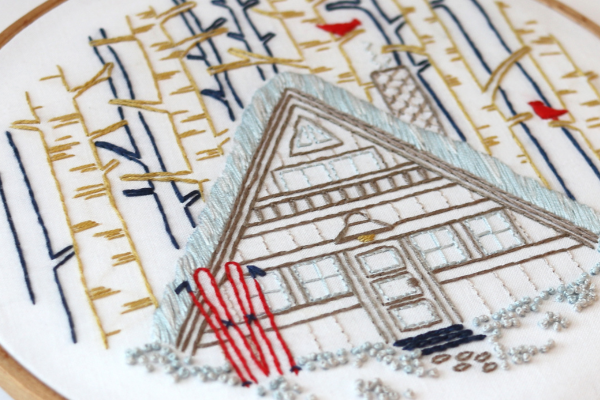 Small Birds
In Small Birds, you'll embroider three woodland birds. A wren, sparrow and tufted titmouse are filled with chunky and textured chain stitching. They perch in front of outline-stitched trees and birdhouse. Framing the birds are flowers and leaves.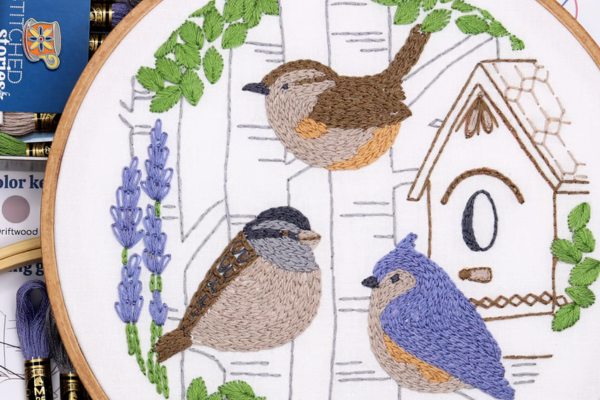 Which outdoor scene do you want to stitch up and display?
Will it be inspired by camping or hiking, the ocean, the woods, warm weather, cold weather or your own back yard?
Click here to choose your favorite outdoor scene and get stitching your next project today!
---
Get started stitching your holiday gifts and decor...
Add embroidery to your own fabric projects--from tea towels to tote bags, home decor and clothing with one of our holiday-themed stick and stitch wash-away patterns.