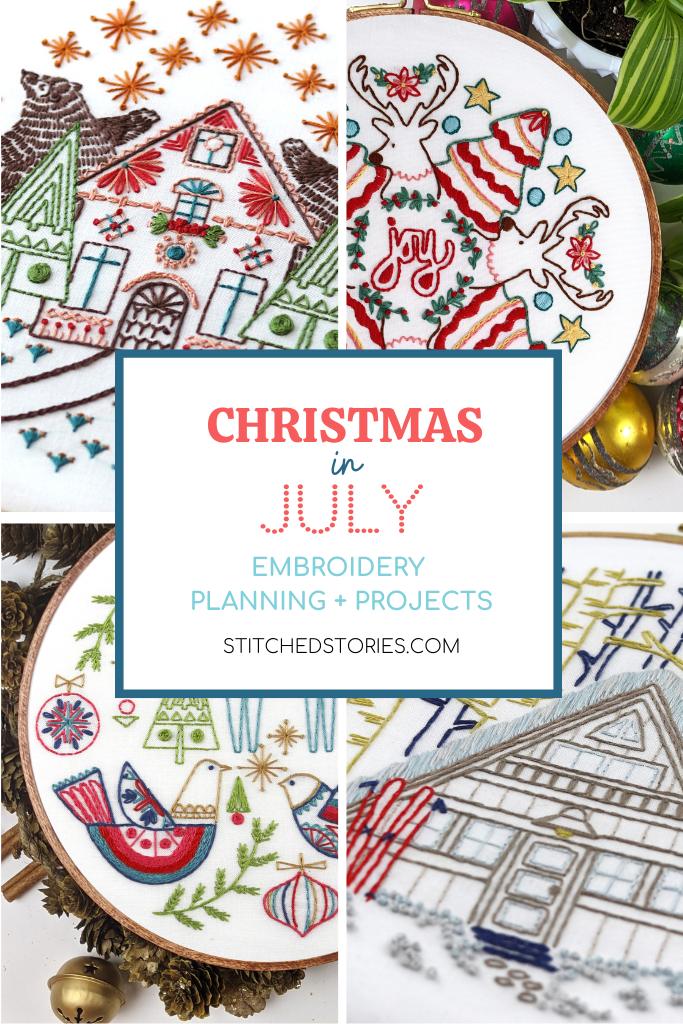 When it comes to embroidery, "Christmas in July" works because this is a great time to plan and get started on projects you'll display and gift a few months from now.
Take a look at the pieces to create for yourself and for gifting below, and then get your own checklist of projects created.
EMBROIDER CHRISTMAS DECORATIONS FOR YOUR HOME
Holiday-themed hoop art on display
A holiday-themed piece of embroidery hoop-art can hang on your wall amidst the wreaths or sit on a display stand in a styled vignette.
When you add this kind of hand-made element to your decor, you evoke of sense of old-fashioned Christmases and tradition.
Joy is an embroidered wreath of bright trees and fun reindeer. They're centered around a ring of greens and the word "joy."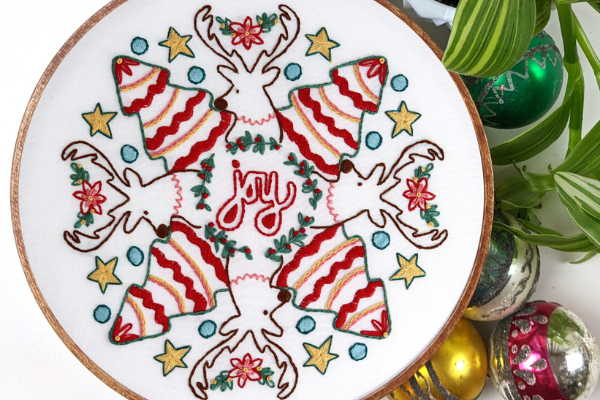 Embroider an iconic Christmas morning scene of trees and gifts around the fireplace, of stockings hung with care, of a "merry" garland in Christmas Mantle.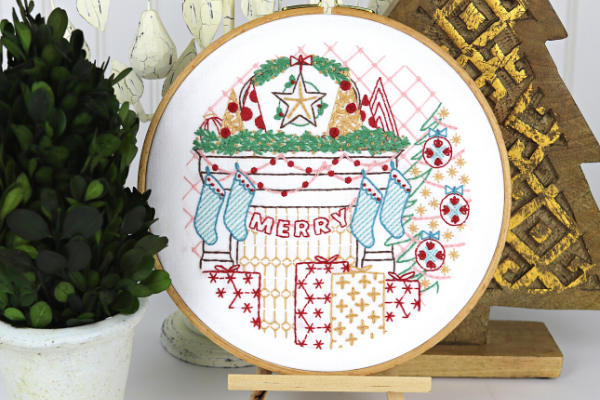 Inspired by Scandinavian folk art embroidery, Holiday Folk gives you embellished birds and reindeer. Small accents of tree, greens, stars and ornaments reinforce the theme.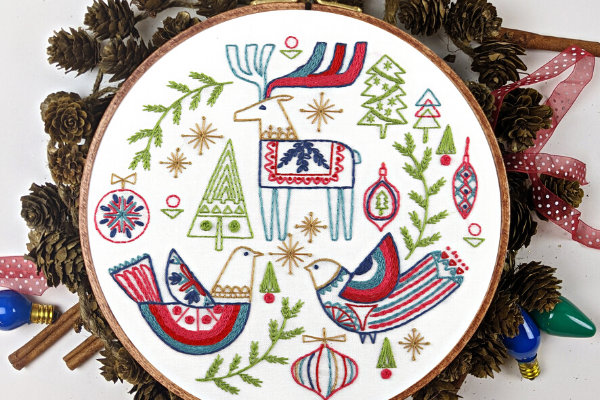 Seasonal hoop art that extends the season
You can also opt for designs that work for the Christmas holiday — and beyond. Look for designs with winter imagery and Christmas colors.
Ursa Duet gives you oversized bears beneath starry skies, a gingerbread-worthy cottage, and triangle evergreens. This all makes for a design that's right for the Christmas season or for anyone who loves the energy of this imagery year round.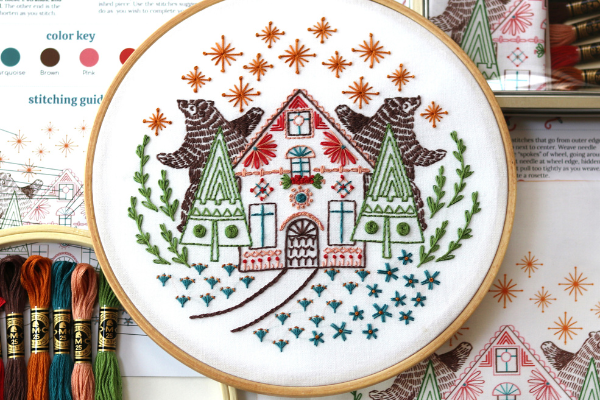 Winter Cabin evokes a sense of winter calm and coziness, of peace and retreat. Small but bold red accents in the skis and cardinals fit with Christmas decor and stand well in seasons beyond.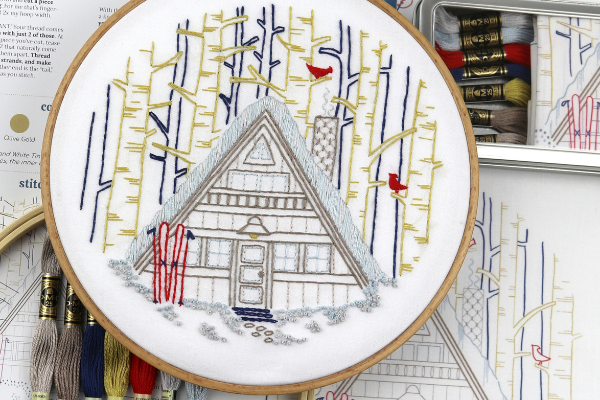 Embroidered ornaments for trees, garlands, and styled vignettes
Embroider ornaments as smaller projects to decorate your tree, your garlands, your mantlepiece.
Our ornament patterns come printed on sticky-backed, washaway fabric. That makes it easy to embroider these motifs anywhere you want: on table runners, on heavy felt that you stuff for ornaments, on canvas that you frame in a small hoop, or on something else.
Folk Art Bird Ornaments give you 6 embellished birds along with a few extras. I like stitching these on heavy felt. I back that with another layer of felt, stuff a bit, and blanket stitch around the edges with white floss.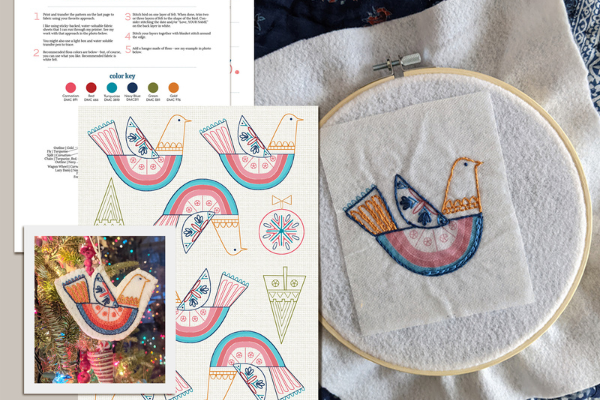 Joy Holiday Ornaments are brand new and include 3 trees, 3 "joy" wreaths, and 3 reindeer. Each motif is 3″ high. Frame in a small hoop or stitch on heavy felt and stuff.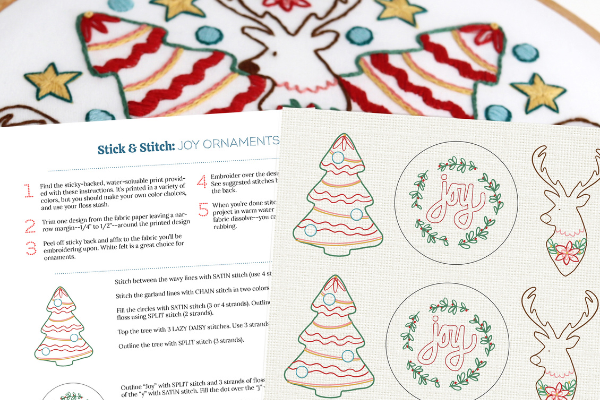 EMBROIDER CHRISTMAS GIFTS
Create a tradition of gifting embroidered holiday hoop-art
Embroider one of our holiday hoops and gift to family and friends for their own holiday decorations. You might even stitch up several of the same pieces of hoop-art and give one to everyone in your family or circle of friends.
Make it a tradition and gift them a piece of hoop art every year.
Have embroidered holiday pieces at the ready for hostess gifts
I know I'm always grateful to friends and family who open their homes to us during the holiday season. I especially love gifting them something special and holiday themed.
Stitch up an extra hoop or two and a nice stash of ornaments, and you're ready for both planned and spur-of-moment holiday season invitations.
Embroider non-holiday hoop-art that's got a special meaning to your giftee
We've got a big library of designs in the Stitched Stories shop to choose from. As yourself these questions as you choose the design you'll embroider for that special someone:
What are things your giftee enjoys or thinks of as key in the story of their life? Do they love the mountains? (See our Mountain Time design). Do they love cats? (See our Catnap or Sit A While designs).
What are the things that connect the two of you? Maybe you're both creative souls (Stitch our Create design). Maybe you've always camped together (stitch our To The Woods design).
What is your giftee's style? What are the colors and motifs they're drawn to–and what kind of embroidered piece would look good in their living space?
PLAN AHEAD
Now it's time to figure out which projects you'll want ready for the upcoming Christmas season so that you can give yourself time to stitch them up.
Whether you're creating hoop-art and ornaments for your own home or for gifting, be sure to check out all of the designs in the Stitched Stories shop.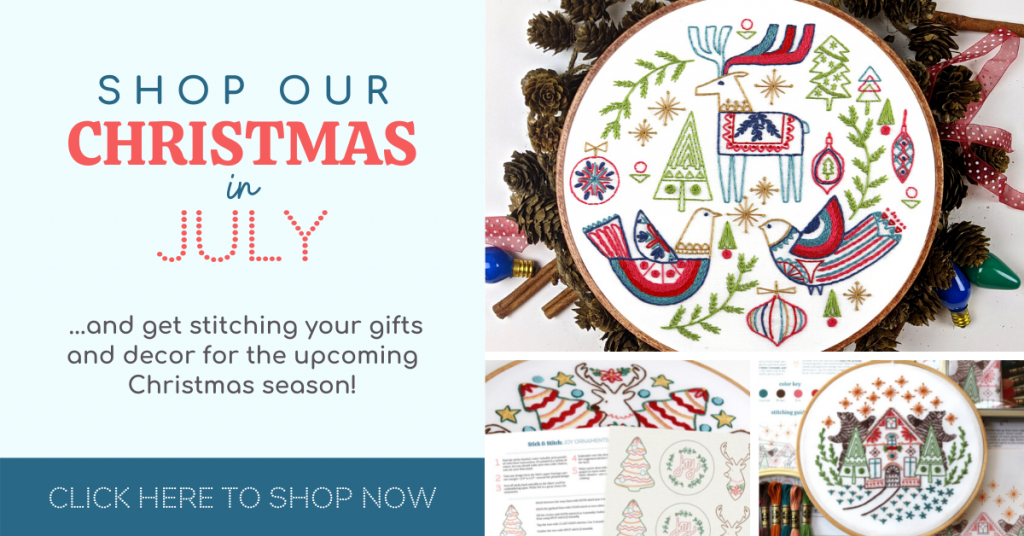 ---
Stitch your FALL story now...
Want to showcase your love for all things autumn? Our seasonal embroidery kits have got you covered!