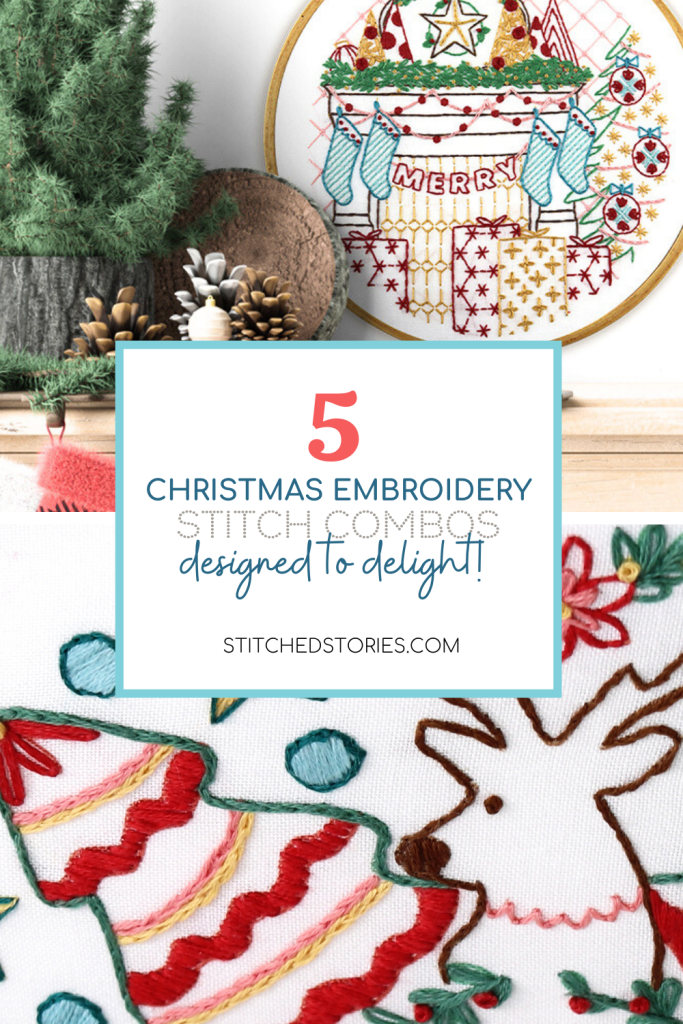 Stitched Stories patterns are designed to give you projects that are a delight to stitch.
That means:
The motifs you're rendering are appealing and fresh.
The stitch combinations keep you engaged with their variety even though they aren't especially difficult.
You can take true satisfaction in your own precise handwork.
Here are five designed-to-delight morsels of Christmas stitching.
CHRISTMAS STITCH COMBO #1
On Mistletoe Farm:
Outline a Christmas tree with retro teal split stitching.
Fill it with bold bursts and little balls in yellow, pink and red.
Add a pink halo around the tree topper.
CHRISTMAS STITCH COMBO #2:
In one section of Noel:
Stitch wax drips with chain stitches
Fill flames with yellow satin stitching
Add salmon halos in whipped back stitch
Finish with lazy-daisy boughs and French-knotted berries

Mistletoe Farm and Noel are displayed above a pine-covered mantle.
CHRISTMAS STITCH COMBO #3:
The mantle on Christmas Mantle is decorated with
A chain-stitched garland topped with satin-stitched pompoms
Striped Christmas stockings with scalloped and French-knot-topped cuffs
Another garland spelling "MERRY"
Christmas Mantle displayed with stockings and decor.
CHRISTMAS STITCH COMBO #4:
Joy is a mandala-styled design featuring:
Playfully-styled curvy trees
Rickrack garland rendered with satin stitch
Chain-stitched pink and yellow garland
Whimsical reindeer with pointsettias between their antlers
CHRISTMAS STITCH COMBO #5
This reindeer is just one of the many Scandi-inspired motifs on Holiday Folk, and you'll stitch it with:
Chain-stitch-filled antlers
A blanket bordered with fly-stitched scallops and French knots
Three decorative lazy-daisy branches
Joy and Holiday Folk are paired and mounted low behind holiday decor.
Which Christmas designs are you most delighted by?
Click here to browse all the holiday embroidery projects at Stitched Stories.
---
Get started stitching your holiday gifts and decor...
Add embroidery to your own fabric projects--from tea towels to tote bags, home decor and clothing with one of our holiday-themed stick and stitch wash-away patterns.