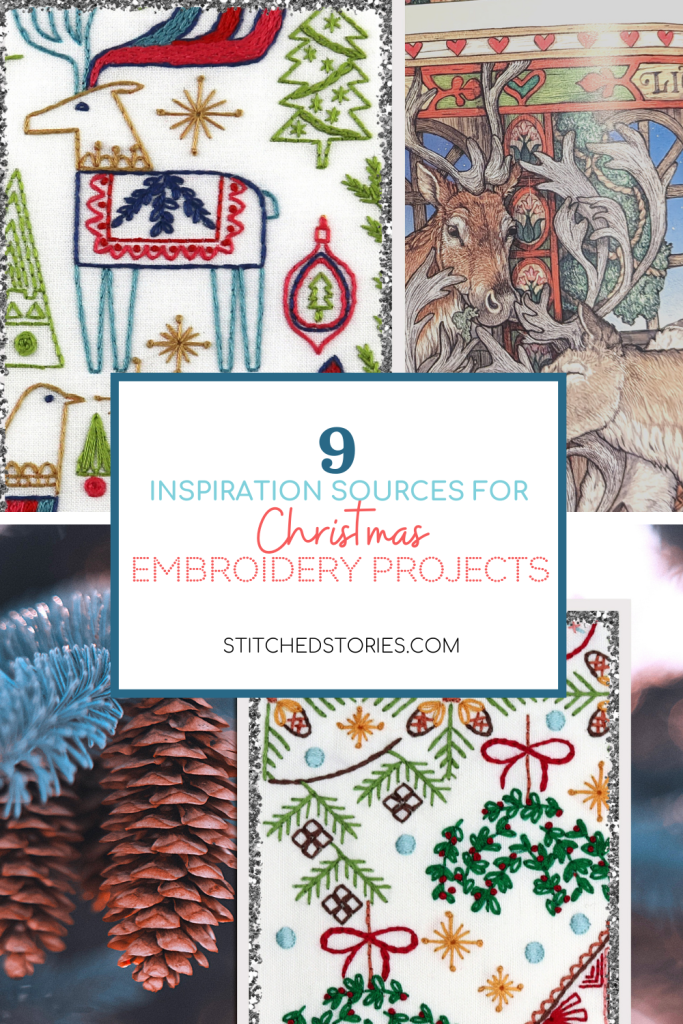 What marks the beginning of the holiday season for you?
Many of us are about to leave the everyday world and cross over into the magical days of the Christmas season.
We each have our own heralds: activities, decorations, plans, smells, foods…
When I design a holiday embroidery project, I'm:
looking at imagery,
thinking about experiences,
choosing motifs and colors
… with hopes that many of you will think:
I *must* stitch this.
Some of your impulse to embroider a particular design will be spurred by colors and stitches and motifs that you're eager to stitch.
But there are also emotional factors tapping into your experiences and preferences and making a project the right one for you.
Read on to see more of the elements inspiring Stitched Stories holiday designs.
Which ones herald the holidays for you? Is it about nostalgia for Christmas seasons past or hopes for the upcoming holidays. What is a happy holiday mood trigger for you?
One of my first holiday heralds is the act of getting out our stack of Christmas storybooks. I've always loved the Jan Brett illustrations–and our Holiday Folk embroidery kit was inspired by her illustrated borders.
Are pinecones and evergreens something you love seeing and decorating with? They'll soon be adorning shops and restaurants and even your own front door.
Christmas Pines Sampler gives you a variety of pinecone and branch motifs to stitch–along with trees and bows and pointsettias and more.
Do you put up a Christmas tree? When? And where do you get your tree?
Mistletoe Farm is an embroidery project that celebrates visits to the Christmas tree farm.
Snowy Pines was designed with thoughts of the winter activities December's cold weather brings. Ice rinks and ski slopes open, and weekends fill with new activities.
Even if you don't send holiday cards this year, you surely have memories of glittered vintage cards of years past, of them taped around a doorway or strung across the window.
The elements in Noel are inspired by vintage decorations and greeting cards.
While classic looks for the holidays endure, a little bit of whimsy is always welcome. Joy gives you brightly styled trees and reindeer circling round a center wreath.
A white Christmas can be magical (as long as the power is on and the roads are mostly clear). While you can't always count on a snowy holiday, you can dream on it while stitching Winter Cabin.
The delight of a gingerbread house is made even more magical with the addition of bears dancing in the starlight on our Ursa Duet design.
If the stockings are hung, the gifts wrapped and the tree lit up, Santa is now welcome to stop by. Christmas Mantle lets you stitch a scene celebrating this moment.
Have you spotted any of your holiday heralds?
Click here to see all of our holiday designs.
When you start displaying embroidered hoop-art and samplers during the holiday season, you just might be creating season-start signals for your friends and loved ones.
Seeing your stitched pieces on display will become a herald of the holiday season for your family and friends.
---
Get started stitching your holiday gifts and decor...
Add embroidery to your own fabric projects--from tea towels to tote bags, home decor and clothing with one of our holiday-themed stick and stitch wash-away patterns.