Maybe you already make embroidery a regular part of your days,
In case you're new to stitching, though…
Or in case you've yet to embroider regularly…
Here are 7 reasons for picking up a needle and thread and a colorful embroidery pattern daily: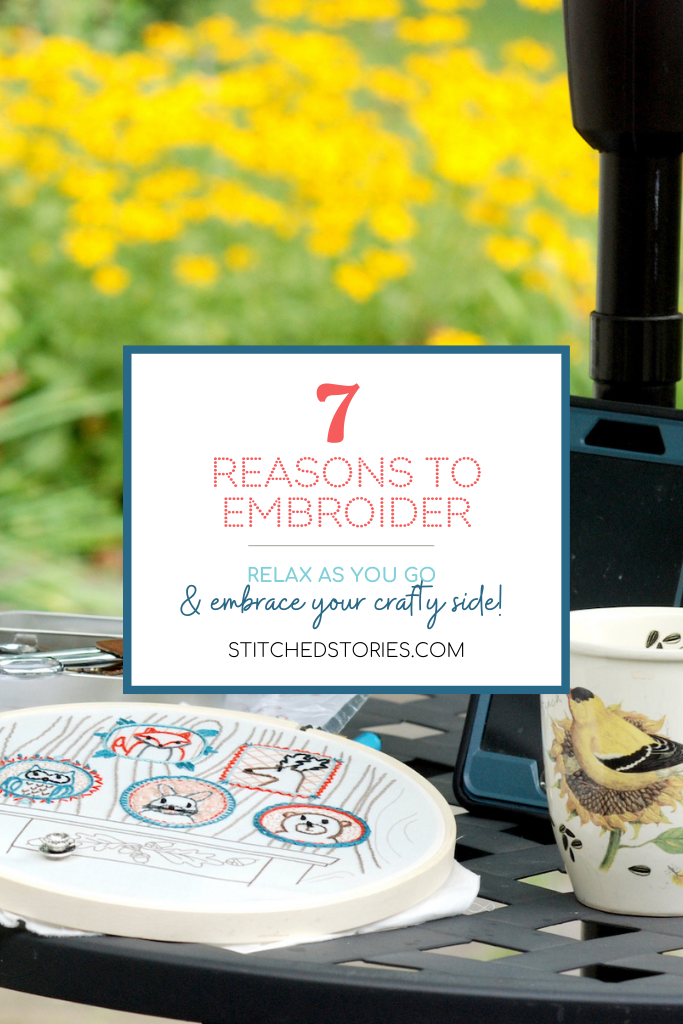 #1. Embroider for the sound of the thread running through the fabric.
There's the slight "pop" of the needle through the fabric. And then the swoosh of the thread pulling through. Not familiar with these sounds?
Time to get a kit and start stitching.
2. Embroider as a break in your work — and even as a prompt to figuring out your own "Eureka" moment when you're stuck on a figuring out a problem.
Einstein was known to play the violin as a break from physics. Many people get ideas when their mind is occupied with something repetitive and relaxing: taking a bath, riding in a car and looking out the window, sweeping the floor.
Here's the thing: embroidery is a whole lot more fun than sweeping the floor.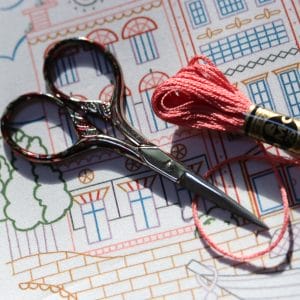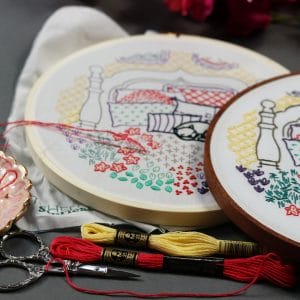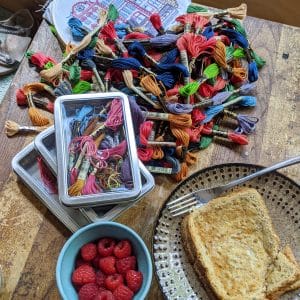 3. Embroider to learn something new OR to relax with something that's familiar
Embroidery isn't difficult to learn and yet it doesn't get boring because of the many ways the colors and stitches and imagery come together. You're discovering new approaches and possibilities at the same time that you're relaxing with repetitions of a stitch.
4. Embroider to add a creative (and relaxing) ritual to your days
Embroidery is so easily portable, you can keep in next to your bed and wake up with coffee and stitching.
You can keep it in your bag and take a lunch break with stitching in the park or next to a window.
You can take it along on errands and stitch while you wait for an appointment.
Take it to gatherings with the in-laws and have something to do while they run through all that family chatter they love but that you find just a little boring.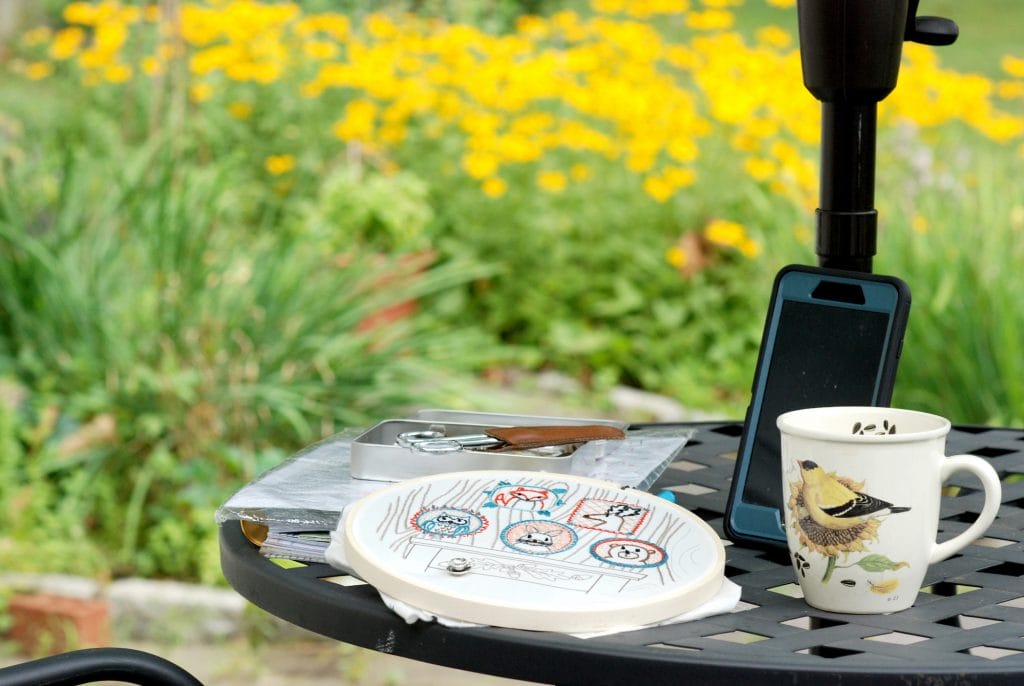 5. Embroider to work and play with color and motif, to see the patterns that your stitches make
With just a needle and colored thread and a dozen basic embroidery stitches, you can render a variety of motifs and even scenes. It's satisfying to watch a series of stitches combine in this way.
6. Embroider to keep your hands and mind occupied with something other than your phone and social media
How many times do you put your finger to the back of your phone, start it up, click the icon for your go-to social media (Instagram, Facebook, Tiktok), and start mindlessly surfing through soOoO much content?
When you turn to a bit of stitching instead, you are creating rather than consuming. And you can simply be conscious of your setting, of the people around you, of the thoughts in your mind. Tune in instead of tuning out.
7. Embroider for the satisfaction of creating and seeing a project come to completion
An embroidered hoop design doesn't take as long to create as a quilt or knit sweater. But it does take long enough. Some of you may do a design in a week. Others may stretch it out over a few weeks.
It's just big enough and just small enough that you can see the whole piece to completion and enjoy the hours spent.
Are you feeling ready to stitch and looking for a project?
Stitched Stories embroidery kits have everything you need to start right away: a stitch-rich design that's color-printed to cotton fabric, bamboo hoop, full skeins of DMC floss, a detailed 4-page guide to the stitches.
Even if you don't know how to make a Lazy Daisy or Fly stitch now–you can master them with one of our kits.
---
Get started stitching your holiday gifts and decor...
Add embroidery to your own fabric projects--from tea towels to tote bags, home decor and clothing with one of our holiday-themed stick and stitch wash-away patterns.